Archives
End Date
28 February 2018
Nautilus Creative Space Lightbox Series 2018
Main Image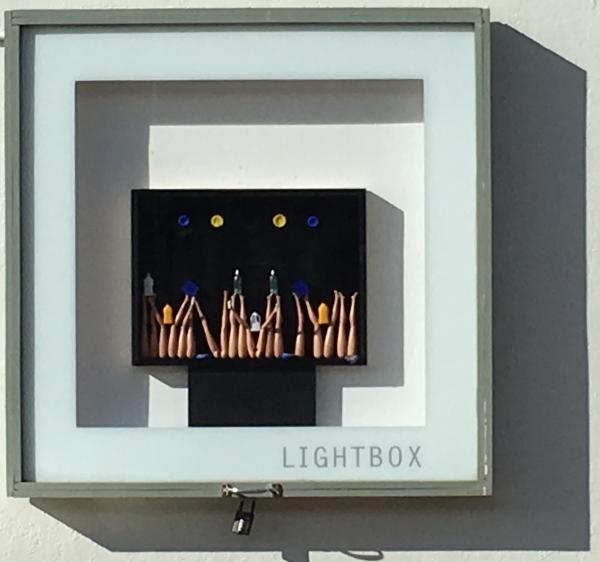 Gallery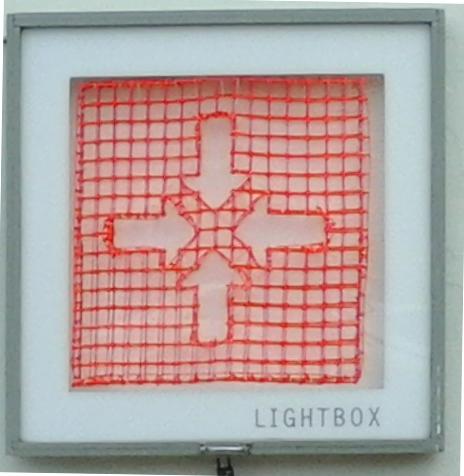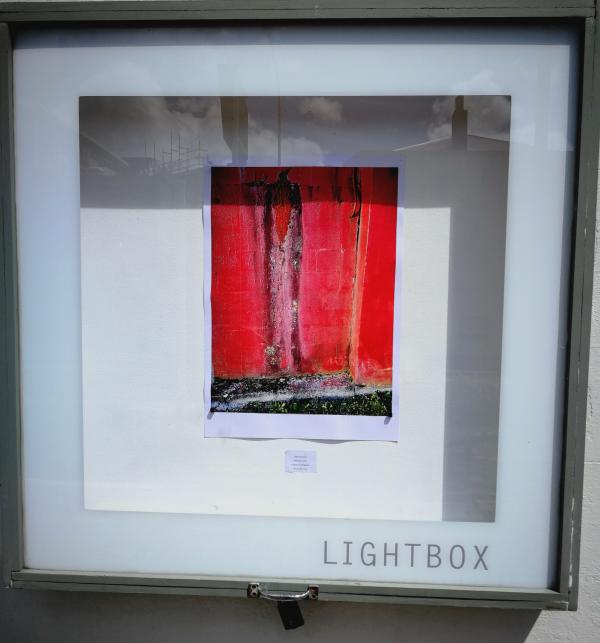 Body
Nautilus Creative Space Lightbox Series 2018
Nautilus Creative Space is home to a diverse collective of over 20 artists at Owhiro Bay on Wellington's South Coast. From jewellers, sculptors and painters to carvers, leather specialists and furniture makers, artists of all types make up this inspired haven by the sea.  https://www.facebook.com/NautilusCreativeSpace
During February - Three Nautilus artists take turns to display their work:
Bev Tso Hong
Aaron Frater
Holly Hemlock
Bev Tso Hong, 2018
Heads in the proverbial - Plastic (doll legs, supermarket giveaway toys and melted bottle caps) on board.
An artistic gesture towards the pervasiveness of plastics and the need for more drastic action.
While we congratulate ourselves on removing plastic shopping bags from supermarkets, we continue to create non-recycled plastic bottle caps, bottles and products; and synthetic (polyester) clothes that shed plastic microfibers washed to the sea...  Do we seriously believe this is acceptable?
Aaron Frater
Breathe. Barrier mesh, and cable ties.
My current body of work is an exploration of  barrier mesh. The material is a ubiquitous industrial safety product that proliferates in the building, demolition, and urban and suburban renewal of New Zealand at present. The material itself has a load of meaning: keep away, stay back; it is a liminal material, a barrier between one world and another. 
The barrier between our inner biological and psychological world is crossed in a number of ways, breathing is a primary way we as humans allow the outer and inner to pass. The breath coming in in this case, to the central spot.
Holly Hemlock
Holly is a multi disciplinary artist, with a passion for capturing the beauty of deterioration and decay.
Follow her on Instagram : decay_devotion. 
End Date
31 December 2017
an exploration of the elements
Main Image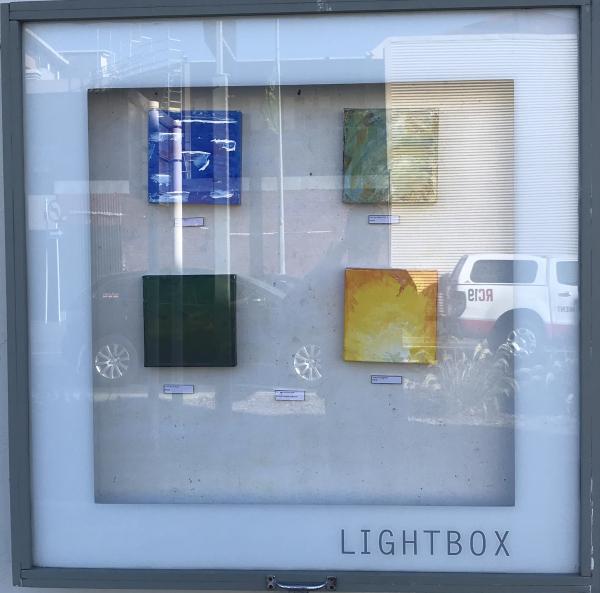 Body
These works are an exploration of the four elements Earth, Air, Fire, and Water and my own vision on how they relate to our everyday life. This experience of creating visual responses and tangibility in this series is my own way of portraying the essence of every human being. The beauty of each element is what we see in our own lives our emotions, spirituality, and wholeness
Please contact  Ian@chapman-Hall.co.nz for more information
End Date
30 November 2017
Plato Art
Main Image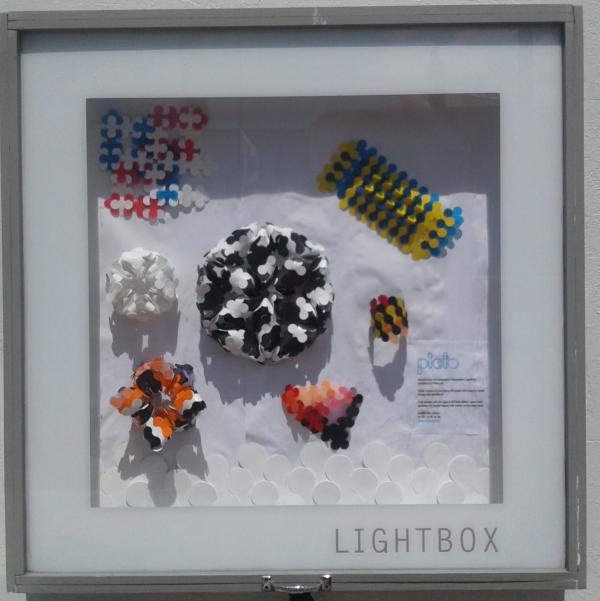 Body
Take a photo of your favourite piece and post on social media with #PlatoArt.
Five people will win a pack of Plato Minis - each pack contains 20 pieces excatly the same as the ones here.
kris@plato.design
02 11 16 45 58
wishbone - kaikoura 2017
Artist
Matt Moriarty: Shared Lines exhibition
Main Image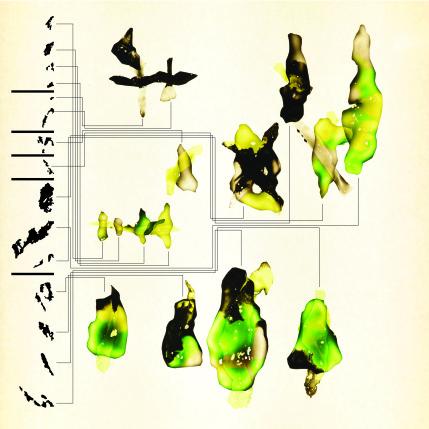 Body
This work is part of an ongoing investigation into the diagram as a pictorial device in painting.
The process of making involves working with paint horizontally on a flat surface. Acrylic paint is trapped between layers of transparent film to build the image. Acrylic paint in liquid form is isolated from both air and subsequent layers of working, only at times penetrating the layers of membrane and bleeding out into one another. The isolated layers of transparent and opaque pigment create an illusion of the paintings 'thickness'.
In material, the paint's liquidity is suspended, unable to harden due to its lack of exposure to air. The work is in flux long after the layering process is completed. Its horizontal address of working is unable to be shifted to the vertical address of the wall for viewing without intervention.
Digitisation of the image through photography and it's reproduction through pigment printing allow this vertical axial shift to occur. The resulting illusion of liquidity in the reproduction indexes the horizontal address of making.
The work questions the convention of a printed image (of a painting) as a reproduction. Perhaps the work could be described as a painting for print.
Fly the Flag for Gender Equality
Artist
GirlGuiding New Zealand
Main Image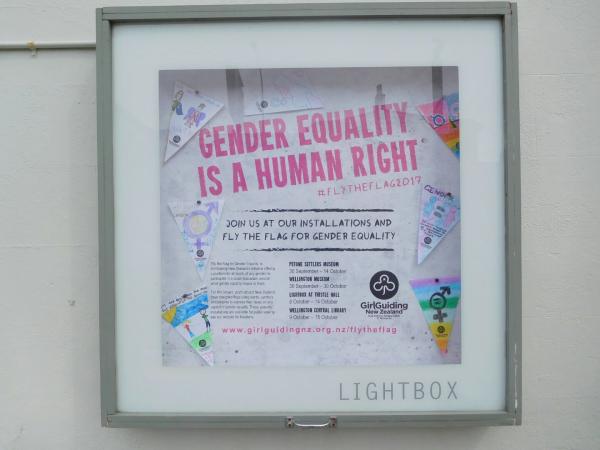 Body
'Fly the Flag for Gender Equality' is GirlGuiding New Zealand's initiative offering a platform for all youth, of any gender, to participate in a social discussion around what gender equality means to them.
For this project, youth around New Zealand have designed flags using words, symbols, and pictures to express their views on any aspect of gender equality. These powerful installations are available for public viewing across the country. In the Wellington region they can be viewed at Petone Settlers Museum, Wellington Museum, Lightbox at Thistle Hall and Wellington Central Library. Visit www.girlguidingnz.org.nz/flytheflag for more information.
End Date
30 September 2017
kia ora te reo māori
Artist
Ka tū Te Wiki o te Reo Māori a te 11-17 Mahuru
Main Image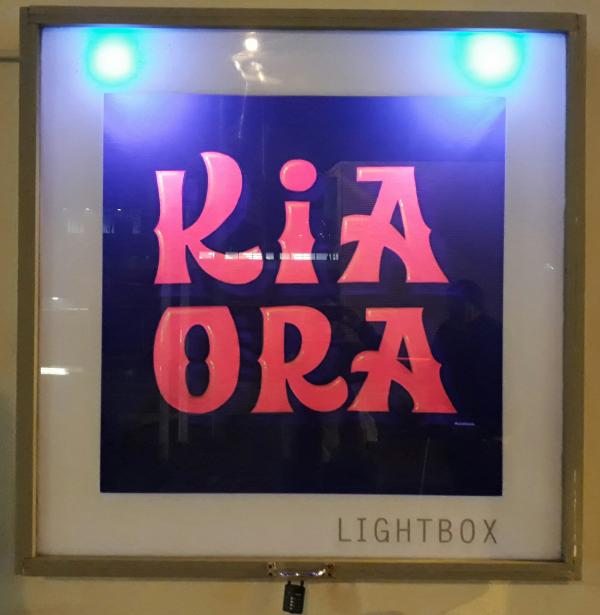 gloom / brooklyn park - woodblock series
Main Image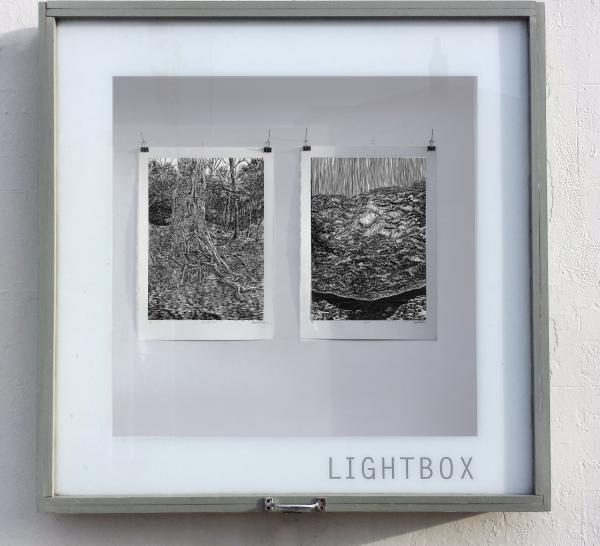 Gallery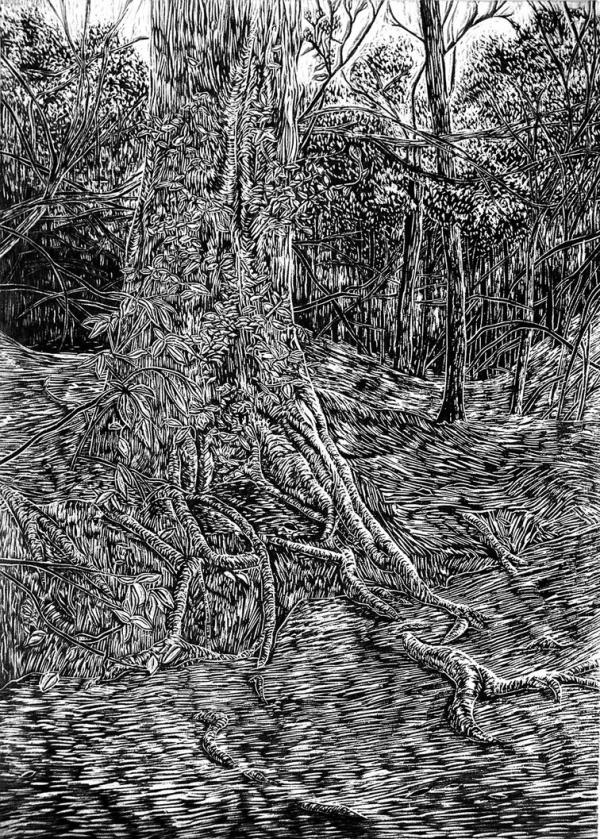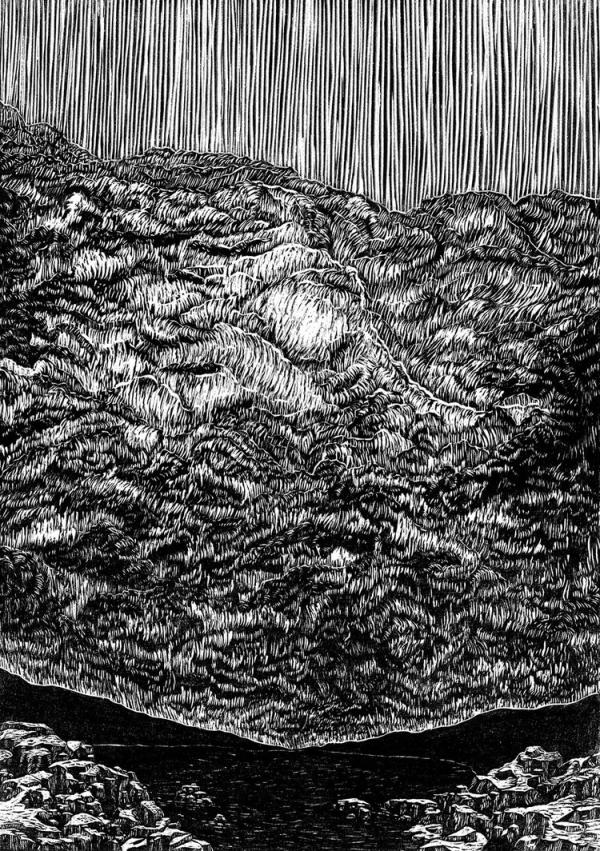 Body
My name is Anna Lundh, I am a Wellington-based artist & teacher.
In painting, a single brush-stroke can direct an audience through a work, and I believe print-making is no different. I seek to express movement and rhythm through my mark making and carving techniques and emphasizing the contrast between carved and bare wood through targeted ink application.
When I create new works I will often seek inspiration from structures found in nature. In my practice it is important that I capture 'the essence' of a structure or landscape, and through a wide variety of foundational resources (drawing and photography) I can abstract the core feeling of these natural forms in my art.
I have a range of works available for viewing on my website: https://www.annalundh.net
Questions, comments, and sale inquiries are welcome through my contact section!
Main Image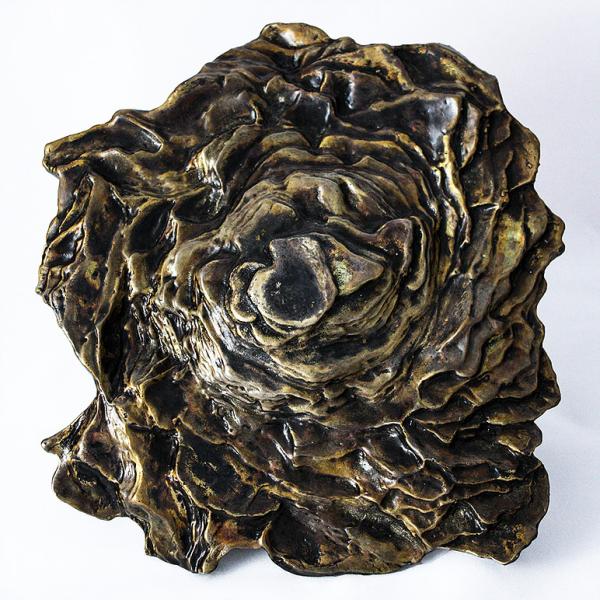 Body
My work is an exploration of materials. Discovering how far a medium can go is inspiring in itself, as it's possible to discover how far I can go with each piece. I like to create work that isn't always clearly one thing or another. I have always found it interesting to create forms that cause the viewer to ask how it was achieved.
I am primarily inspired by everyday things outside, such as an eroded river bank or the movement of water receding after a downpour. I currently bring these inspirations into my work using the 'Lost Wax' casting method. My work often starts as an experiment in wax to bring movement to life. I create abstract forms by rapidly cooling wax in water or by melting it down with various tools. Pieces can then be cast in different mediums which each have their own characteristics and qualities.
Main Image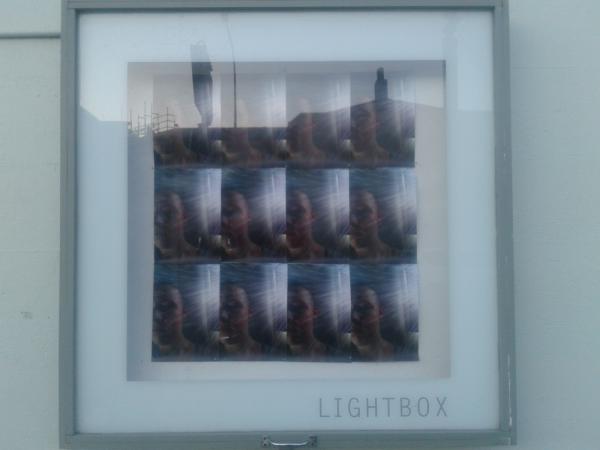 Body
Kurk Harrick is a young Wellington artist. 
100 Days Project - Beauty in Pieces
Artist
Johannes Mueller-Welschof
Main Image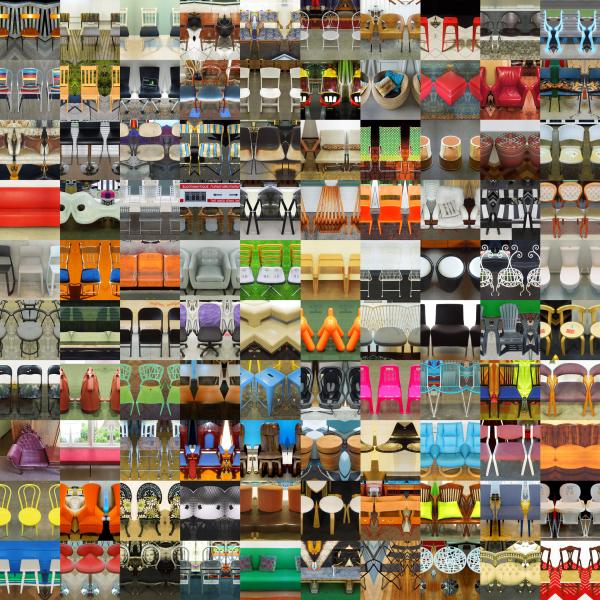 Gallery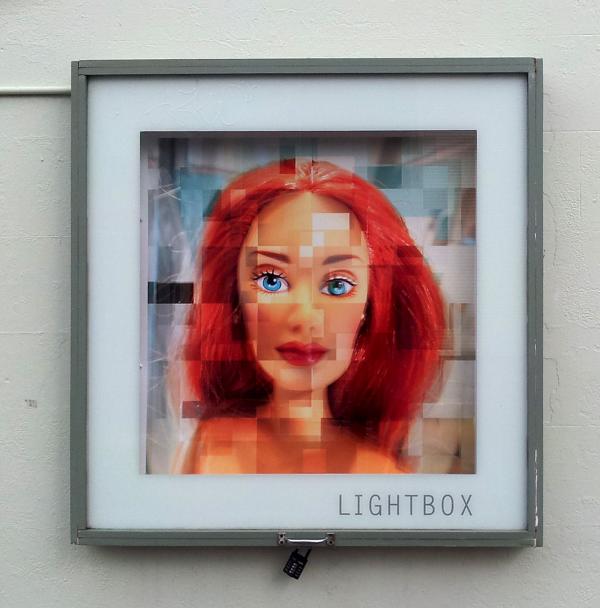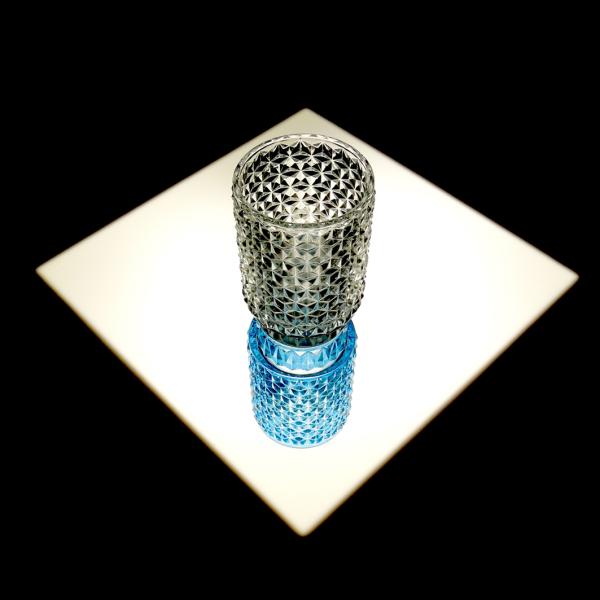 Body
My artwork is a display of my entries for the 2016 edition of the NZ-originated 100 Days Project.
Main Image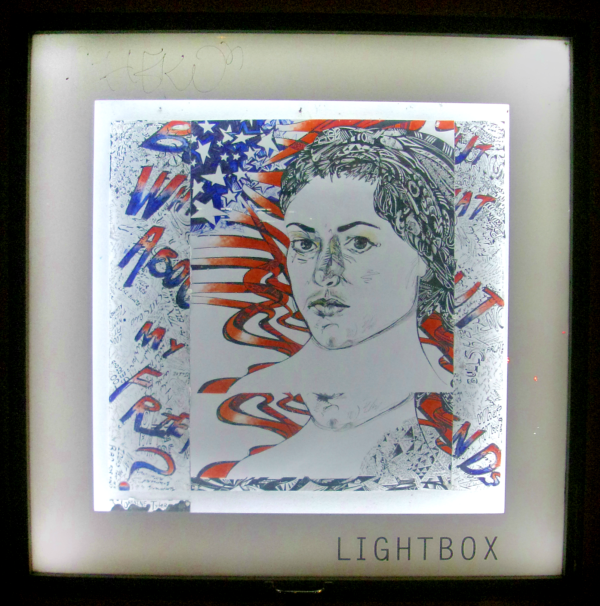 Body
That Bloody Flag explores a crisis of ambiguous cultural identity brought about by recent world events. Lorraine Tyler spent her teen years in the US during the George W. Bush era and rejected the idea of becoming American. But since her return to New Zealand in 2007, she's become more deeply curious about the gifts and curses those years bestowed upon her. Stylistically, this artwork represents a reconciliation between Lorraine's old loves of portraiture, words and symbolism, and her recent development of mega-doodle compositions on paper.   
Main Image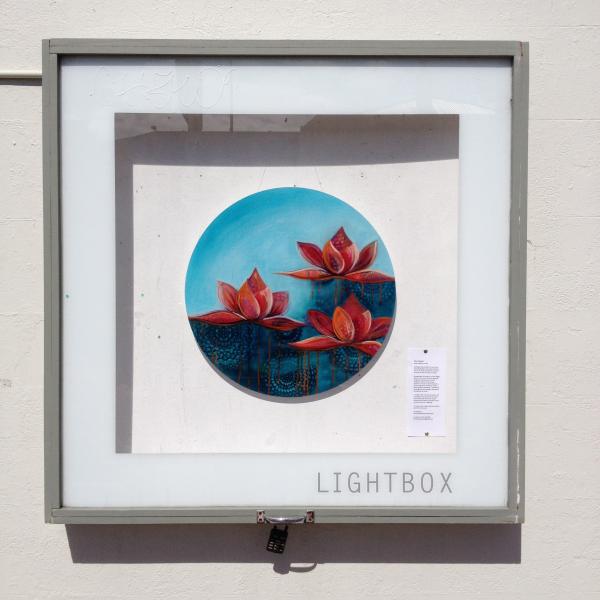 Body
Mixed media on wood
Wellington based artist Erin Carver has been developing a new body of work as part of her Honours Diploma of Art and Creativity at The Learning Connexion. Recognisable for being full of bold, bright colour, Erin's works often use symbolic imagery to represent some of the fundamental parts of the human experience. The lotus flower has been a reoccurring theme in both her recent paintings and printmaking – symbolising the brightness of potential, rising above the darkness of doubt.
A finalist in the 2016 Muriel Hopper Hutt Art Awards, Erin works from her Upper Hutt home studio where she enjoys exploring printmaking and mixed media, as well as her love of painting.
To find out more please visit her website: www.erincarver.com Or Facebook: www.facebook/erincarverartist
Contact Erin: 021 238 4839