On Now
Poetry Lightbox Series - Ground Goldfinch
Main Image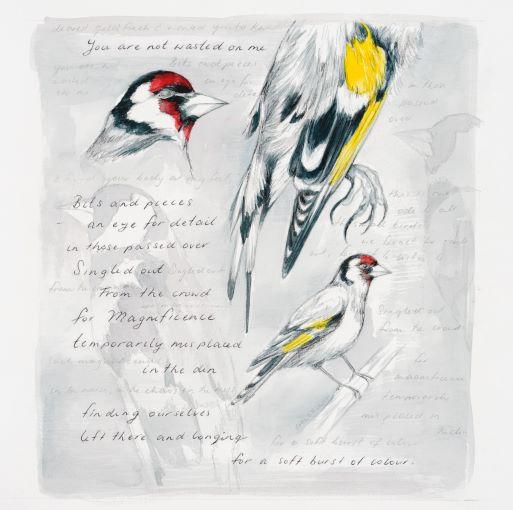 Body
The final installation in the Poetry Lightbox Series is by multimedia artist, writer and teacher Tabatha Forbes. Ground Goldfinch is a page from one of her journals, created using watercolour and ink on paper. This piece creates a window into Tabatha's practice, where for the last decade, she has been concerned with the way that we view, experience, and understand our natural environment.  Attracted to the period of history that notably changed the way that nature was perceived and valued in the South Pacific (with the introduction of colonialism), her work directly references that history by looking at the tradition of botanical and natural history art. As a contemporary interpretation, the work takes on many of the old aesthetics of that period, but always includes a conceptual evaluation of our ever-changing perception of nature. 
Having taught botanical art for the last two decades, she has developed a new teaching practice around 'Nature Journaling'. Considered the foundation work for natural history and botanical illustration, Nature Journaling is an ancient creative practice that brings together the written and drawn observations.
Don't miss Tabatha's Nature Journal Weekend Workshop at HuttArt, Lower Hutt, Wellington, 18 + 19 June, 10 – 3 botanicalartclass@gmail.com.
The Poetry Lightbox Series is curated by Wellington poet Sarah Scott and showcases fragments of poems, erasure and collage from local writers responding to the natural environment in and around Te Whanganui-a-Tara.
Archives
Poetry Lightbox Series - Kihikihi
Artist
Amber Brocklebank Davy & Meredith Brocklebank
Main Image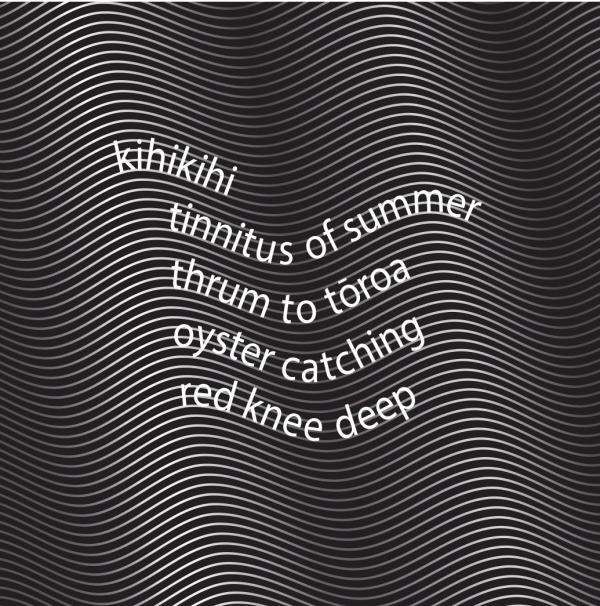 Body
The new installation in the Poetry Lightbox Series features a collaboration between Amber Brocklebank Davy and Meredith Brocklebank.
Amber is a recent graduate of the Elam School of Art Fine Arts program. Her work explores the boundary between computers and the 'real' physical world. She says, Meredith's poem focuses on the feelings of summer with the hazy heat and hypnotising songs of cicadas. It felt only right to have the visualisation of the poem reflect this too. The rhythmic waves reference not only the sea (where we spend our summers) but also sheet music and rhythm. This rhythm was key to the sensory experience I wanted to invoke, having the viewers' eyes buzz as they read. The optical illusion lines make it feel like the kihikihi is in your brain.  
Meredith's poetry has been exhibited at Studio One Toi Tu and she has published a children's book titled The Realm of the Golden Queen. A graduate of AUT Master of Creative Writing, she is currently working on her first novel. She says this poem is the soundscape of a trip to the beach. As I walked, I opened my senses to see if I could experience the beach in a new way. While watching oystercatchers I realised my brain had dulled the cicadas to the background when in reality they were loud and insistent. 
The Poetry Lightbox Series is curated by Wellington poet Sarah Scott and showcases fragments of poems, erasure and collage from local writers responding to the natural environment in and around Te Whanganui-a-Tara.
Poetry Lightbox Series - 'the flowering woman'
Main Image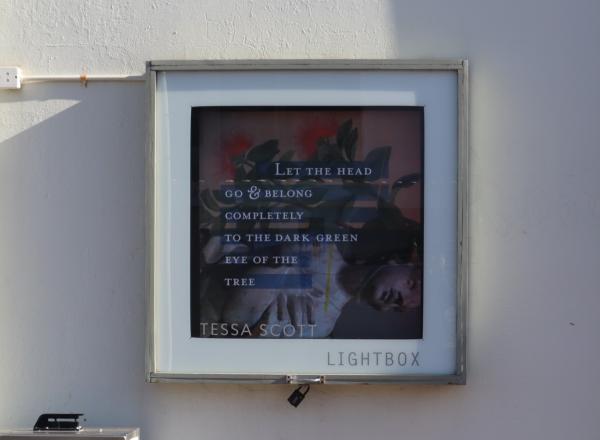 Gallery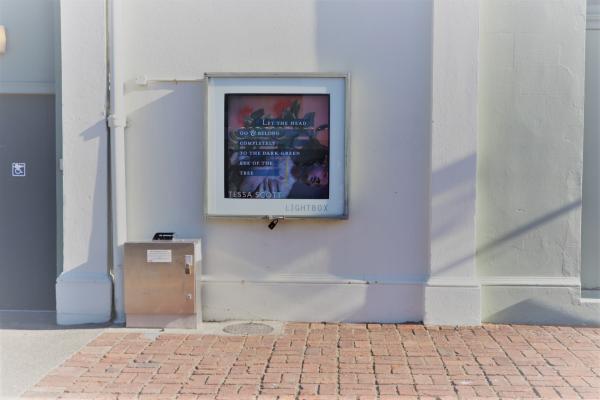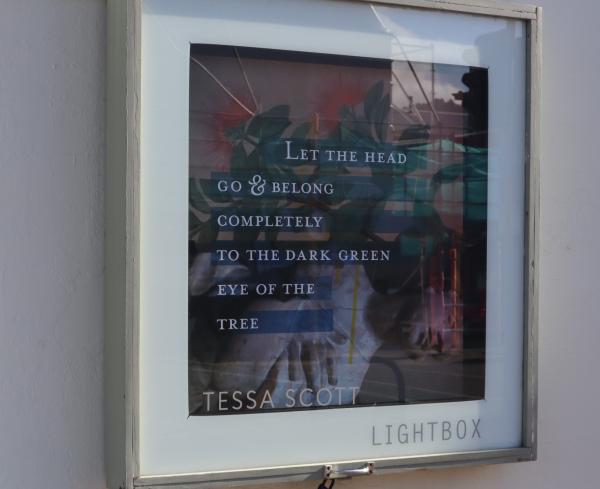 Body
The new installation in the Poetry Lightbox Series features a poem fragment by Tessa Scott. Tessa completed her creative writing MFA at Sydney University after studying fine art and design. Her first poetry collection Dream Houses was published in California in 2019. She works as a designer and teaches poetry and English as a second language in Berlin and Hamburg, where she lives with her teenage son, comedian partner, nearly identical twin tabby cats and overgrown allotment.
She says, this poem fragment, crossed with two image cuttings, is called 'the flowering woman.' The first image is a colonial-era botanical sketch from the German Transport Museum in Berlin. This softly-lit watercolour of flowering pōhutakawa attracted my eye from across a darkened room crammed with model ships. The second image is a half-destroyed carved wooden statue of a woman, from the Hungarian National Museum in Budapest. The poem fragment is a line from a longer sequence called Bodies of Water, which uses the Beaufort Scale as an extended metaphor for transformation. In the flowering woman, putting two unrelated images together, transformed them and their proximity suggested the story of Daphne's metamorphosis into a tree, from the myth of Daphne & Apollo. Somehow, from my current location, in the middle of the European response to the pandemic, I found Daphne's self-protective shape-shifting to be a highly relatable response to an ever-present and swiftly morphing danger. So, in that sense, this image is a record of a state of becoming, in turn representative of the creative process to me. It's a kind of mental, and spiritual flowering, when you hit your stride as an artist, hence the title. I'm so happy that this work can be on this wall in Te Whanganui-a-Tara, at this time.
This magpie collecting of fragments is my typical visual process, I'll collect images that attract me, with no real intention. Only later in the process of sifting and sorting, will the true worth or meaning of an image be revealed. A sort of purposeful accident, but the point to me is to keep the eyes open to the world around us. That's a fundamental difference for me between visual & verbal process. The verbal is much more intentional, and requiring of labour and attention. A lot of spit and polish goes into a poem, I never "hear" them in my head in the way I "see" visual work, often fully formed in my mind's eye. The tension between these two worlds fascinates me.
The Poetry Lightbox Series is curated by Wellington poet Sarah Scott and showcases fragments of poems, erasure and collage from local writers responding to the natural environment in and around Te Whanganui-a-Tara.
Poetry Lightbox Series - a collage
Main Image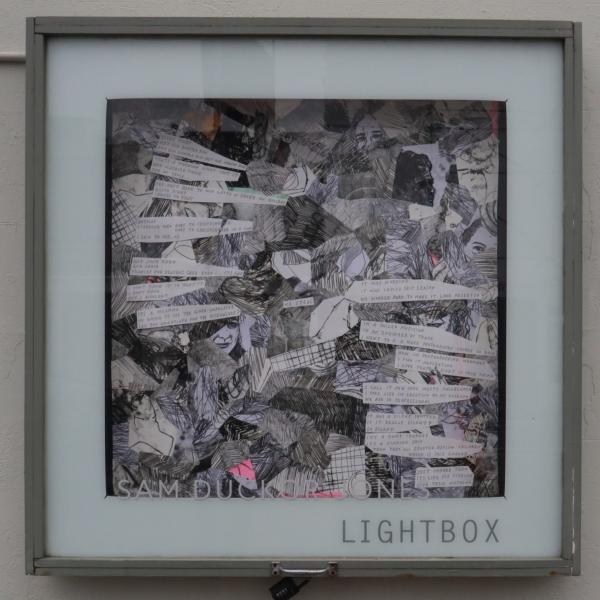 Gallery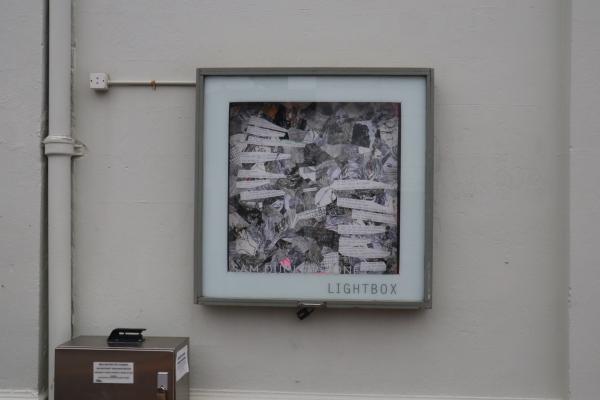 Body
Sam Duckor-Jones is an artist and writer based in Te Whanganui-a-Tara/Wellington and Mawhera/Greymouth.  He has published two poetry collections and is represented by Bowen Galleries.
Sam says, the brief for this project was to respond to Wellington's environment using fragments of poetry and drawing.  One of my favourite things to do is to eavesdrop in cafes and bars and on public transport.  I write everything down and sometimes these recordings can be turned into poems.  I have a thick file of revelations, gossip, news, plans, confessions, dates, observations, triumphs, disasters...  Many are plucked from...........Wellington's environment!  So I decided to plumb the archive for the right fragments that would fit this project and settled on two slices.  The first is a conversation overheard in a cafe at lunchtime: two ladies in their 70's worrying about a friend.  The second is a conversation overheard in a bar, late afternoon: four wedding photographers comparing stories and notes.  I then went into my other towering file: surplus monoprints.  And I cut them up.  I like how they can seem like glimpses of this and that - a little breeze, a passerby......an overheard conversation.  Isn't everything just one big collage anyway?  It all does look lovely today.  But before long the bits will come unstuck and float away to become new art or dust.
The Poetry Lightbox Series is curated by Wellington poet Sarah Scott. It showcases fragments of poems, erasure and collage by local writers, responding to the environment in and around Te Whanganui-a-tara.
Poetry Lightbox Series - a collage
Main Image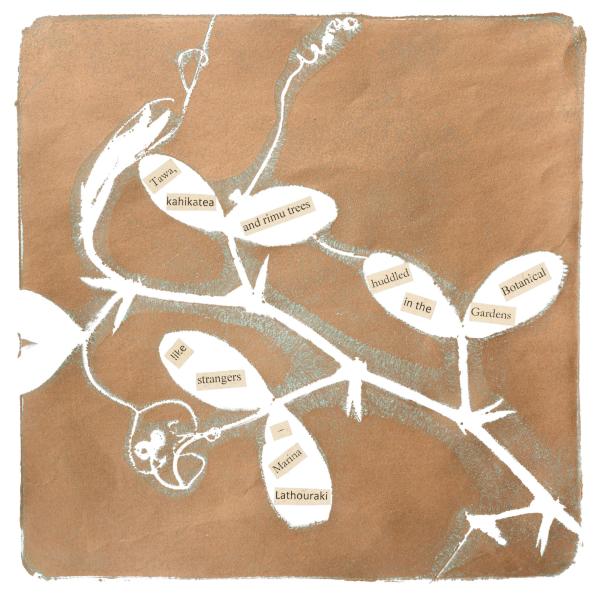 Body
Marina Lathouraki is a visual artist and writer. This piece is a combination of a line from a poem she wrote and some words she found in brochures about Wellington which she collaged into a new poem. The background is a print she made using sweet pea on a gelliplate with bronze paint.
Collage aesthetic focuses on the inherent poetic and artistic possibilities of the ordinary and found material. Marina has created through her poem-collage a juxtaposition of advertising text that references the natural world with her art-making techniques.
Collage as a way of presenting text is a wonderful hybrid art-poetry form. As American poet Alice Notley notes, '… the form, with the addition of a few cut-out words, felt almost like that of a poem … the feeling of using the hands and the feeling of saying things transfer back and forth between the two forms.' (https://www.poetryfoundation.org/poetrymagazine/articles/150822/my-fans-5d5dc781dab1c)
The Poetry Lightbox Series is curated by Wellington poet Sarah Scott and showcases fragments of poems, erasure and collage from local writers responding to the natural environment in and around Te Whanganui-a-Tara.
End Date
15 February 2022
Poetry Lightbox Series - 'Sometimes it Leads to Nothing'
Main Image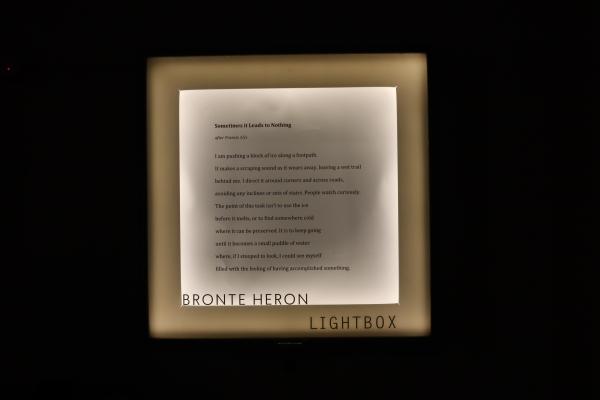 Gallery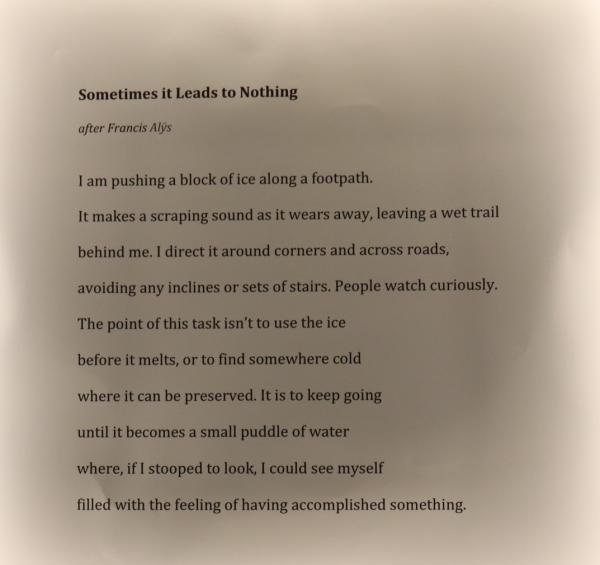 Body
The latest installation in the Poetry Lightbox Series is a poem by Bronte Heron. Bronte lives in Pōneke, where she works as a Library Assistant and goes out walking a lot through the town belt. She grew up in Taranaki before moving to Tāmaki Makaurau to study at Elam School of Fine Arts. Last year she completed a manuscript of poetry at the IIML.
Sometimes it Leads to Nothing is an ekphrastic poem about the performance piece Paradox of Praxis 1 by the artist Francis Alÿs, where he pushes a block of ice around the streets of Mexico City until it melts. It takes him nine hours to reduce the suitcase-sized block down to a puddle of water.
Bronte says, ekphrasis, or poetry inspired by visual art, appeals to me because it meets in the middle of these two interests of mine, and is a way to draw connections between them. Here in central Pōneke, in the middle of this long, hot summer, Francis Alÿs' artwork is given a new context while people pass by with their own tasks in mind.
The Poetry Lightbox Series is curated by Wellington poet Sarah Scott and showcases fragments of poems, erasure and collage from local writers responding to the natural environment in and around Te Whanganui-a-Tara.
Poetry Lightbox Series - an excerpt from 'Beach'
Main Image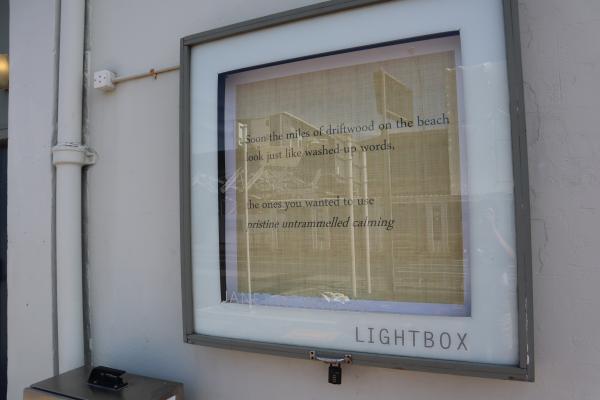 Gallery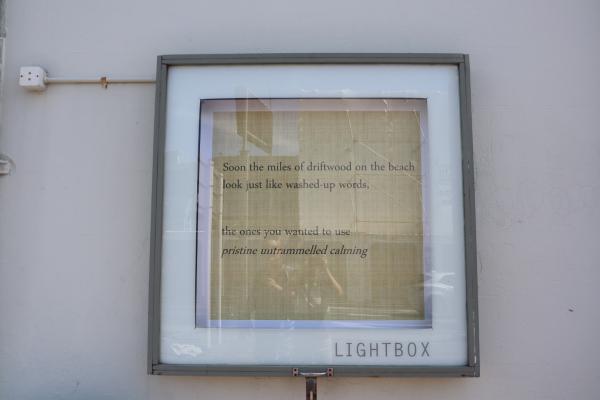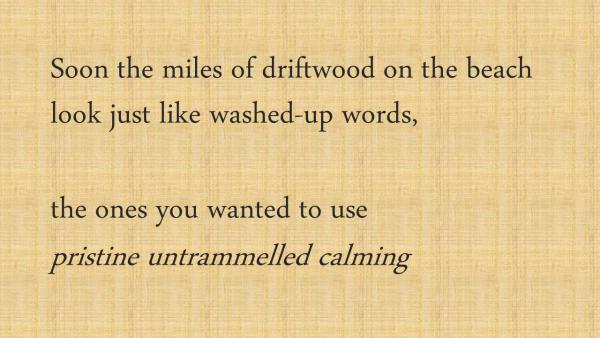 Body
The new installation in the Poetry Lightbox Series features Janet Newman. Janet has worked as a journalist in New Zealand and Australia, and as a bicycle courier in London. She has three adult children and lives with her partner at Koputaroa in Horowhenua, where she farms beef cattle. Newman was a runner-up in the 2019 Kathleen Grattan Poetry Award and won the 2017 Kathleen Grattan Prize for a Sequence of Poems and the 2015 New Zealand Poetry Society International Competition. Her essays have won the Journal of New Zealand Literature Prize for New Zealand Literary Studies in 2016 and 2014. She has a PhD from Massey University for her thesis 'Imagining Ecologies: traditions of ecopoetry in Aotearoa New Zealand.'
The fragment of poetry in the lightbox is from 'Beach' in her collection Unseasoned campaigner, OUP, 2021. She says, I wrote 'Beach' when I was thinking about how the natural world, or at least what I had thought of as natural, such as the farm I was brought up on and the rivers and beach (Waitārere Beach near Levin) that I went to as a child, were in fact humanly constructed ecologies. The farm, of course, was obviously constructed although as a child I imagined it as nature in opposition to town. When I started writing poetry and paying attention to local landscapes, I realised that even the river environs and the beach, with its swaths of driftwood, were shaped by human endeavours: drainage of wetlands and the channelling of water behind stop banks so silt and trees from the highlands wash out to sea.
Paula Green highlighted 'Beach' in her recent review of Unseasoned campaigner on Poetry Shelf. https://nzpoetryshelf.com/2021/12/02/poetry-shelf-review-janet-newmans-unseasoned-campaigner/
The Poetry Lightbox Series is curated by Wellington poet Sarah Scott and showcases fragments of poems, collage and erasure by writers responding to the natural environment in and around Wellington|Te Whanganui-a-Tara.
End Date
31 December 2021
Poetry Lightbox Series - an excerpt from 'untitled voicemail'
Main Image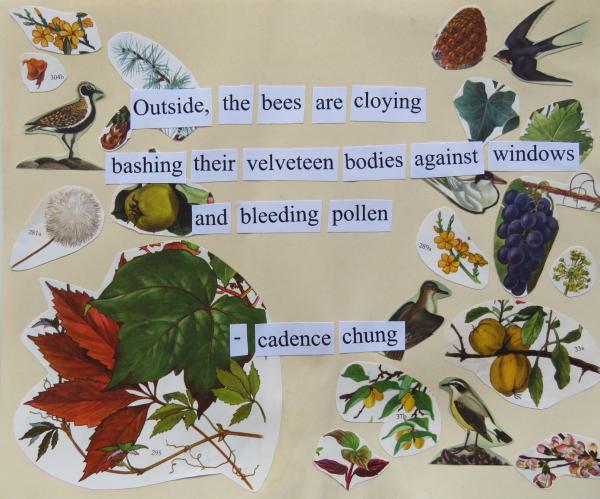 Gallery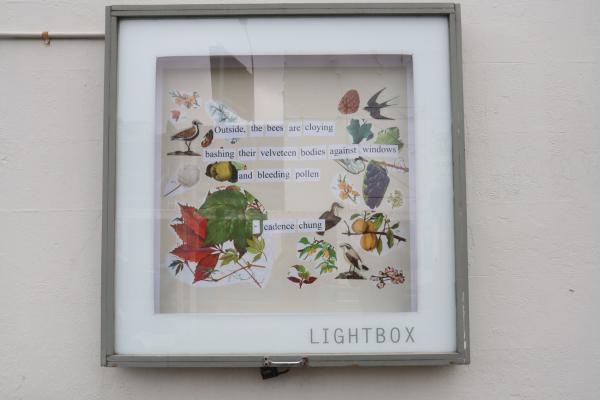 Body
For the Poetry Lightbox Series, Wellington poet Sarah Scott has gathered fragments of poetry from local writers responding to the natural environment in and around Wellington| Te Whanganui-a-tara, showcased in various visual formats.
The newest installation in the series features a collage by Cadence Chung. Cadence is a poet, student and musician. She has been writing poetry since she was at primary school, and draws inspiration from classic literature, Tumblr text posts and roaming antique stores. Her chapbook 'anomalia' will be published with We Are Babies Press in early 2022.
She says this is an excerpt from a poem of mine called 'untitled voicemail.' I've always really loved combining visceral, almost gross imagery with things that are stereotypically thought to be beautiful, hence the bees 'bleeding pollen' in this piece. I've lived in Wellington my whole life and I've always found wild flora and fauna interacting with our man-made city to be so interesting. For the decoration on this piece I cut out various pictures from old atlases and textbooks, which I thought fit with the theme of nature's interactions with humans - the taxonomising of creation, creatures as seen through our point of view.
End Date
11 December 2021
we look to the future with progressive ideals at Forest Rongoā Teahouse
Artist
curated by Virginia Woods-Jack of Women In Photography NZ & AU
Main Image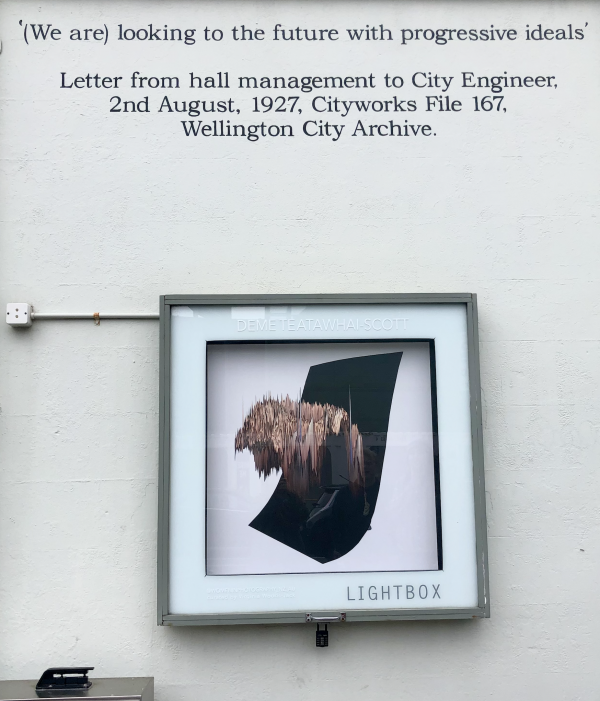 Gallery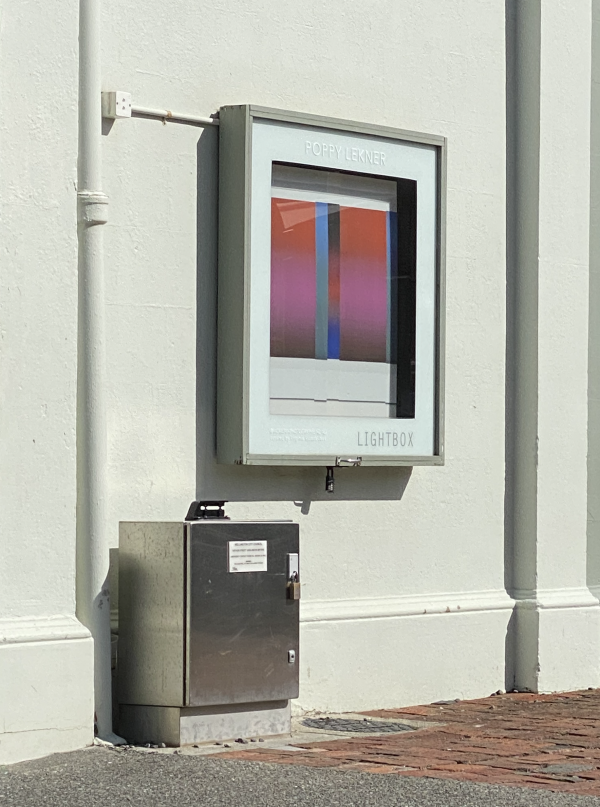 Body
​We look to the future with progressive ideals was a six month series of works by eight photographic artists curated by Virginia Woods-Jack of Women In Photography NZ & AU exhibited in Thistle Hall's Light Box between April and October 2021. The series will be exhibited together at The Forest Rongoā Teahouse, this is the first time all 8 works can be seen together. 

"When thinking through this project, which artists to invite, and my hopes for a real world window into an ongoing online project, I spent time sitting looking at the lightbox on the side of Thistle Hall as well as looking through the Women in Photography NZ & AU feed based on Instagram. 
For those of you who know the building and the wall the Lightbox sits on there is, a quote taken from a letter from hall management to City Engineer dated 2nd August 1927 where they state  'We are looking to the future with progressive ideals'. 94 years later this gave me the words that weave through many of the themes of the 88 artists who have shared their work to date. Of this 88 I have chosen 8 artists from Aotearoa, 1 now resident in England, whose work resonates with a future I want to be a part of founded on more progressive ideals. Ideals and ideas of connection and reconnection to whenua and self, acceptance, decolonisation, acknowledging the layers of history, our present and how everything we do now informs our future. 
The work of 8 artists - a singular image. Each image is a glimpse into the artists practice and the wider community of WIP NZ & AU - a platform highlighting female/identifying and non-binary creators working in photo based arts in NZ & AU. Engage. Connect and Debate. An invitation for you to explore further." Virginia Woods-Jack
​
FEATURED ARTISTS
Poppy Lekner  @poppylekner
Sam Gorham @gorhamsam
Sara Orme @saraormephotographer
Deme Te Atawhai Scott @de.teatawhai.scott
Tanya Te Miringa Te Rorarangi Ruka @fog_moon_studio
Becky Nunes @beckynunes_nz
Sage Rossie @mouldyjuice 
Anjuli Selvadurai @bbygrl_anj
End Date
10 December 2021
Poetry Lightbox Series - an excerpt from 'Aro Valley'
Main Image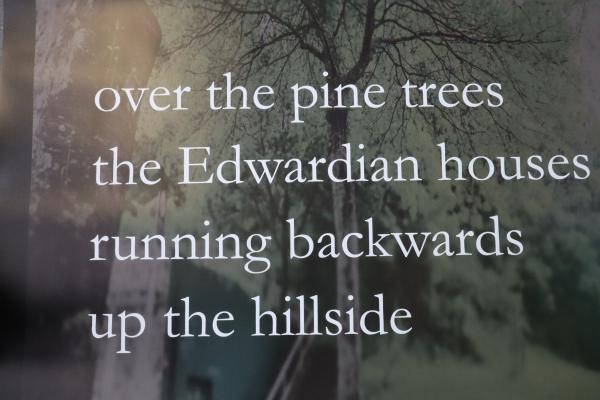 Gallery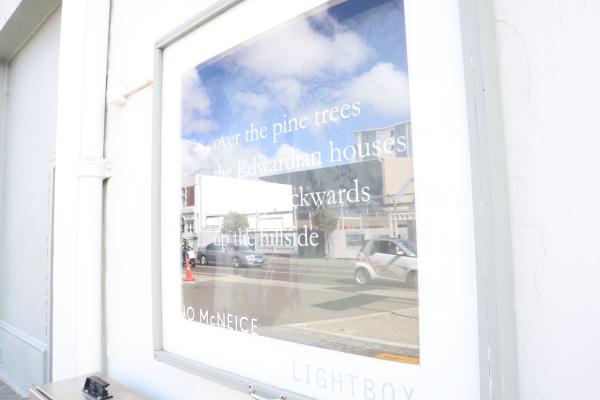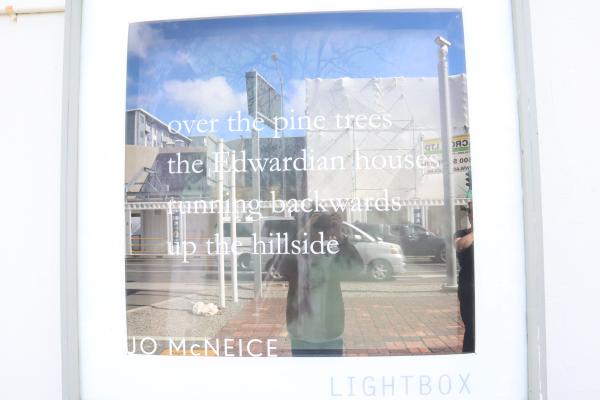 Body
The words are growing in the field, and they hover above the page. They're like flowers, and I pick the ones I like   -  Mary Ruefle
In the new exhibition in the ligtbox, Wellington poet Sarah Scott has gathered a showcase of fragments of poems, prose, erasure and collage from local writers, responding to the natural environment, in and around Te Whanganui-a-Tara, presented in various visual formats.
The idea that we can combine poetry and art has its roots in antiquity. It was the Greek poet Simonides of Keos who first said 'poetry is a speaking picture, while painting is silent poetry.' By presenting written work in a visual form, it becomes both a visual and a textual experience. Both elements unsettle the text's usual purpose, making it delightfully unclear whether the page is meant for reading, viewing, or something else.
One of the inspirations behind the idea for this project is American poet Mary Ruefle's erasure poetry, which she makes into works of art by painting out the words she doesn't want to use with white twink, leaving only beautiful, ethereal fragments. She says, 'all the words rise up and they hover a quarter-inch above the page. It's like a field, and they're hovering. I don't actually read the page. I read the words, which is different.'
It is this difference that is illuminated and showcased in this project. Words as beautiful objects, a collection of words as some small, lovely moment. Words as spaces of reflection and hope and connectivity in our amazingly creative and wild city.
The first writer to be showcased is Jo McNeice. Jo is a past student of the IIML in wellington who is currently working as a library assistant. She explores the links between photography and poetry in her practice by writing ekphrastic poetry using photography as a prompt, and in this work, superimposing an excerpt from her wonderful poem Aro Valley on a detail of a photograph taken in the area.
She says, my practice is haphazard, higgedly-piggedly, random, like my life, a bit hit-and-miss really. I go through phases of producing what could be called poetry, some of which is readable, perhaps even coherent. This poem came tumbling out of my head almost writing itself. Though I never lived in Aro Valley, I spent a lot of years walking through it, almost daily, ostensibly on the way to somewhere else, but often, really, Aro Valley was my destination. Taking a wander up Holloway Road, eating chips in the park, renting first videos (yes videos!), then DVD's from Aro Video. Even though I no longer live in Wellington, I still love Aro Valley, it seems to have retained its character over the past 25 years, remarkable! There is something special about it, which I hope my poem captured.
We look to the future with progressive ideals - Gitas' Hand
Artist
Anjuli Selvadurai - Women in Photography NZ & AU
Main Image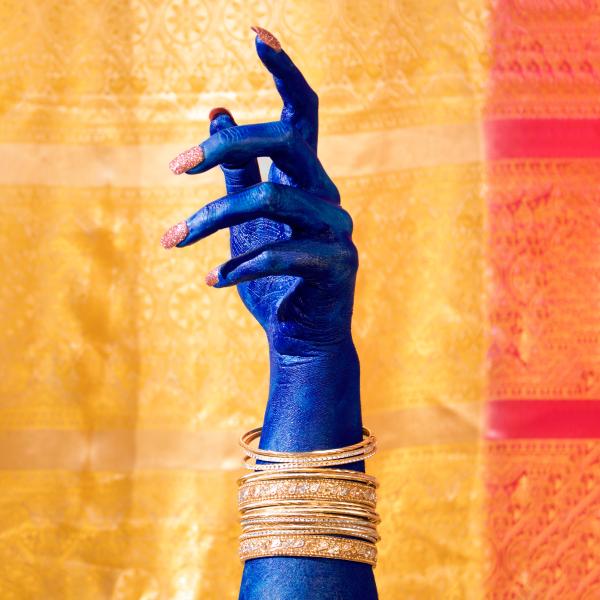 Gallery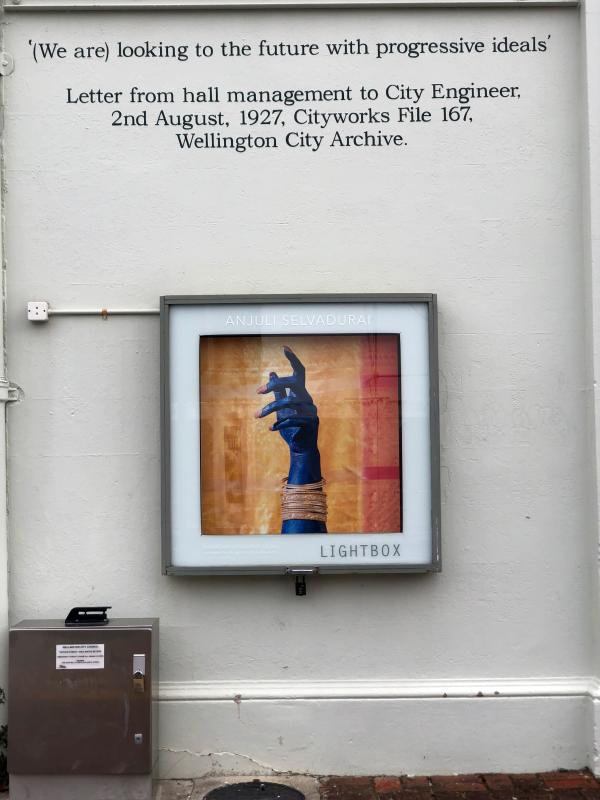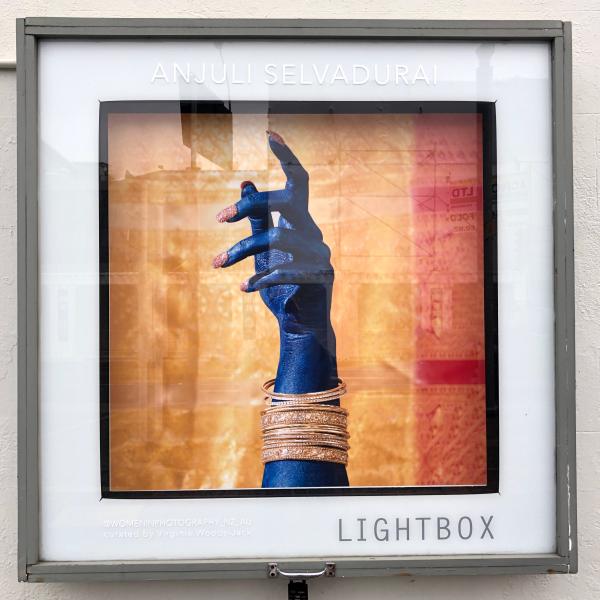 Body
Progressive Ideals #8
Welcome one and all to this final instalment of We Look to the Future with Progressive Ideals. This project and the artists who have brought it to life, have afforded me the incredible opportunity to share their work, their words (and mine) over an extended period of time both online and through the glow of the Lightbox at Thistle Hall.
Thinking about the future through the lens of these women and non-binary artists brings the term Hopepunk to mind.  A concept that arose from a political mood of resistance, in the first instance in the arena of Climate Change.  If you stand back and look at the world at large, how it is presented to us in the media, catastrophe and despair are the order of the day,  using these tactics isn't new and only serves to keep us in a stalemate that serves the few. Hopepunk, pushes back against this, in the face of this and requires us to genuinely care about outcomes, it isn't about submission or acceptance of the status quo, it requires bravery and strength - standing up and fighting for what you believe in.
When I look at the work of our final artist Anjuli Selvadurai @bbygrl_anj it inspires and encapsulates many of the aspects of Hopepunk. Anjuli's work is deeply beautiful but never naive, there are elements of fantasy, not as an escape from the world, from reality or from self, rather it is an invitation to go deeper; to fortify, to stand up for ourselves and others. Anjuli's work emboldens in its demands for a better and kinder world and more importantly, when looking at this work I believe it is possible. There is a generosity to Anjuli's work, she draws us in and allows us the space to explore how we can practice a sense of self that isn't dictated to by society and the myriad of limitations it places on us all - it is a performative invite to explore self-acceptance in all our myriad of forms and therefore imagine what this could look like for us, collectively.
Through the generosity of the @thistlehall_community_venue Lightbox, these 8 artists have lit up one small corner of Pōneke.  The concepts we have presented and discussed are integral to both our present and future and require our attention as do all the artists, please do follow them. Thank you to everyone who has joined us on this journey - we are just dotting the i's and crossing the t's for a collective showing of these works housed within an upcoming project of @fog_moon_studio so please do watch this space. For those of you not in Pōneke don't fret I will also be sharing this project as a collection on WIP with an accompanying poem written by @writtenbyarihia in response to this project.
Thank you a million times over everyone. Virginia x 
----------------------------------------------------------------------
Tāmaki Makaurau based visual artist, Anjuli Selvadurai, works within the realm of photographic imaginings. Her practice is a visual exploration of her dual British and Malaysian/Sri Lankan Tamil identity. Anjulis' work is informed by her experiences as a first generation New Zealander grappling with notions of physical belonging, cultural distance and identity politics. 
Anjuli is currently studying a Masters of Heritage Conservation in Museums and Cultural Heritage at the University of Auckland. 
-----------------------------------------------------------------------
Gitas' Hand
I reach out to a future where I accept and express myself wholeheartedly. Where my identity isn't painted white, but embellished with gold. 
Gitas' Hand was made as a part of the self portrait project Gita. Up until this period I made work interogating notions of my cultural identity, without truly confronting perceptions of myself. In doing so I was able to creatively direct and visualise my own self portrait, a fragment of myself at that time. I see this project as an ongoing, a living entity that will disappear and re-emerge throughout my life and practice.
Adornment is an important aspect of these portraits. I chose to utilise moments of my performative identity by dressing and staging myself. At times causing myself to question my internal self vs my external self. I wanted to highlight the fluidity of my cultural identity and celebrate that I am not tied to one stagnant way of being.
Start Date
12 September -
End Date
25 September 2021
we look to the future with progressive ideals - #7. 2020. From the series My Body Is My Vehicle
Artist
Sage Rossie - Women in Photography NZ & AU
Main Image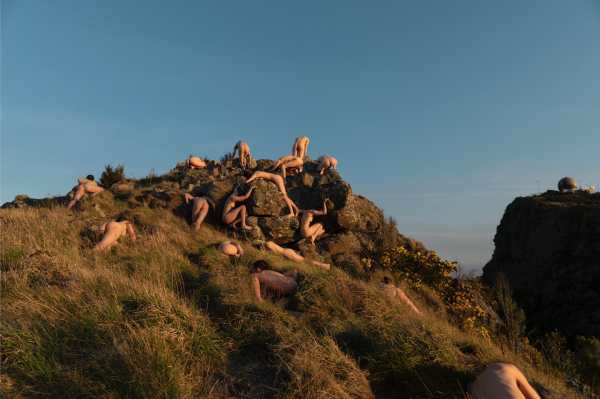 Gallery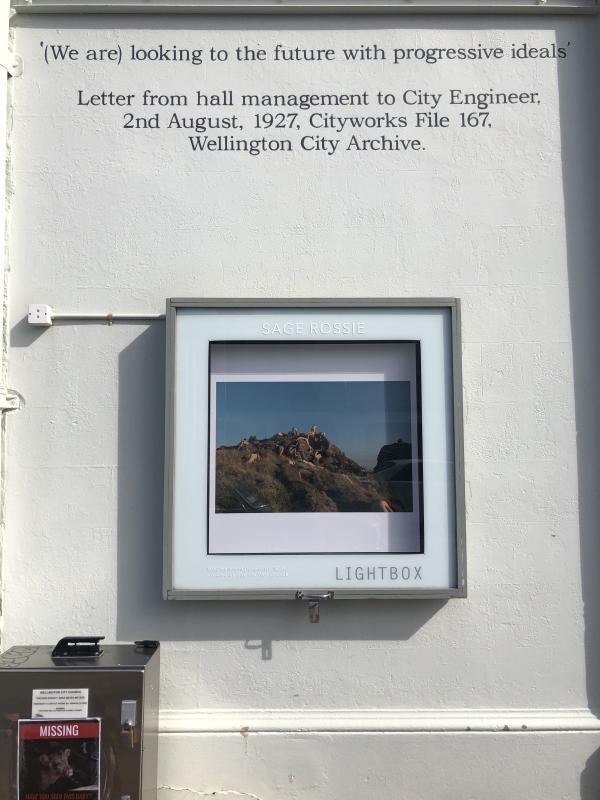 Body
Nau mai haere mai! Welcome to the 7th instalment of our transitional journey as 'We Look to the Future with Progressive Ideals.' Tena koutou katoa, this is Tanya Ruka @fog_moon_studio standing in for Virginia as she recovers and rests, we send you aroha our dear friend. 

For me looking to the future is a hopeful activity, no matter what is happening in the present or has happened in the past, in the future we have an open opportunity to create and manifest change not only for ourselves but also the people who occupy presence in our lives and living environments, every moment presents us with an opportunity to change life for the better. This fluidity within our mindscapes intrinsically enhances the potential for our physical existence. 

When we place ourselves in future-scapes what do our ideals look like? What dream sequences do we narrate for ourselves? What has changed? What is the same? How am I? These are some of the powerful questions we have the opportunity to ask ourselves and learn answers to as we move through time and space. We, as physically aware sentient beings interacting with each other and the more than human world. 

The playful yet powerful nature of Sage Rossie's @mouldyjuice work allows us to visually imagine the fluidity of future-scapes. Generously Sage shares their body and story, it is their body beautifully rendered simultaneously within moments of past, present and future states; morphing multiplicity and coexisting, their physicality is entwined with Papatuanuku an extension of self. 
Here we see the very personal unfolding and intimate journey, the primal and exposed vulnerability of climbing mountains within the mind. Artists through time portray this imagery as the human struggle for enlightenment.  In this image Sage allows us this moment of recognition, it is shared in a self-affirming awareness of crossing liminal boundaries. 
This is a gift, as together we share the weight of oppressive engendered systems. In Sage's landscape we are made aware of and transported to redefine our own existence – we are the engineers of our own futures. 
Sage Rossie @mouldyjuice is an artist/photographer currently working predominantly with photography and video. In their honours year of the Bachelor of Design at Massey University, their work has consistently circled queer images and expression, the entanglement of gender and the body as well as art as a vehicle for celebration and reclamation. Based in Te Whanganui-a-Tara and raised in Te Whakaraupō, home is a source of connection and inspiration in their practice
#7. 2020. From the series My Body Is My Vehicle 
 
I photographed this image on one of the tips of Banks Peninsula, over looking Te Whakaraupō, Lyttelton Harbour, a place that was home to me for 18 years. 
This image, along with the fourteen others of this ongoing series, have become a rehearsal, of sorts, a performance that becomes disconnected from reality, and reconnected to the self, as a being on this earth. Through engaging in a playful enactment of my physicality, I have been working to untangle my own issues around gender and the body, working out what it means, to me, to be non binary. In this series I flatten the form of my body and join them together to exist in a multiplicity. I feel my existence as a queer person through the multiplicity of my being. This series was born during lockdown last year,  being both in front of, and behind the camera, imaging and reinventing my own reality, has become a powerful tool in my practice. These works are about engaging with my existence as a human, reconciling with my gendered body and sharing that story visually.
We look to the future with Progressive Ideals - Astrae 2014
Artist
Becky Nunes - Women in Photography NZ & AU
Main Image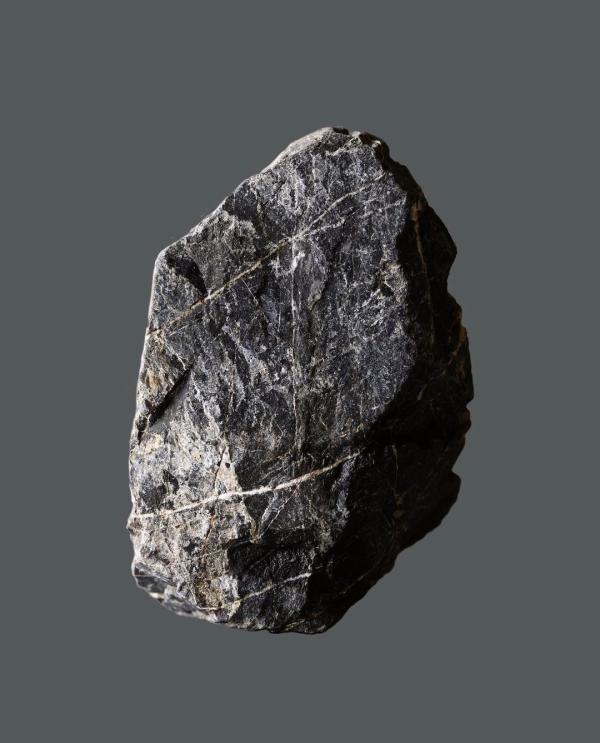 Gallery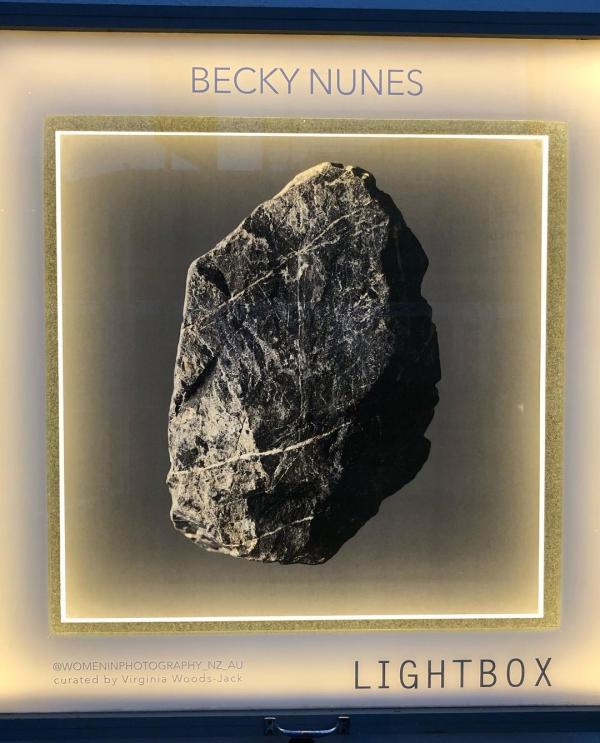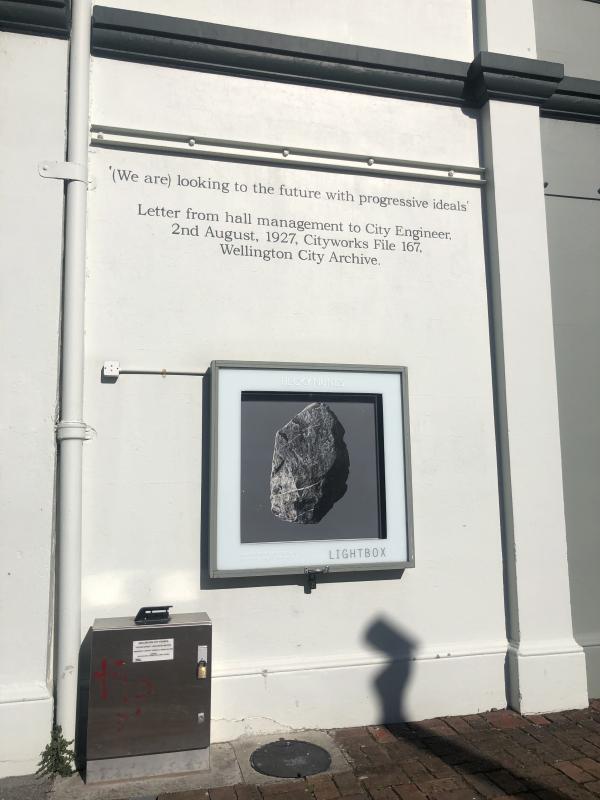 Body
Welcome everyone to this, our 6th of 8 instalments. In preparation for each artist, I find my thinking circling back to recurring themes that run through my practice, that of the artists and the ever-evolving community of Women in Photography NZ & AU. We all have unique ways of expressing these thoughts and concerns, but time and again, they surface in our work, as they should, as they relate to our relationship with the more than human world. Our ability to be in dialogue with Papatūanuku (Mother nature) requires that we listen and learn first and then we take action from this place, on repeat. She isn't a passive resource that we can extract from ad infinitum, rather a fount of knowledge and power with layers of deep time and histories, human and natural, that go way beyond our comprehension. That said, the ability for Papatūanuku, our children and future generations to thrive relies on us stopping and asking for guidance. Are we thinking in the long term in a world that is obsessed with short term gain? Are we becoming good ancestors? Attention to the environments around us, in every sense, and our relationship to them are foundational to our next artist @beckynunes_nz exploration. Becky is a generous woman whose dedication to education is expressed here in Aotearoa and the UK where she currently resides - with a robust research-based practice there is always much to learn from taking time with Becky's work. In terms of this project, that time is now.
Becky Nunes is lens-based artist and educator of Jewish and Cornish descent, recently relocated to the United Kingdom after living and working for many years in Aotearoa-New Zealand. She works in an expanded documentary framework, using lens-based tools to think about the problematic and complicated nature of land use, resource extraction and the amplification of marginalised and polyphonic voices. Nunes' practice is scaffolded upon the building of alliances with indigeneity, collaborative and Kaupapa Maori (Maori practices and protocols) methodologies. In her work she unearths and manipulates archival material, combining it with her own moving image & still photography. The co-opting of the documentary form into more activist and resistant outcomes have become central processes in Nunes' practice, and the writing of Donna Haraway, Erica Balsom and Ariella Azoulay amongst others gives invaluable context to her work. 'I think about walking as a method for generating embodied knowledge, and about ways to employ a "listening" camera as a research tool in the service of the community.' As an educator, Nunes' focus is on empowerment and making space for divergence in the classroom and curriculum. Her images have been awarded, published & exhibited locally and internationally. Nunes is a founder member of Tangent Collective (Aotearoa) and creative partner at 35a (U.K). She currently holds the post of senior lecturer in photography at Staffordshire University, United Kingdom.
Astrae 2014. 1500x600 from the series Co-orbital
 
This work, with the others in the Co-orbital series, was made as part of an open, co-authoring process with site. At the time of making the work, I was exploring the possibilities offered by psychogeography to open up alternate narratives of place. In practical terms, this meant focusing on an environment that I felt held rich and layered histories, and repeatedly visiting that site, whilst also sifting through the available archives in relation to the past. The objects and encounters that made themselves known to me during these times were, I reasoned, active participants in the project.
I think that synchronicity is really important in my practice. Not really in terms of "coincidence" but more in terms of alignments that can occur without orchestration by me. As many non-Western and indigenous cultures affirm, the human and more-than-human exist in a complex and interconnected system of ecologies, and I think it is this thought, above all, that really sparks with Woods-Jack's exhibition theme. It is imperative that we look to these more-than-human relationships if we are indeed to progress past this moment of Anthropocenic planetary crisis.
Astrae is many things at once. A glittering jewel-like rock, a piece of landfill forming the substrata of the Auckland University Business Centre, an orbiting asteroid, a suspended mineral composite, connecting to our human DNA through the dispersal of stardust on and in our planet from the Big Bang. Seeing all these possibilities in a small stone helps us to imagine a more progressive future for our planet.
Thistle Hall Update
Kia ora,
Please click here for our current policy under the Traffic Light System.
Ngā mihi maioha