Archives
End Date
11 September 2019
slow warnings
Artist
Christian Dimick / Olivia Deakin
Main Image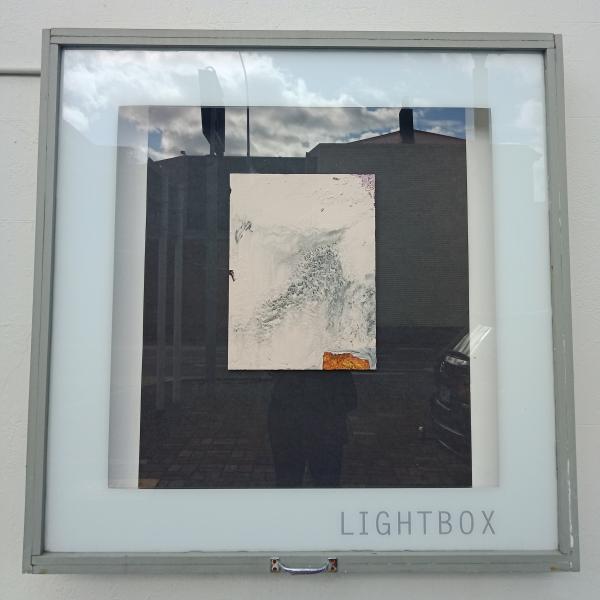 Body
This fortnight, Lightbox is pleased to present the work of Christian Dimick and the writing of Olivia Deakin and curated by Melina Payne. Both running until September 11th, Olivia writes in response to "Slow Warnings", creating a dialogue between image and text. 
Artist Christian Dimick explains:
"Using imagery inspired by the ever changing forms of the Jakobshavn glacier in Greenland, as well as the Sanchi oil tanker collision that occurred in 2018 "Slow Warnings" is a product of the erratic and unstable nature of the earth currently. This instability is a product of humans ignorant use of the planet's resources and our flaws in the way we use, transport and value them. Using malleable materials such as ink and oil paint, the movement of warmer ocean currents seem to be in motion through the work. Along with this, the heat and toxicity of the industrial world (seen in the bottom right) bleeds into the purity of the sea -- eating into the surface. 
The earth reacts and responds to the ways in which we treat it. By reading the signs and warnings it gives us, we may find ways in which we can develop a positive relationship with our volatile home."
In response to "Slow Warnings", Olivia Deakin writes: 
"You like abstract art! So, you'll like this!" I was told, and they weren't wrong. I love it, I'm making my bias aware to you straight away.  But should this be considered abstract? I recently read that abstract art is the portrayal of things in which the visible world plays no part.  The charcoal bleeds down the canvas. Visually reminding us of the aerial perspective of our coastline. The patterns formed by water moving back and forth over sand and soil. That alone is the portrayal of something in our visible world. So, what category can Slow Warnings be placed into? Not abstract under the definition I've given you. The debate on whether I should even try to catalogue and define and place art into a nice neat box is for another very long day. This work stands for something bigger. It fits within Christian's current inspiration of coastal erosion, continuing on from its initial inspiration of the forever changing Jakobshavn glacier. Simple imagery which embodies larger issues at hand. There is a social phenomenon known as having your head in the sand which we see every day in the discussions and warnings about climate change. People become overwhelmed by what they see, read, hear, and react by rejecting and ignoring the warnings. We must provide an aesthetically pleasing message that can slowly coax their head out and re-inspire them to make an impact.  These slow warnings act as alarm bells for oncoming environmental issues. In an attempt to place Slow Warnings in that nice neat box I mentioned, I think I need to wrap it with a hemp string bow. Placing it within the long and active history of environmental art, or ecological art. Art that highlights our relationship with nature and also highlights the current state of our natural environment. Art that educates, that is socially and politically active, art the challenges big corporations and governments, art that seeks change. Artists such as Betty Beaumont, Agnes Denes, Chris Jordan, the group Ephemeral Coast, and even our own Joyce Campbell. This is just a small handful of artists like Christian Dimick who seek to discuss and educate viewers about the environmental concerns of today. I would say this nice neat box has more at stake than the abstract box. A work like Slow Warnings challenges your understanding of the world but so beautifully pushes you towards making a change. Listen to the slow warnings that our environment gives us and listen to the artists who depict this. 
I've included below a short interview with Christian Dimick (Instagram: @christaiirr). To provide an insight into the work of this second-year art student who already seems to be placing himself within a long and important art historical discourse. 
Q: You are in your second year of a BFA at Massey, how are you finding this year? What is your favourite class? 
A: I am enjoying my second year so much more than the first. Having my own studio space is a big luxury and I feel really privileged to have a space to myself where I can really put my head down and get into my work. My favourite class would probably be my studio class. Where we have the freedom to take on making through any medium but are prompted on different topics.
Q: What influences your work?
A: A lot of different places, people, and histories definitely come into play when I'm making. I'm mostly focused on shoreline erosion on the coasts of Aotearoa and more specifically the Kapiti coast. Taking inspiration from places and their textures
Q: Where do you look for new influences?
A: Definitely other artists that work with layering/texture and utilize the natural world in their work. An artist who comes to mind would be Antoni Tàpies. I'm unashamedly obsessed with him at the moment.
Q: You haven't always been working in Wellington, how do other cities influence your work?
A: I was living in Sydney last year where I did the first year of my degree. I'd say my work has become more about the people and places around me rather than myself. I enjoy looking back to my older drawings and paintings because they are kind of naive but I don't think there's anything wrong with that. I'll probably look back at the work I've done this year and think it was naive as well. It's all part of growing! 
Q: How has your work developed since beginning your BFA?
A: I'm more focused on layering and textures now in my work. Everything is less literal and less figurative.
Q: Describe the process you used in creating this work. What materials did you use?
A: Secrets!!! 
Q: Does the work have a title?
A: The work is called 'Slow Warnings'
Q: What does your work aim to say?
A: The ideas that the work is projecting are always changing a little bit. I feel like the overarching idea is the imminent. There is pressure all around us on the planet at the moment. And pressure always reaches a breaking point. 
Q: What's next for your artistic practice?
A: I'm not sure yet. I'm in a good place at the moment and I'm still feeling inspired by the themes of erosion and excavation that I'm looking at when I go to paint/draw. I've been working with field recording a lot at the moment so that may transform into a new body of work.
Q: Do you find time to make work not intended for your BFA?
A: Yeah for sure. When I am feeling stuck with a painting I always love to go back to figurative painting or drawing. Especially large scale. I can let myself go and it doesn't seem so serious.
Olivia Deakin, born in Sydney, Australia but grew up on a farm in Nelson, is a current student at Victoria University of Wellington completing her Honours in Art History. Along with a background in Sociology, she is interested in how people view and interact with art in art spaces. She is passionate about ceramics and their treatment within the art world.
the beasts
Artist
Aleksandra Glumac / Amber Clausner
Main Image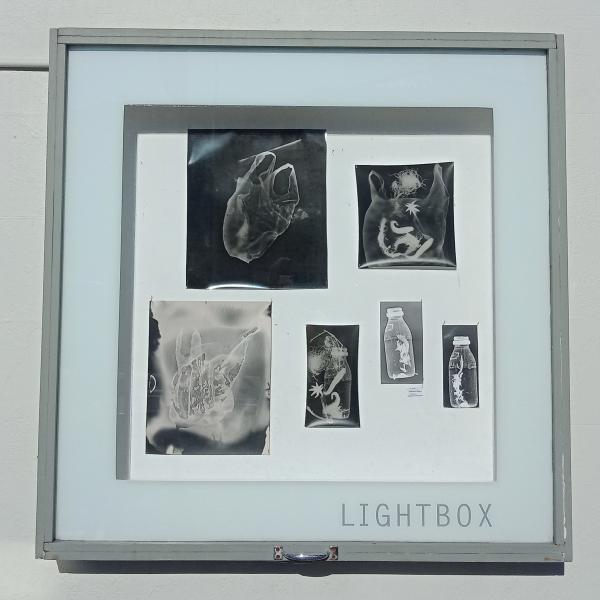 Body
This fortnight, Lightbox is pleased to present the work of Aleksandra Glumac and the writing of Amber Clausner and curated by Melina Payne. Both running until August 27th, Amber writes in response to "The Beasts", creating a dialogue between image and text. 
Artist Aleksandra Glumac explains:

""The Beasts" are a series of camera-less photographs I created with plastics I found on beaches of Wellington and around New Zealand. I created these photograms in a dark room at The Learning Connexion of Creativity and Art, where I am a student. Photograms are made by placing an object in contact with a photosensitive surface in the dark, and then exposing both to light. Where the object blocks the light, either partially or fully, its shadow is recorded on the paper. Plastic bags are beasts in the ocean, which harm marine and land environments in catastrophic ways. I created "The Beasts" series to call attention to the environmental impact of plastic bags and disposable plastic and to raise awareness about the global plastic waste crisis."
In response to "The Beasts", artist and writer Amber Clausner writes:
A BOTTLE IN A BAG,
POLYETHYLENE TEREPHTHALATE (PET) AND POLYETHYLENE (HDPE), RESPECTIVELY
(ONE HOLDS WATER FROM A FAR AWAY PLACE, 
THE OTHER HOLDS THE BOTTLE THAT PROVIDES THE WATER TIGHT SPACE)
THEY ARE PURCHASED, USED BRIEFLY, THEN LEFT ON THE LAND,
IN A PARK, ON A HILL, AT THE BEACH, IN THE SAND.
THEY SEARCH FOR THEIR OWNER,
LOOK FAR AND LOOK WIDE.
HDPE FLOATS ON WINDS, CHASING BIRDS THAT CAN FLY
PET FOLLOWS STREAMS, WATCHING FISH SLOWLY DIE.
THEY MEET ON A RIVER BANK, ALL GRIMY AND SLIMY
CLING ON TO EACH OTHER, DIRTY WATER PASSES BY
HERE THEY REST (ROTTING FOSSILS SIGNAL DECAY)
AND HERE THEY STAY (UNTIL A LOCAL INITIATIVE TAKES THEM AWAY)
(AMBER CLAUSNER IS A MULTI MEDIA ARTIST FROM THE UK, CURRENTLY LIVING AND WORKING IN TE WHANGANUI-A-TARA, AOTEAROA. SHE IS AN AVID BELIEVER IN THE POWERFUL LINGUISTIC EFFECT OF CAPS LOCK IN THE ABSENCE OF THE AUDIBLE VOICE.)
Main Image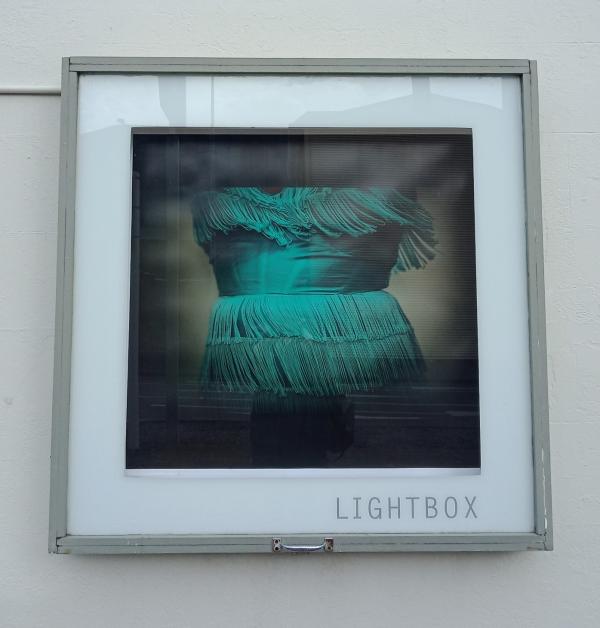 Body
Curated by Melina Payne.
I am a professional photographer and musician working in Wellington and further afield, with a large clientele of mostly portraiture clients.  I took this image of Tami Neilson at her home in Auckland as part of an impromptu shoot.  I like this photograph so much because it could be anyone, but it's completely her. It is both perfect and imperfect at the same time. I really love the movement, the colour and the general good feeling vibe, which has the effect of swinging between an old world and a contemporary one, immediate in it's feeling and pertinent to my life.
Main Image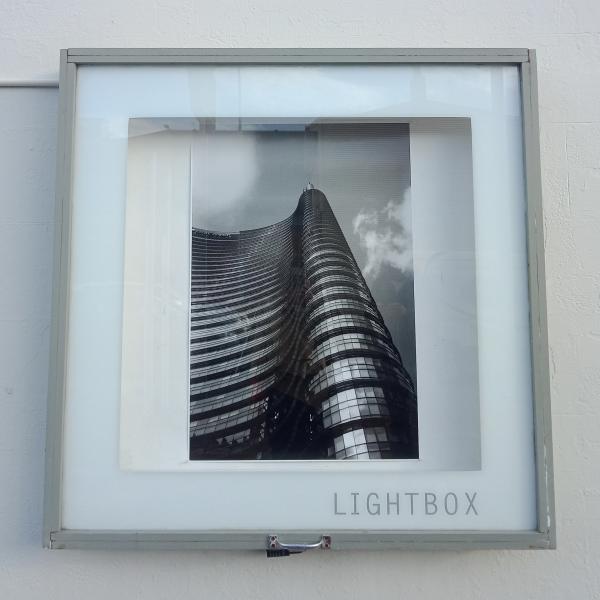 Body
Curated by Melina Payne
I have been taking photos for roughly 7 months now, and have since fell in love with architecture photography. This photo in particular is of an old dock area in Milan which has recently been renovated with new (and very large) buildings. The area is now called "city life". I moved to New Zealand three years ago and only recently went back for 2 weeks to Milan on May of this year. It was interesting to see how much things had changed. I tried to capture that change in this photograph.
Nasturtium with gold leaf (2019)
Main Image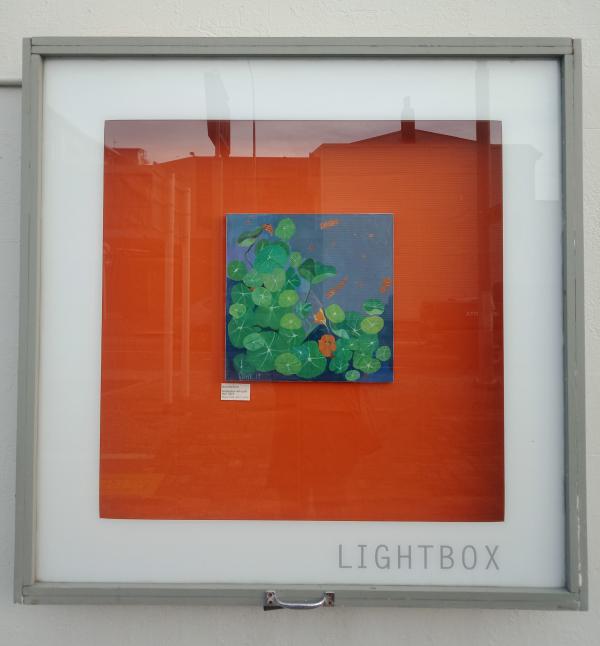 Body
Curated by Melina Payne.
I make paintings that are glimpses of little things that I notice throughout my day. Things that will sometimes linger in my mind because of an interest I can not explain. A fascination which can only be put to rest once I have made a painting. As for Nasturtiums, they are a determined little plant. They are self seeding and can grow abundantly in poor soil. Despite their hardy nature, their bright flowering faces are a charm to unkempt sidewalks and forgotten nooks and garden corners. Nasturtiums are also edible. Their leaves and flowers alike are peppery on the palate similar to that of cress. An excellent addition to radish, roast veges and fish! Walk around Wellington, Hataitai, Brooklyn, Mt Cook and you will see the open smiling faces of Nasturtium leaves growing ever fondly toward the sky.
Main Image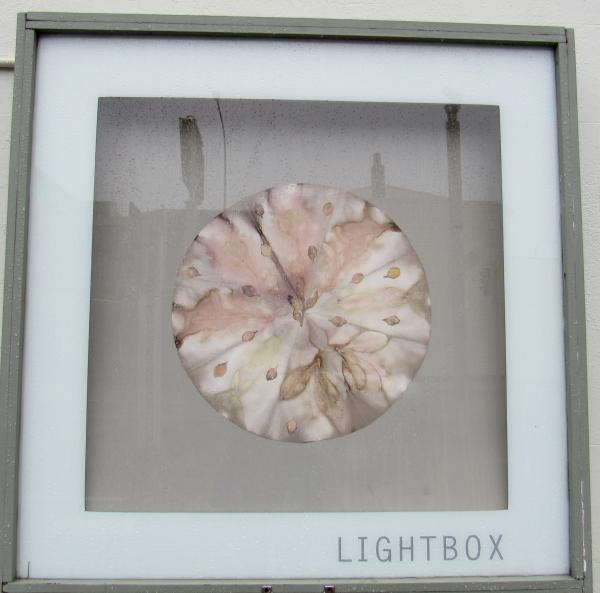 Body
As a student at The Learning Connexion, I have discovered the art of eco-printing on fabric and textiles. I specialise in native NZ plants, using leaves, flowers and sometimes seeds and berries. Most of the plant material is gathered with care literally outside my back door or in the extensive grounds of The Learning Connexion campus.
This piece is the result of my explorations of printing outside the square, so to speak, and combining elements of various prints to make new compositions. On the original print are karaka, lemonwood, kamahi and kumerahou, with prints of pohutukawa and red beech leaves added.
Margaret Willard
027 363 2967
holding hands while the world comes tumbling down
Artist
Emily Brown, Digital Silk Print, 2018.
Main Image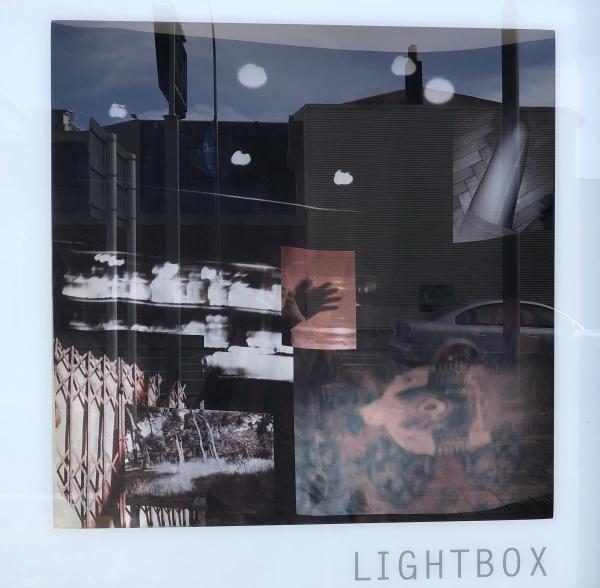 Gallery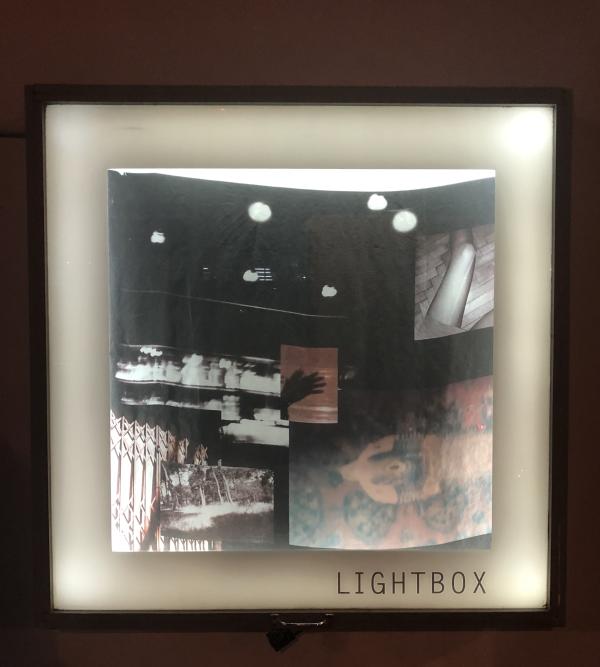 Body
holding hands while the world comes tumbling down is the consideration of faded memories, effigies of family, obsession and images as a building ground for memory. It gestures towards intimacy and the body, while evading a set narrative, it looks for potential in fragmentation. The work shifts between autobiography, myth and fiction,  swirling fragments of tradition and history. My practice is predominantly concerned with engaging ideas of representation, history, creating a state of unease, where the image sits decontextualized, using printed gesture to articulate intimacies and vulnerabilities.
End Date
30 September 2018
land as collector
Main Image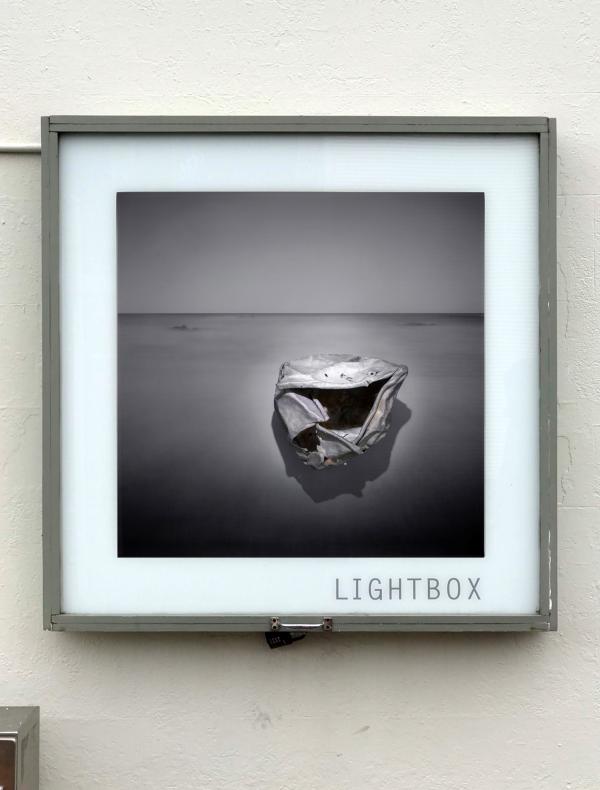 Gallery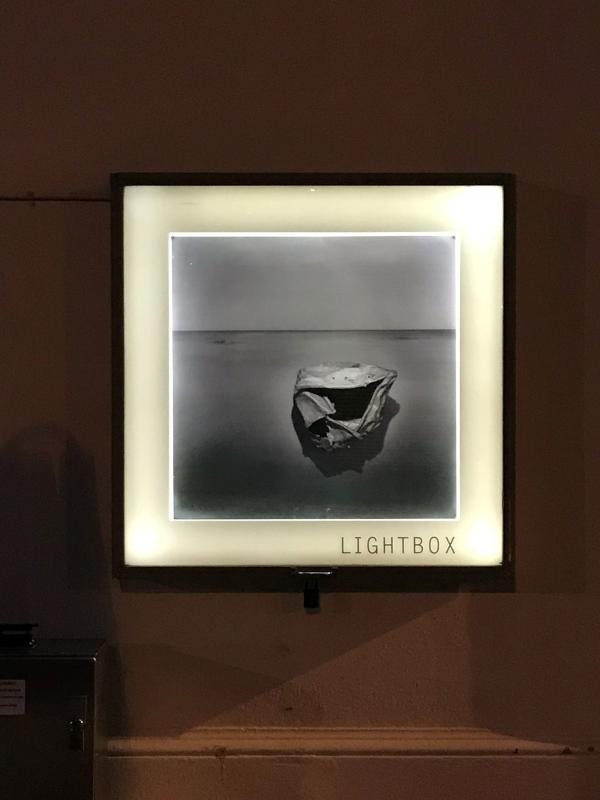 Body
In connecting with the land, we acknowledge the sense of attachment to the earth (or whenua) we feel where we stand. 
Walking through a place brings a sense of the spirit (or wairua) of the land, and the passing of time in the location. Time and tide have changed the land. Residue from layers of the land and its history tell the stories of days gone by. 
Main Image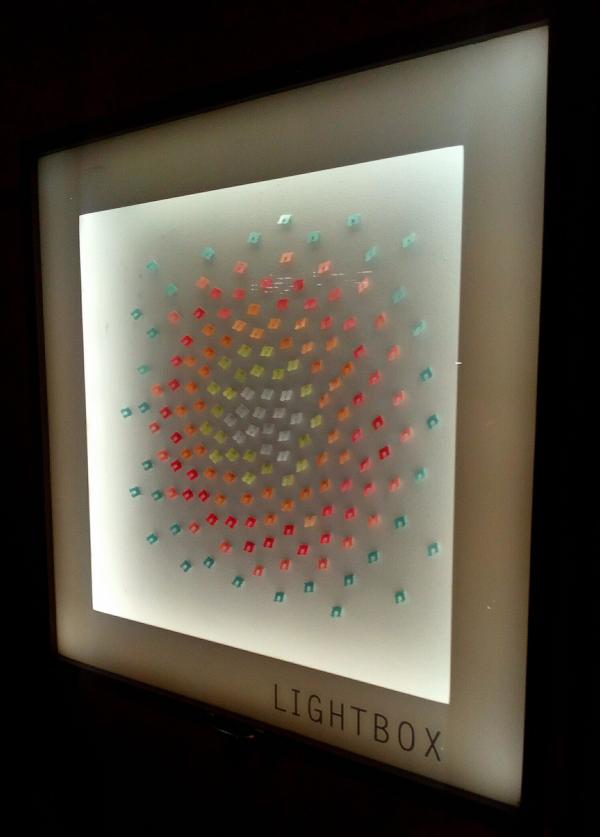 Body
We use & throw away at will… I see bins everyday w items that could be recycled.
Why? We can recycle… but some choose the easy way of chucking out.
Not all…  it's great to be living in an age where consumerism is being questioned & awareness is growing.
I collect & hold onto what isn't biodegradable where possible.
Here i am collecting an item which can't be recycled to showcase & remind others to be aware of their consumer footprint.
I hope you enjoy how my creation interacts with the light of day… & night.
Dan Wilkinson
Main Image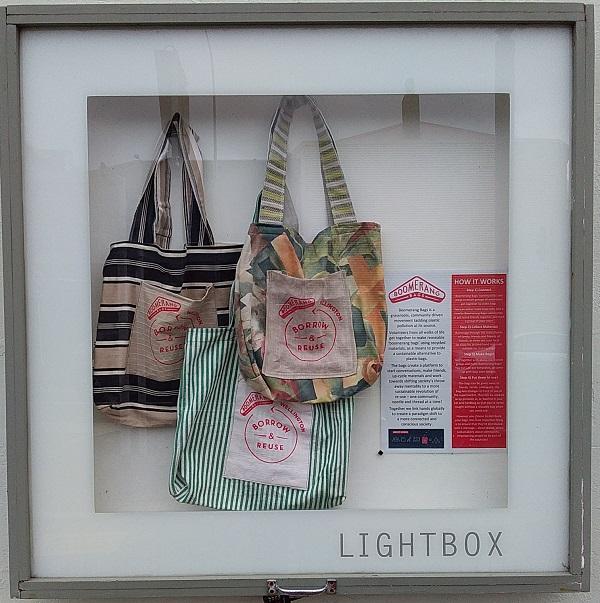 Body
Boomerang Bags is a community driven initiative tackling plastic pollution at the grassroots level. We divert textiles and fabric from landfill and upcycle it into readily available reusable bags for everyone!
National Working Bee -  7 July 2018 Get involved with Plastic Free July by joining us for the biggest working bee that New Zealand has ever seen. Come and make a bag, have a chat or just hang out with us.
Harbourside Boomerang -  8 July 2018 We all know that plastic is wreaking havoc in our city and while Supermarkets have pledged to stop handing out single use plastic bags we need all of Wellington on board so we can make lasting change. The Harbourside Market team have supported people bringing re-usable bag for years, and would love to see more market goers get on board. Join us and the Plastic Free July movement by handing out FREE re-usable produce bags made from re-purposed fabrics and lets have the conversations that will encourage everyone to make the choices that will improve life for the turtles and the whales and the sharks and the seabirds and the cows and the humans that are all unknowingly digesting plastics everyday :) 
Main Image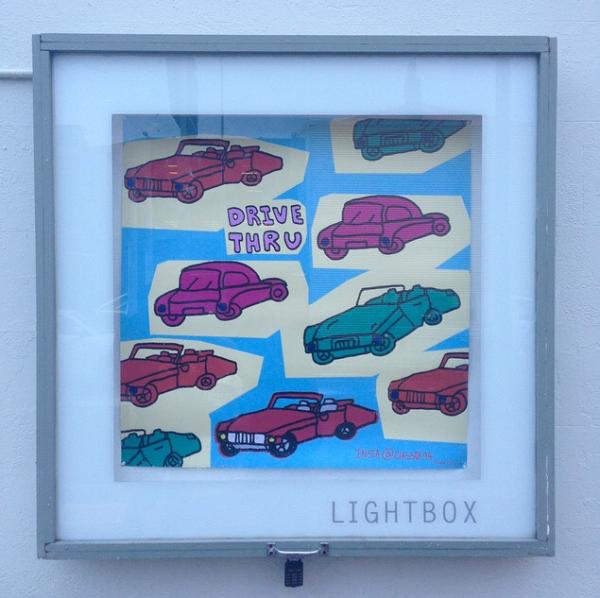 Body
This visual, titled 'Drive Thru', belongs to a collection of mine called 'Class Of '94'.
'Class Of '94' is a tribute to every piece of inspiration that I've encountered throughout my life. Everything that has influenced my style & ideology is captured within this collection of visuals.
'Drive Thru' was inspired by pop art & also street artists who connect their work into the surrounding environment, as 'Drive Thru' is located near a busy road that is often backed up with traffic. 'Drive Thru' also captures the idea that people come into your life, give something, take something & move on.
To see more 'Class Of '94', check out my Instagram
Main Image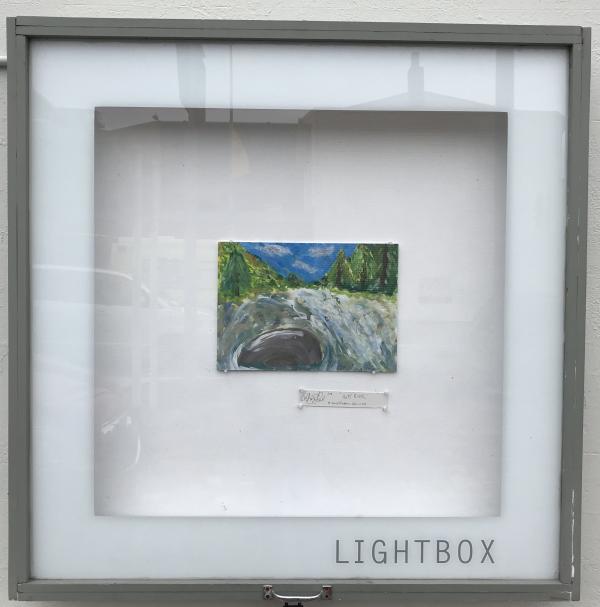 Body
This is an exploration of environmental impacts on our waterways. The Hutt River is a main source of drinking water for Wellington and there is a need to highlight the sometimes-toxic water that we drink.