On Now
Opening Hours
Wednesday - Sunday, 11:30am - 6:30pm
Description
From Wednesday 10th to Sunday 14th August, at 5pm daily, Katy Soljak will read a story from My First Real Pash and talk about her work.
My First Real Pash is a book launch/art exhibition. Described as gripping, funny, tragic and cathartic, these 12 paintings and accompanying 12 stories condense the experience of a whole life into a series of works. The book with its frank and colloquial style offers a subtle yet biting critique of New Zealand Society. Katy Soljak will read from her book during the exhibition.
Mobile Phone - 027 446 8220
Add event to calendar
Apple  •  Google  •  Office 365  •  Outlook Web  •  Outlook  •  Yahoo
Up Next
Artist
Barry Enslin, Marie Enslin & Tyla Cunningham
Opening Hours
Thursday - Sunday, 10.00am - 4.00pm
Description
Stages reflects the immigration story of one families journey to New Zealand. It spans three generations movements across four countries in search of new beginnings. These journeys are expressed in multiple media (charcoal, watercolours, ceramics, pen & ink) reflecting each of their personalities and experiences. Stages contemplates what we as immigrants bring to our new home, wisdom, hope, vitality but mostly resilience and diversity.
Artist
A Group Show of Contemporary Jewellers
Main Image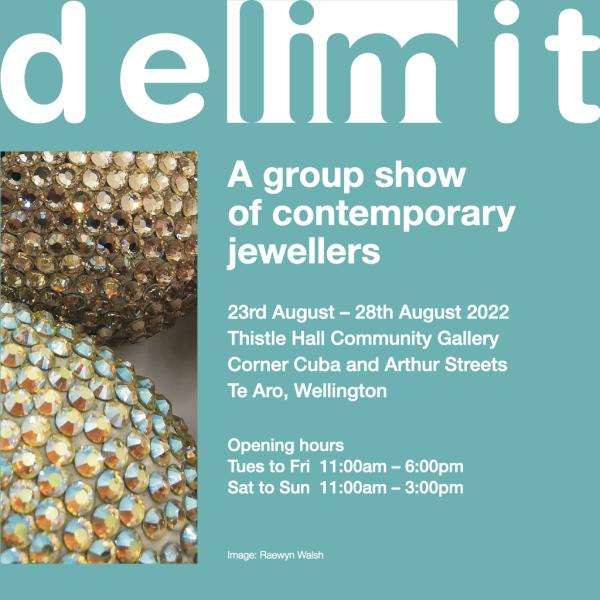 Opening Hours
Tuesday - Friday 11:00am - 6:00pm
Saturday - Sunday 11:00am - 6:00pm
Description
delimit is a group show of contemporary jewellers and jewellery adjacent practitioners. It features the work by 33 artists from across the motu. The artists have worked in a range of media exploring the concepts of interstitiality and liminality. If an object is a discrete form in a given state, then it stands to reason that it must have an ending, an edge or threshold, where said object and or its state ceases to be and something other begins, and between these beginnings and endings there must be a space, or a clearing, the smallest of intervals between things, a void, a new space, so that what is not there has the same weight as what is.
Vivien Atkinson, Maca Bernal, Becky Bliss, Vernon Bowden, Nadene Carr, Fran Carter, Kristin D'Agostino, Peter Deckers, Sharon Fitness, Mandy Flood, Karl Fritsch, Nik Hanton, Lisa Higgins, Louise Hill, Neke Moa, Katie Pascoe, Sarah Read, Sandra Schmid, Nadine Smith, Mia Straka, Caroline Thomas, Nina van Duijnhoven, Lisa van Hulst, Tia Venning, Lisa Walker, Sarah Walker-Holt, Raewyn Walsh, Jess Winchcombe, Kathryn Yeats, Grace Yu Piper, Keri-Mei Zagrobelna, John Sheehan & Sean O'Connell
Thistle Hall Update
Kia ora,
Please click here for our current policy under the Traffic Light System.
Ngā mihi maioha