On Now
Artist
The Fish Bowl Artist Collective
Main Image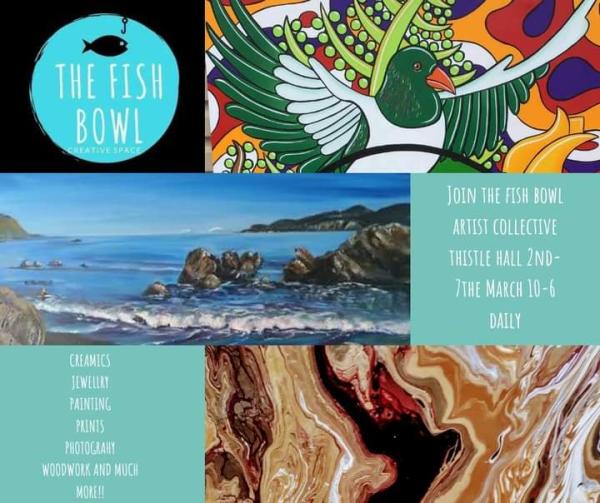 Opening Hours
Tuesday - Sunday, 10.00am - 6.00pm
Description
OPENING CANCELLED
The Fish Bowl Artist Collective is happy to bring their art to Wellington City for the first time!
This group of talented and varied artists have been exhibiting together for 3 years, with different styles, stages and levels in their careers as artists.
Come and join us for a wide range of variety including
Painting
Photography
Ceramics
Carving
Sculpture
Jewelry 
And much more!
Up Next
Opening Hours
Tuesday - Saturday, 11.00am - 6.00pm
Sunday, 11.00am - 4.00pm
Saturday 13 March, 11.00am, Floor talk for kids (suitable 6 - 11 year olds)
Sunday 14 March, 1.00pm Floor talk
Description
Iconic Wellington Architect Roger Walker is well known for his quirky design and love of colour.  Now, after finding himself with a bit of spare time and nowhere to go during the COVID 19 lockdowns,  he has turned his distinctive creative style to joyful and colourful creations on canvas.
Main Image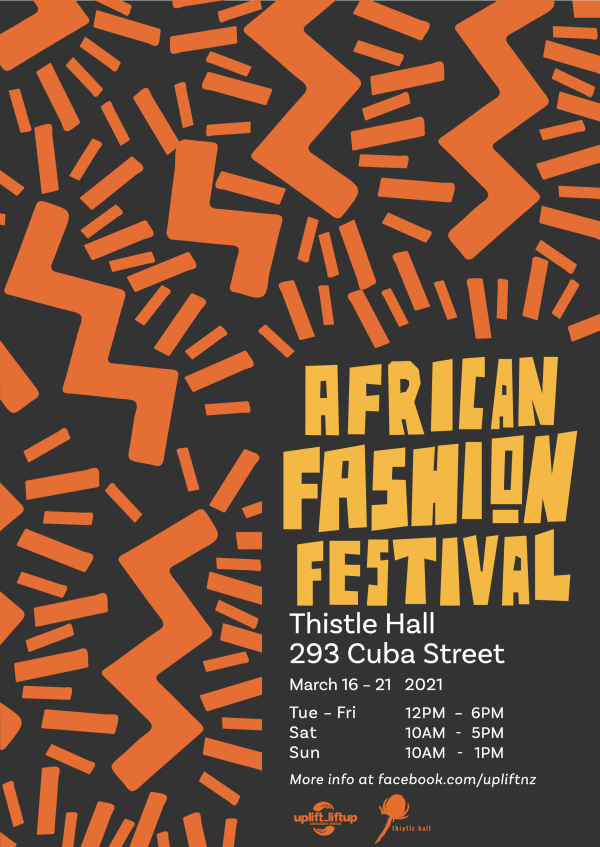 Description
Tuesday - Friday, 12:00 PM - 6:00 PM
Saturday, 10:00 AM – 5:00 PM
Sunday, 10:00 AM - 1:00 PM
The African Fashion Festival is a collaborative effort with designers from Africa/ former Refugee and Migrant Communities showcasing African fashion, style, designs, prints, and textures. New Zealand is a multi-cultural nation with around 213 ethnicities which is more than there are countries in the world! This makes New Zealand a melting pot of cultures with such diversity and rich experiences from the different groups.

The exhibition focuses mainly on African fashion and styles. It aims to show the range and the diversity of African fashion and speak to the different backgrounds, perspectives, interpretations, and experiences that each design brings.

The exhibition celebrates the diversity within Aotearoa through the eyes of the designers/participants whilst creating opportunities to engage the wider Wellington Community and beyond through fashion and art.

We are excited to showcase a wide range of designs and stories as well as opportunities for youth to participate in the event.
Opening Hours
Tuesday - Friday, 11.00am - 5.00pm
Saturday, 12 noon - 9.00pm
Saturday, 1.00pm - live jam session featuring artist from DIY Culturalists
Saturday 4.45pm - Curators of Cuba artist talk
Saturday 6.00pm - Closing party live jam session featuring artist from DIY Culturalists
Description
DIY Culturalists is an exhibition showcasing multidisciplinary artists from around Aotearoa. This synthesis of paint, print, music, digital and sculpture presents the ethos of DYI arts culture that sits within our everyday lives.

The exhibition explores an alternative understanding of 'DIY' culture and the personalised lived experiences that can be reshaped, transformed and retold through art. This exhibition takes on a whole new meaning to New Zealand's well known 'DIY it's in our DNA'. This is a collaboration of artists whose work's represent and contribute to alternative music, folk art, Tikanga values and avant-garde principles in Aotearoa.
DIY Culturalists will also be participating in CubaDupa - the largest free access arts event in Aotearoa. Stop by on Saturday 27th midday until late to hear some live tunes, artist talks and join in on the celebrations at the closing party! 12pm - 9pm

1.00pm - live jam session featuring artist from DIY Culturalists

4.45pm - Curators of Cuba artist talk

6.00pm - Closing party live jam session featuring artist from DIY Culturalists
Featuring:
PETER BRADBURN
LISA CLUNIE
HAYLEY CLARKE
CHRISTINE COOK
MEGAN CORBETT
JUSTINE FRANCIS
PETER GEEKIE
VIRGINIA GUY
CHRIS HEAZLEWOOD
GEORGE HENDERSON
THORSTEN HOPPE
LINDSAY MARKS
SCOTT MCFARLANE
HAIG MEHRTENS
DAVE MERRITT
HAMISH OAKLEY BROWNE
JOLENE PASCOE
JOE PORTER
ROBERT M SCOTT
CHRISSE SEVILLE
SALLY SPICER
BARRY FRANCIS SQUIRE
LUCY SQUIRE
VIOLETTE SQUIRE
TOI TE RITO MAIHI
HAYLEY THEYERS
ROB THORNE
KERRY TUNSTALL
VICINITY