Main Image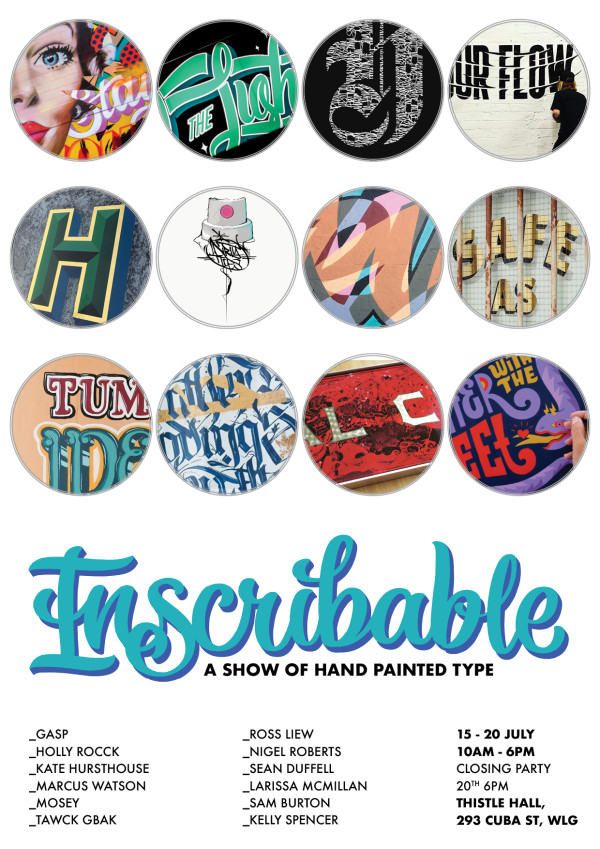 Opening Hours
Monday - Saturday, 10.00am - 6.00pm
Description
CLOSING PARTY: Saturday, 20 July: 6.00pm - 11.00pm
A showcase of leading NZ artists, celebrating the craft of hand painted typography.
In recent years the global visual arts community has witnessed a renaissance in the art of hand-lettering and signage. On home-shores, these artists work to pay homage to this near-forgotten art-form as they create quality original stylings of the alphabet, surpassing that which can be replicated with digital printing and vinyl. The Inscribable crew are back for another round after their popular show in 2015. Come and check it out!
Featuring:
HOLLY ROCCK | Words Are Weapons
MOSEY
MARCUS WATSON
TAWCK GBAK | Tawck
ROSS LIEW
NIGEL ROBERTS | DagarMedia
SEAN DUFFELL
SAM BURTON
KELLY SPENCER | Kelly Spencer
KATE HURSTHOUSE | Kate Hursthouse Calligrapher Illustrator Artist
Thistle Hall Update
Kia ora,
Please click here for our current policy under the Traffic Light System.
Ngā mihi maioha