On Now
Dark City
Artist
Melissa McDougall & KIRAN X
Main Image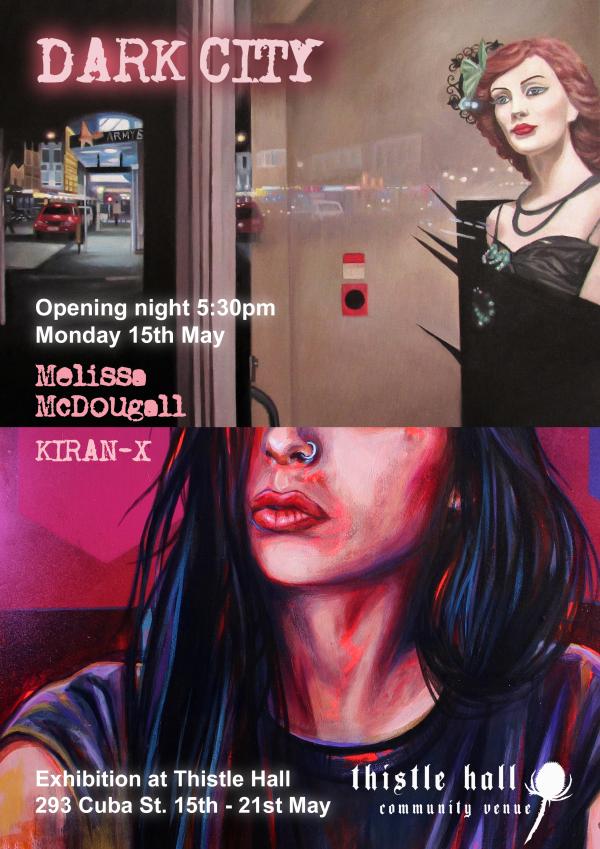 Description
Dark City is a masterful collaboration between Melissa McDougall's oil paintings  and Kiran X's multi-media paintings featuring iconic Wellington scenes juxtaposed with cinema vixens, neon abstraction and city lights.
 KIRAN-X uses aerosol and reconstituted paints with existing weathered surfaces found in the city. Drawn to dark urbanized icons, abstraction of advertising and tech noir, his characters have become bound together by an otherworldly beat of street fonts and altered facades.
Melissa McDougall's oil paintings are detailed nocturnal city scenes. Her paintings feature iconic Wellington street scenes. Each one is reminiscent of evocative Film Noir movies featuring city lights, shadows and femme fatales.
Up Next
Fluidity
Artist
Kaori Izumiya & Masako K Styles
Main Image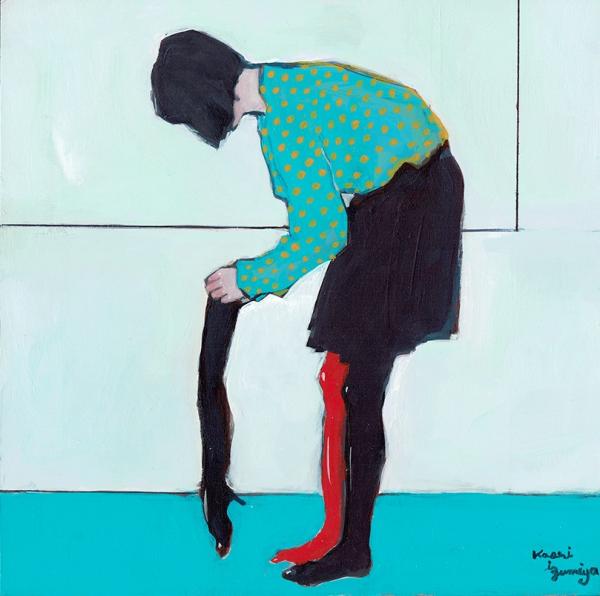 Gallery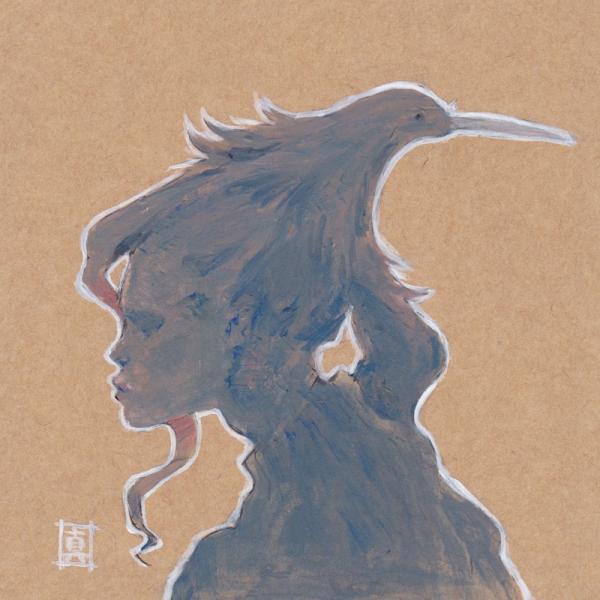 Opening Hours
Tues - Thurs: 10.00am - 6.00pm
Fri - Sat: 10.00am - 7.00pm
Sun: 10.00am - 4.00pm
Description
Kaori Izumiya and Masako K Styles, two Japanese artists living in Wellington, are having their first exhibition in Wellington. The exhibition title【Fluidity】was named to represent the adoptability to the new environment and the freeness of their artistic expression. The artists grew up in Japan but have been influenced by different cultures and people outside the country. They've got a lot of inspiration from Wellington/New Zealand - its culture, beautiful nature, and people since they moved here. They are excited to share their artwork and humbly hope to give back some inspiration to people in Wellington.
Kaori Izumiya loves to draw women and uses mainly acrylics and ink to create her art. After studying oil painting and graduating from the Tokyo University of Arts, she had multiple solo and group exhibitions in Tokyo. She is also a regular seller at Art markets. Kaori has also been painting backgrounds for Japanese animation.
Masako K Styles has lived and graduated from college in California where she learned traditional and digital art. She's worked as a 2D animator, illustrator, and manga artist/author since then. She loves making up fictional characters based off things you see in everyday life. She enjoys using various media to create her art.
The Black sheep animal sanctuary art exhibition
Main Image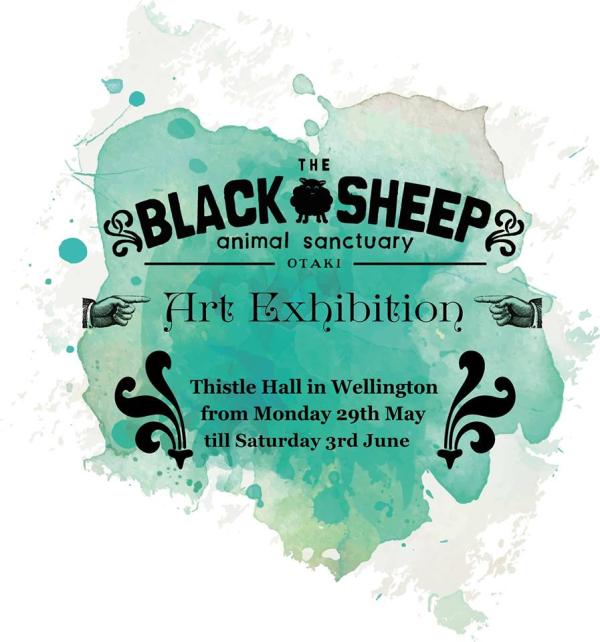 Gallery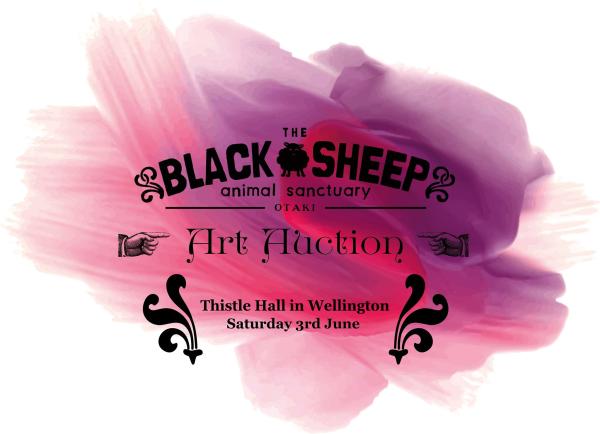 Opening Hours
Monday - Saturday, 10.00am - 5.00pm
Art Auction: Saturday, 3 June, 6.00pm - 10.00pm
Description
We are celebrating 7 years of The Black Sheep Animal Sanctuary in Otaki and 11 years of our Opportunity for Animals opshops with our first ever fundraising ART EXHIBITION & AUCTION!

We have been overwhelmed by the quantity and range of artwork donated by over 100 local and international artists! There is sure to be something to suit all tastes and budgets.

The show will be mixed media, with an adventurous range of pieces exploring the themes of animals, the environment, animal rights, feminism, intersectionality and nature.

Wellingtonians can take the chance to view the artwork at Thistle Hall from 29 May to 3 June (between 10.00-17.00) with many pieces available to buy during the week.

The auction night on Saturday 3 June is free entry (Koha welcome). Nibbles and drinks will be provided, with gourmet pies and baked treats available for sale. The show will combine a silent auction from 6.00pm and a live bidding auction commencing at 7.00pm.

Any Black Sheep supporters further afield or unavailable on the auction night are warmly encouraged to get involved via the online bidding page which will go live on the 29th May (access link to follow).

This is an evening where everyone gets the chance to help with animal rescue. While you may not be able to adopt an animal yourself, you can take home a beautiful animal-themed artwork that supports the cause.

Auction Night event link:

https://www.facebook.com/events/1074411009331024?%3Fti=ia

The Black Sheep Animal Sanctuary is owned by the Animal Protection Society, Inc., and is dedicated to the rescue and rehabilitation of abandoned and abused animals. We work predominantly with ex-farm animals and have over 180 animals on site. Our kaupapa is intersectional: pro-feminist and anti-racist; opposing sexism, inequality and environmental destruction, and we acknowledge local iwi and hapū as tangata whenua. We are queer and queer-friendly. The sanctuary is run mostly by volunteers, and financially supported by donations and our independent Opportunity for Animals opshops in Newtown, Miramar and Ōtaki. On site in Ōtaki we value empowerment through learning and sharing practical skills, especially with people of minority backgrounds, and we seek to support both human and animal rights against all forms of oppression.