Main Image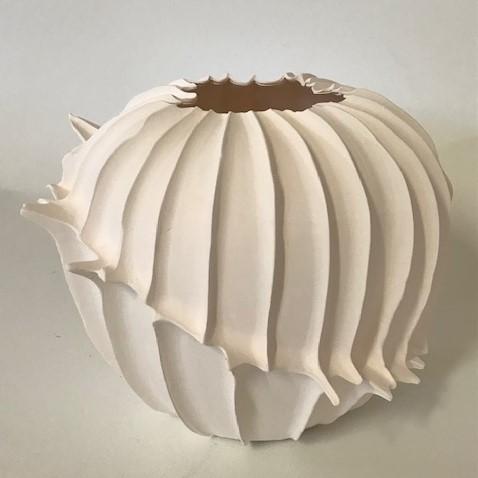 Gallery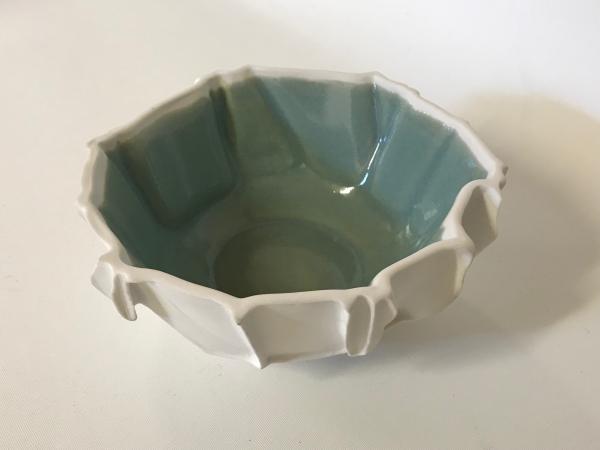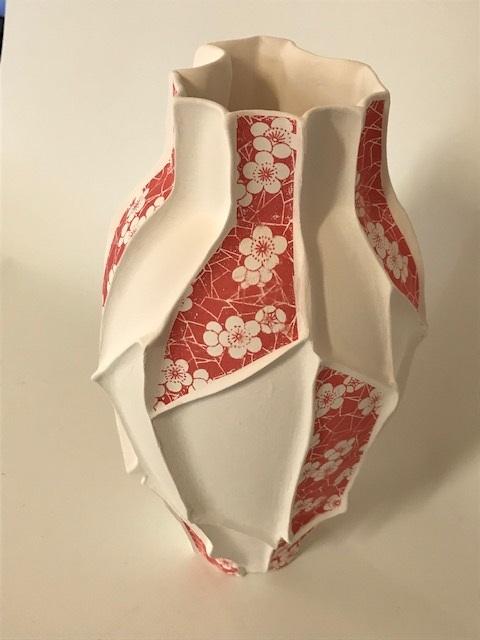 Description
SLIP, SLOP, SLAP is a solo sculptural ceramic exhibition by local ceramicist Rebecca Flowerday.
Rebecca Flowerday has developed a sculptural view of the world, which has drawn her naturally to the tactile pleasures of clay and its ability as a medium to record texture so well.
Since completing the Otago Diploma of Ceramic Art, working under the Studio tutelage of Jennifer Turnbull in Otaki, she is rediscovering abstract shapes of the New Zealand landscape, flora and fauna which hold a strong influence on her textural work.
She enjoys the fluid, naturalistic textures that clay can exemplify and the embellishment of glaze, giving depth and feeling to the sculptural pieces she individually hand builds.
As the title suggests, her exhibition focuses on the moulded form from porcelain slip but avoids predictable repetition.  By using a destructive technique involving plaster moulds, Rebecca creates diverse and organic textures.
Out of the chaos has emerged a series of handmade pieces, each with an individual line, which runs contrary to the common view when anyone mentions the word 'mould'.
Not particularly following the rules but pursuing a personal aesthetic, this marks Rebecca's first solo show, which is about using the chosen mediums to their advantage.
The Empty Bowls NZ Project has occupied her attention over recent years, an event that supports the marginalised and homeless amongst us, and is generously supported by Potters and Ceramicists from all over the Wellington region.
"I hope the intense elation I feel in the making, shows through my pieces."
Contact: Rebecca.flowerday@gmail.com
Website: Potterazzi.co.nz
Instagram: Potterazzinz
'the golden years' 1996 - 2019 - exhibition & drawing workshop
Main Image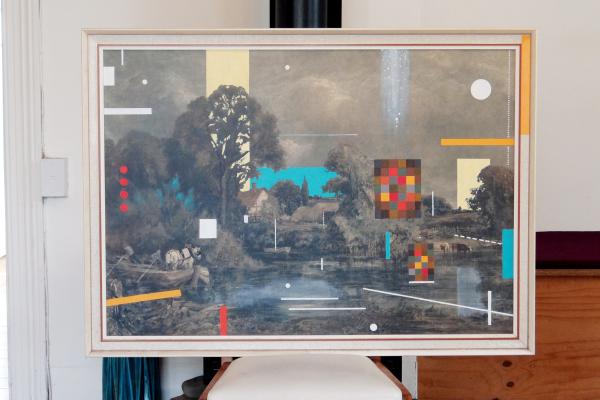 Description
Free event - A free, on the hour every hour, 40 minute Drawing and art appreciation workshop for all ages (Including adults) taught by long term Wellington Artist Paul Forrest.  It's on right at the beginning of the school holidays for one week from 10am-5pm everyday from 1st-6th October.
This artist collection and perpetual drawing workshop is an installation by the Real Art Roadshow team of artist and educator Paul Forrest and artist/arts patron Fiona Campbell.  As an art education experience The Real Art Roadshow stimulated the imaginations of thousands of people young and old at schools and public places all over New Zealand. Drawing from that experience Paul has developed a series of fun observation and drawing exercises he knows will motivate the artist in all of us.
 We want to see as many people as possible drawing at Thistle Hall Gallery over the period of this week long exhibition, rediscovering the joy of drawing as a pastime and as a vehicle to excite the imagination. It's the school holidays so bring your kids!
 The source material for the drawing workshops will be a selected collection of rarely seen paintings by the Newtown based artist Paul Forrest, spanning 23 years all with a common thread of paint and visual mathematics. These artworks have been selected to see the light of day from Paul's secret treasure vault and from the walls of the artist's own home and the artworks are also for sale.
This is a free event and the drawing workshops are open to all ages.
Start Date
24 September -
End Date
29 September 2019
Monuments of Hope - A personal narrative of mental distress, healing and recovery
Main Image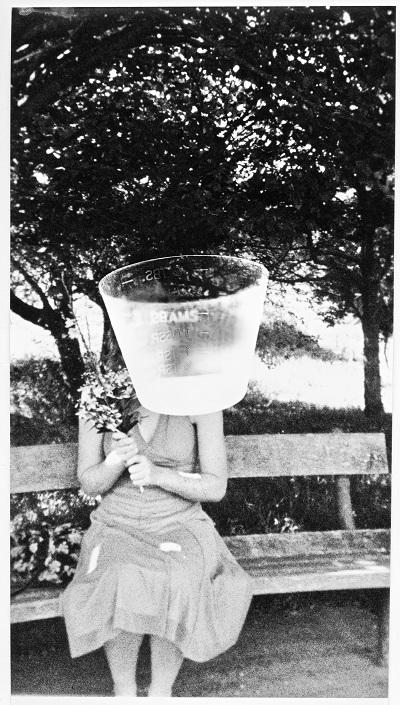 Gallery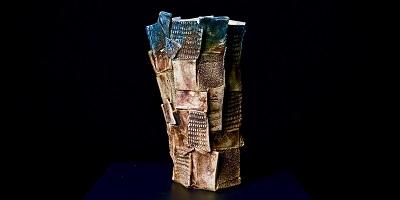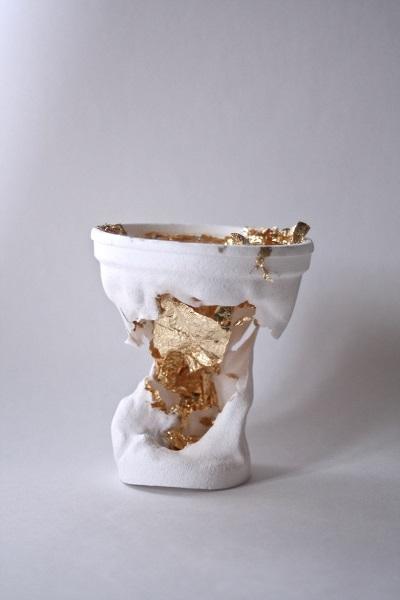 Opening Hours
Tues 24 - Sun 29 September 10.00am-5.00pm
Description
Monuments of Hope is a mental health inspired art exhibition that shows the pain, struggle, beauty and hope in recovery. My pieces of visual art are based on my own experiences of mental distress as a young adult and are created from materials that I saved throughout my years of recovery in Wellington Hospital and the community. I believe that every person with experiences of mental distress has the capacity for recovery; I want this exhibition to encourage struggling peers, bring this insight to those that discriminate and offer hope to every person. My dream is that from my exhibition people with experiences of mental distress and their communities will be able to see this hope in their own lives and those around them. 
This exhibition is dedicated to my great grandmother Alice Minnie who spent 50 years in an asylum in the 1920s. 
 *trigger warning: please be advised that this exhibition may contain distressing or sensitive material
Start Date
16 September -
End Date
22 September 2019
natural connection
Artist
Jenna Gonzales Smith & Ciara O'Hare
Main Image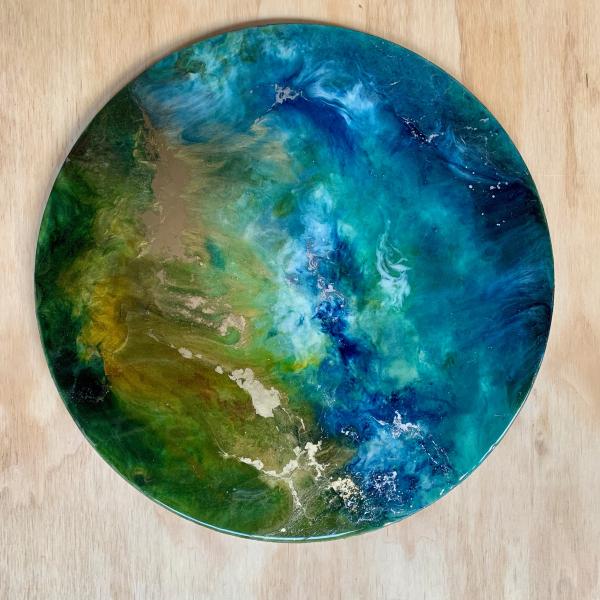 Gallery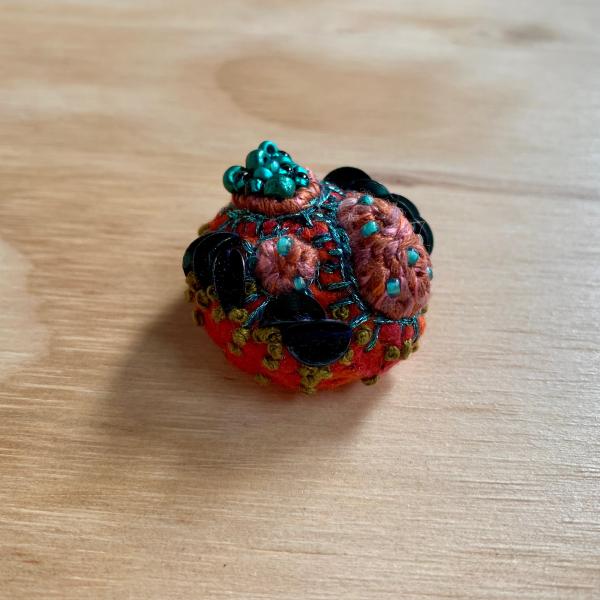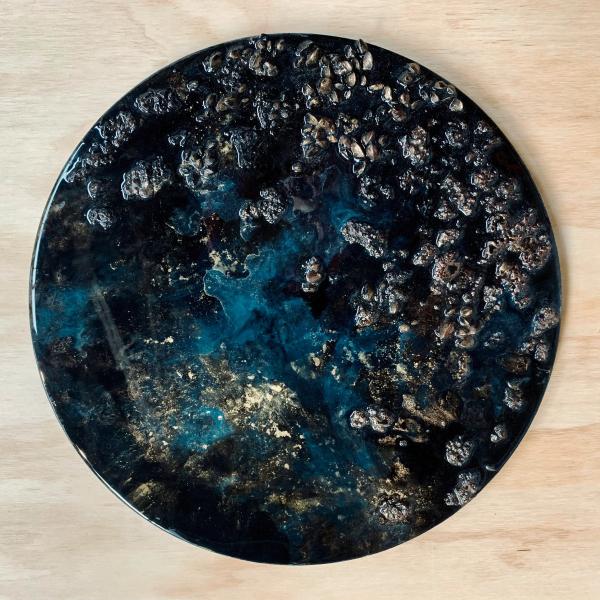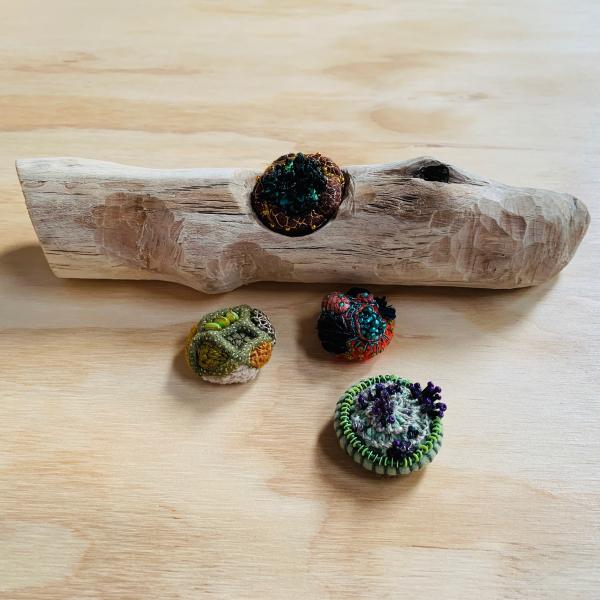 Opening Hours
Monday - Thursday, 10:30pm - 5:30pm
Friday - Saturday, 9:30am - 7.00pm
Sunday, 9:30pm - 3.00pm
Description
Natural Connection showcases the work of two artists who celebrate their love of natural landscapes and the micro complexities of organic life. The viewer is invited to explore the intricacies within their creative interpretations.
Jenna's work is an exploration of soft textiles using felt as a foundation for embellishments with embroidery and beading. Her work stems from examining textures such as lichen, fungi and playing with what they might look like under a microscope.
Ciara works primarily with resin to create abstract landscapes. Each piece is an exploration of a natural environment, from muscles and barnacles growing in the harbor to a snapshot of waves crashing into cliff faces. Her work focuses on building up colour and texture studies through layering and playing with depth.
You can see more of their art on Instagram:
@jennagonzalessmith
@ciara.j.ohare
End Date
15 September 2019
what lies beneath
Main Image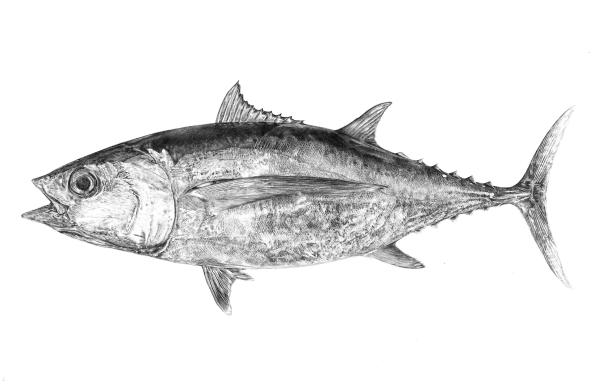 Gallery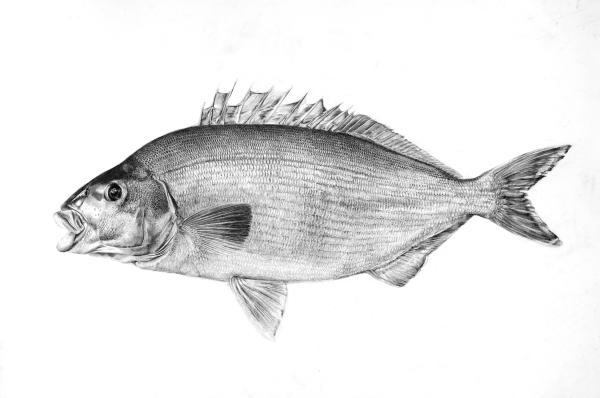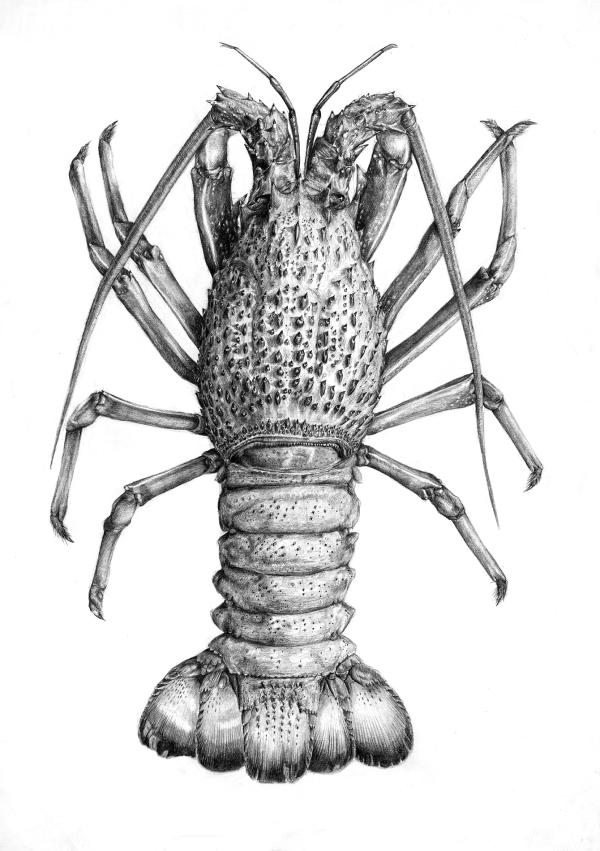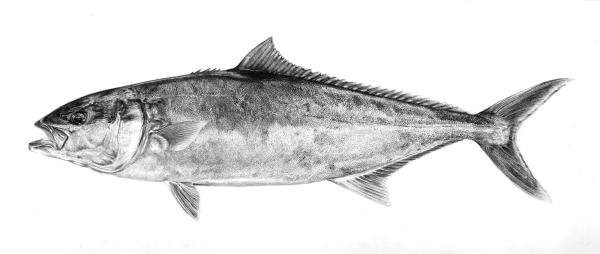 Opening Hours
Tuesday - Sunday, 10.00am - 7.00pm
Description
What Lies Beneath is an exhibition showcasing a range of graphite-on-paper drawings of New Zealand's aquatic fauna by Tim Li, a 33 year old contemporary Wellington artist blurring the lines between science illustration and fine art. His work mobilizes dramatic monochrome contrast, delicate attention to line detail and true representation of coarse and fine organic textures. His pieces are an antidote to the ego-baiting, trophy hunting, kill culture focused images of fish overshared on social media. Li's work is scientific in detail, delicate in construction and designed to catalyze conversations on sustainability, reverence and resource management.
End Date
8 September 2019
more momentum 2019
Artist
Various printmakers
Main Image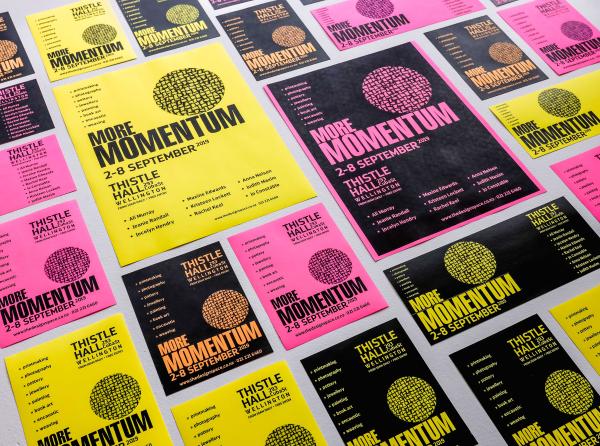 Gallery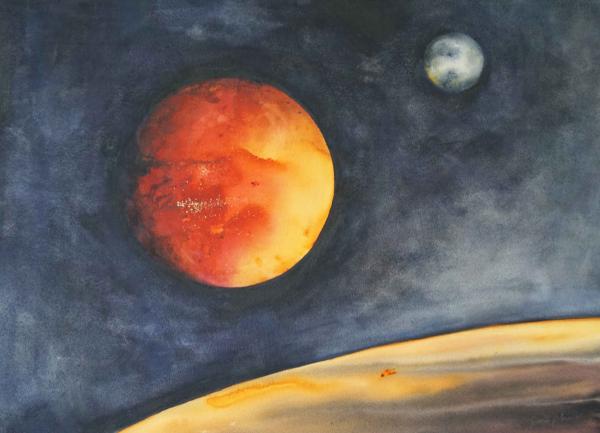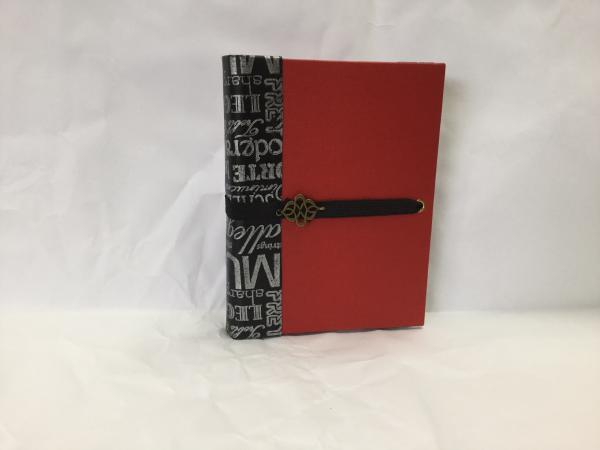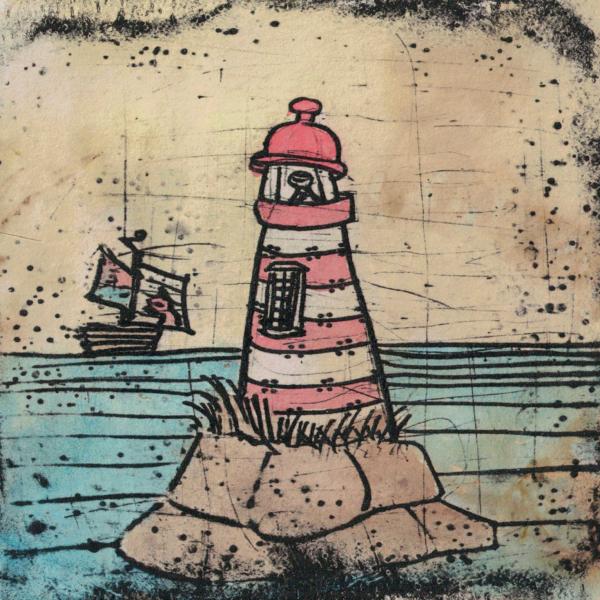 Description
Six artists return to Thistle Hall – a year on – to show their latest work along with a newcomer. Printmaking brought them together to form a collective several years ago and has led them down many paths since – into papermaking, handmade books, collage, painting and encaustics. These will be on show as well as collagraph and monotype original prints, along with jewellery and ceramics. The artists are Jocelyn Hendry, Jeanie Randall, Anna Nelson, Ali Murray, Jo Constable, Maxine Edwards and Judith Maxim.
On Saturday September 7th from 10am, artists will demonstrate collagraph printmaking and monotype and this will include the opportunity to make your own print.
End Date
1 September 2019
light as time
Main Image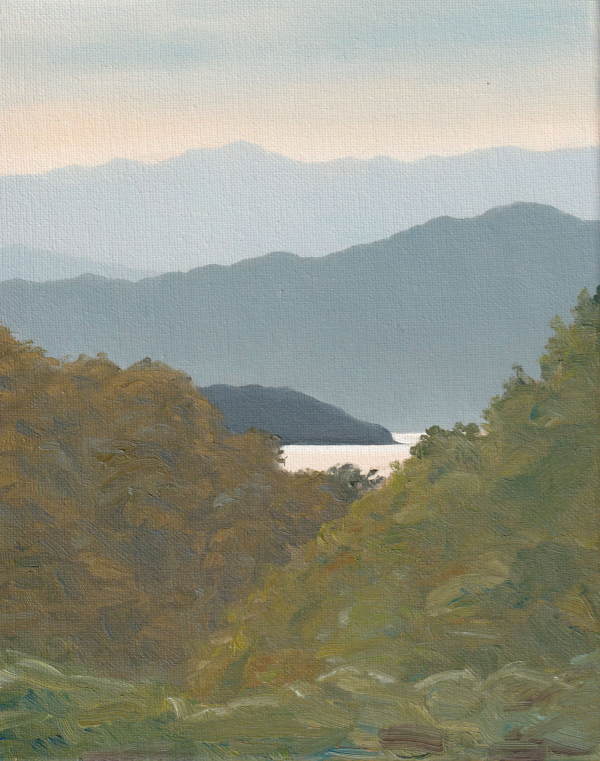 Gallery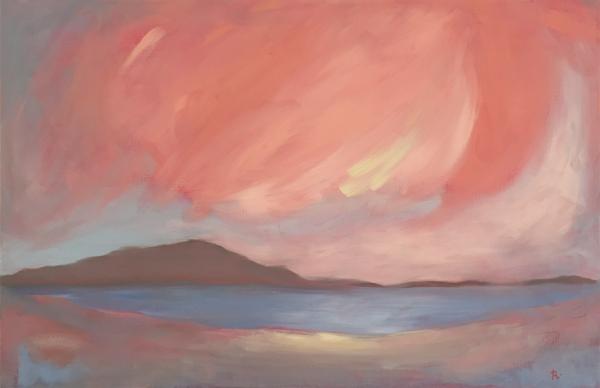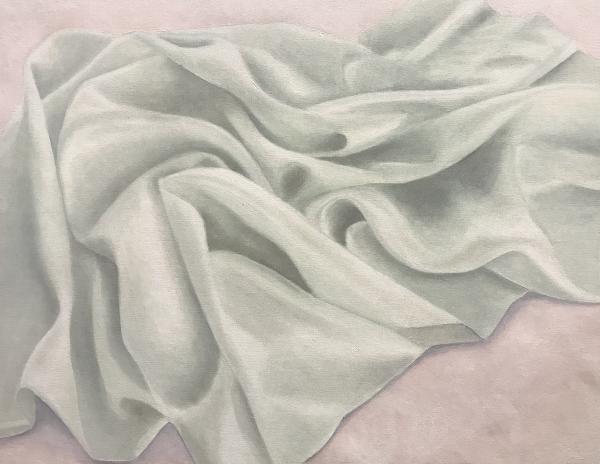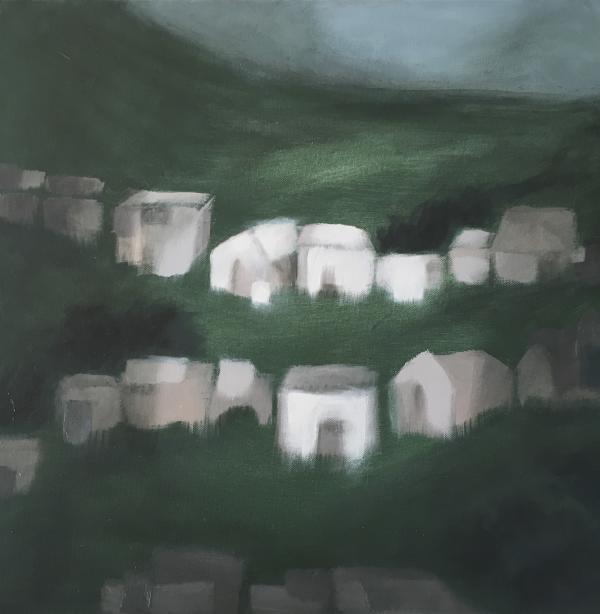 Opening Hours
Tuesday 27 August, 10:30am to 5:30pm
Wednesday 28, August 10:30am to 6:00pm
Thursday 29, August 10:30am to 6:00pm
Friday 30, August 11:00am to 7:00pm
Saturday 31, September 9:00am to 5:00pm
Sunday 1, September 9:00am to 2:00pm
Description
Whether trying to catch a moment in time or imagination, or racing against the clock to record an image as the sun and weather pass across the sky, four artists present the way that light and time move through their lives.
This exhibition showcases how each artist addresses the challenges of capturing what interests them most, at that moment when the subject is connected to them, whether it is a recollection of a few moments, painted in a few hours, or over a number of months.
The Artists:
Bruce Ingoe Instagram: bruceingoeartist
Jane Stephens: www.janestephensart.com
Rachel Radford: www.maemay.co.nz, Instagram: rachelradfordart
Nadya Nicholson Instagram: nadyanicholsonartist 
tender
Artist
Arden Driver-Burgess
Main Image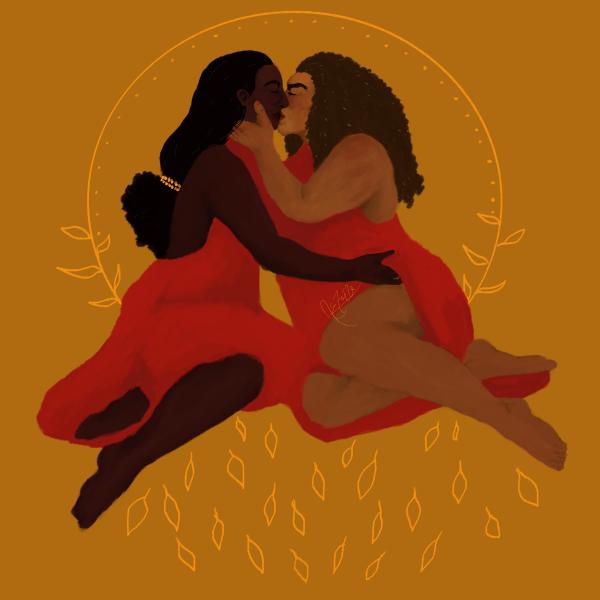 Gallery
Opening Hours
Tuesday - Sunday, 10.00am - 4.30pm
Description
Tender is an exhibition of portraits by Arden Etoile which depict shared moments of intimacy between family. These inherently queer pieces of art focus on the love - both romantic and platonic - that is given and received through touch rather than words. 
Love can be a recognition of self within other, and for those who feel other, love can be found in the safety of the hands of someone who reflects that. 
The portraits are digitally drawn and painted, and will also be available to order as prints. 
You can see more of Arden's art at ardenetoile.tumblr.com, or on their instagram; @ardenetoile. 
Main Image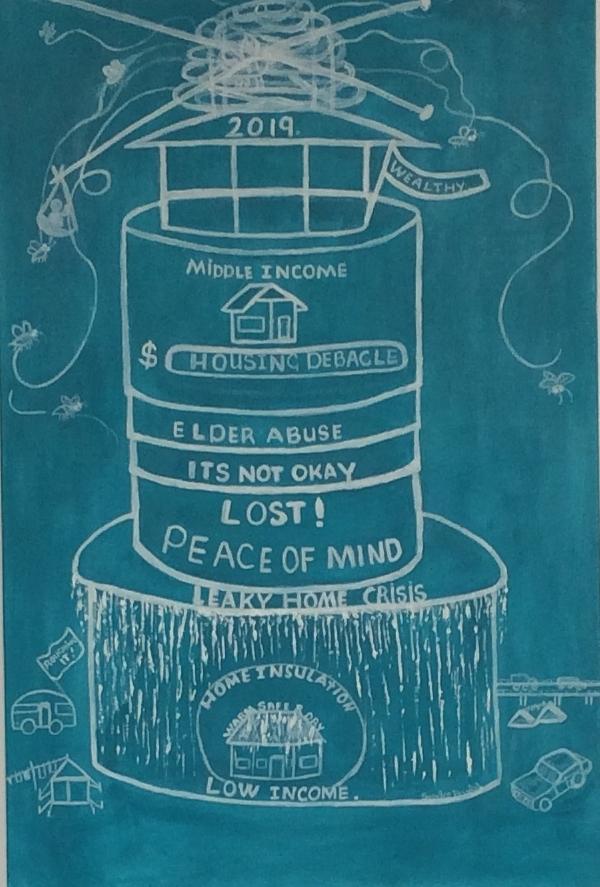 Gallery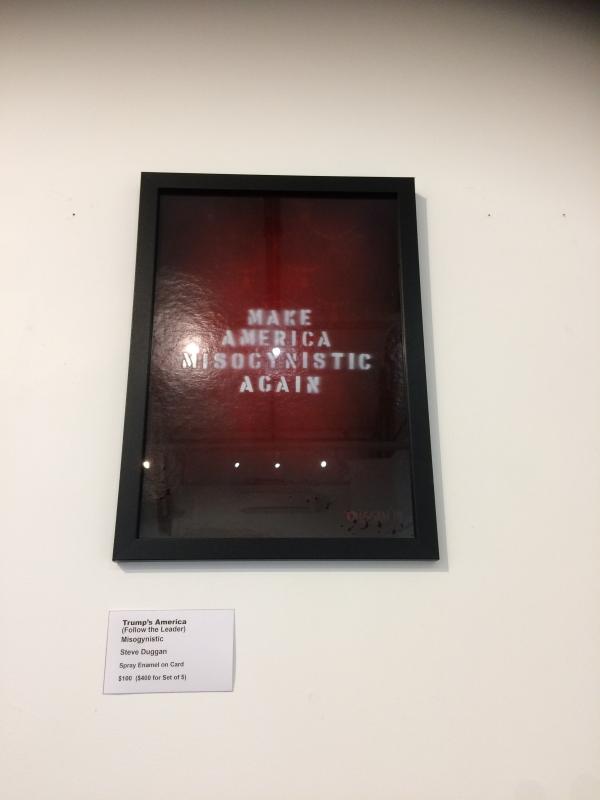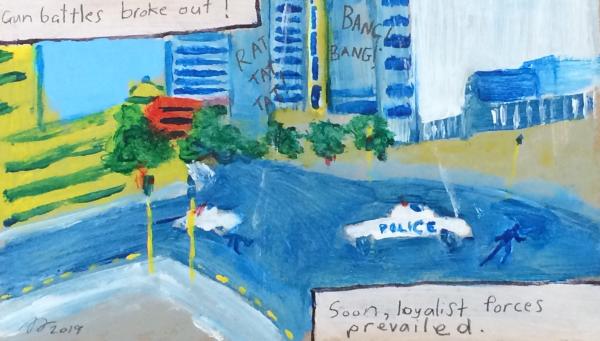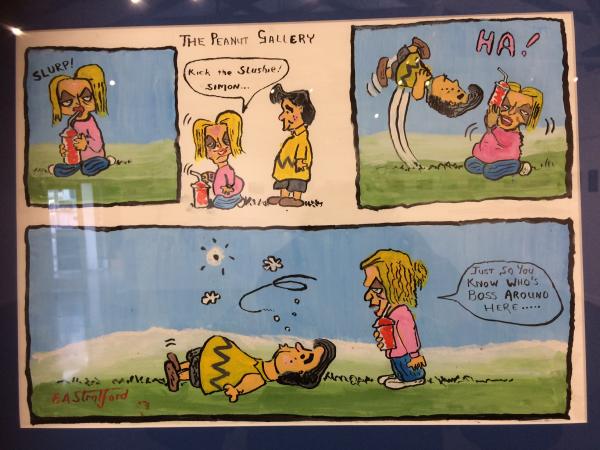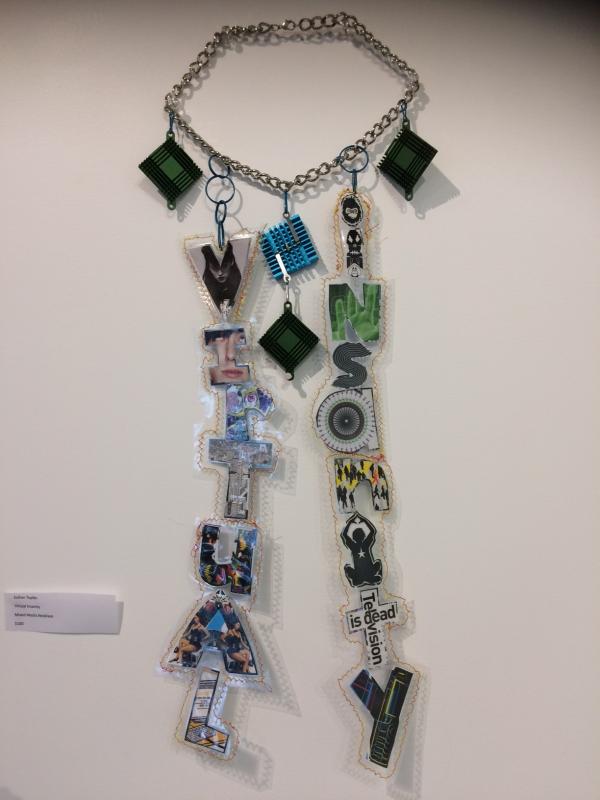 Description
Optiv101 Bullet Points – Optiv101 Fine Arts and Multimedia Studios visit Wellington with a Flyer*
Studio artists from Optiv101 Fine Arts and Multimedia Studios exhibit in Wellington from the 12th to 18th of August. The studios prides itself on the political outlooks to the works produced by its artists.
Though permeating beneath the surface at all Optiv101 exhibitions, social and political themes are prominent in the mid-season with the annual polemic of commentaries and observations.
Optiv101 Bullet Points, at Thistle Hall Gallery, at 293 Cuba Street, is the latest instalment of this exhibition series. Using the privileges and authority of artists, a major responsibility, the group exhibition takes the offensive against complacency, groupthink, and hegemonic manipulations.
Thus each artist brings their views on what and how they are seeing the state of affairs in New Zealand and globally, and though the exhibitions may not be pretty, they are honest. Indeed, with the diversity of studio artists, there will be a diversity of views, and some may be diametrically opposite in politics to one another.
It makes for a more rounded and thorough examination of the issues from across the spectrum. Nonetheless astute and intelligent works will connect with viewers in thoughtful and respectful dialogue.
Featuring works from the recent Optiv101 Showdown exhibition in July shown at Whanganui Arts @ the Centre, Optiv101 Bullet Points will include works by Sandra Brumby, Steve Duggan, Aaron Potaka, Ewen Stratford, and Esther Topfer, and more.
*Social and political themes may offend
Main Image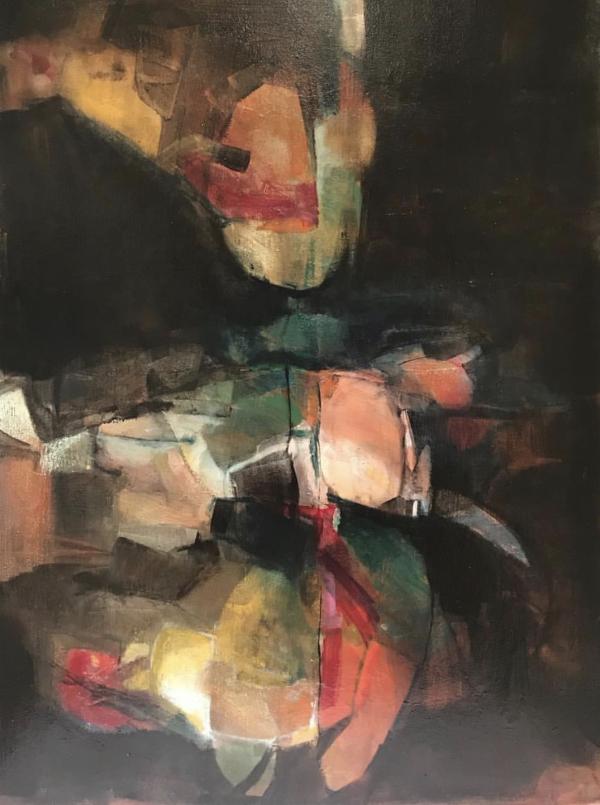 Gallery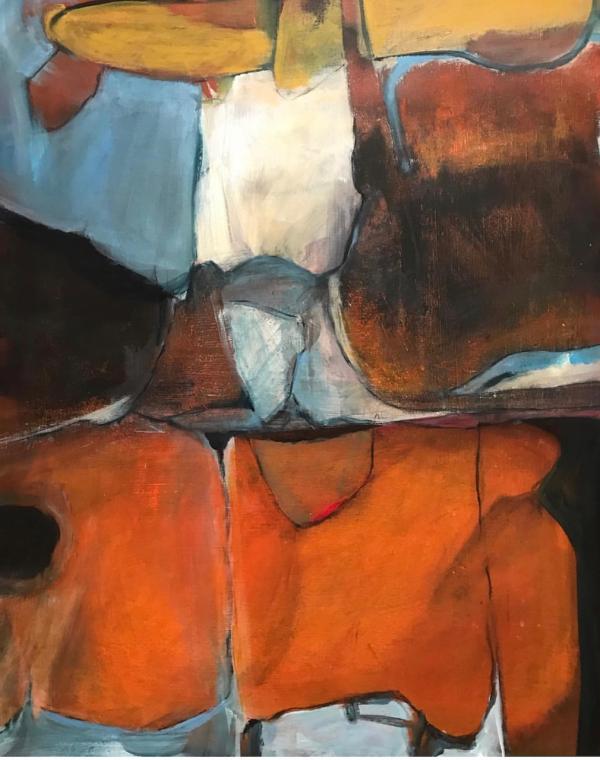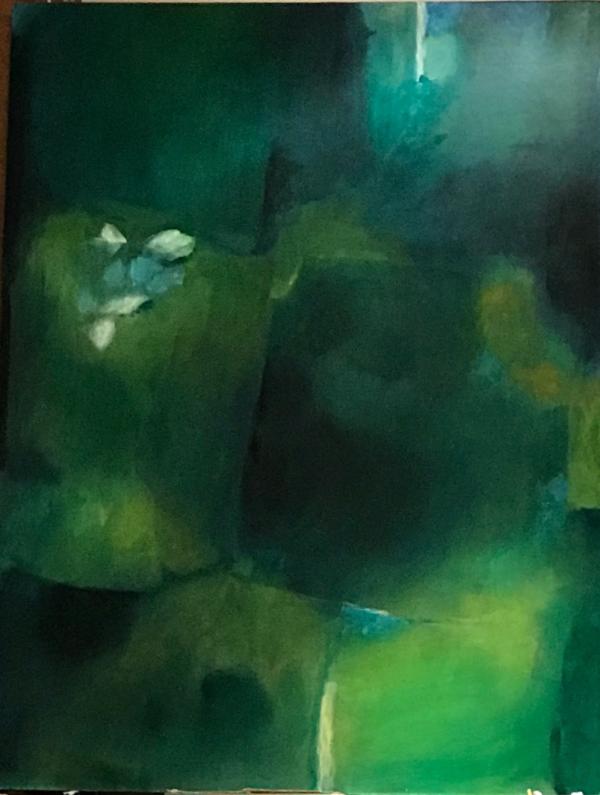 Description
Painting still feels like an experiment to me. I don't know how it will end, or if it is ever finished. Often my work is expressed without visual reference but as an emerging process of discovery. I paint to satisfy myself, to lose myself in a space which is dynamic, letting the work take on a life of its own. The resulting abstraction is often suspended between the real world and the imagined. My work is loosely drawn from treasuring the ordinary things, their beauty and colour, and a lifelong love of poetry. It's also concerned with the sense of loss and change all around us, and the ephemeral nature of things in the natural world. I paint what I see, rather than what is objectively seen.

In this series I have moved into a more vibrant palette. It's an exploration of colour intensity through the use of repeated layers of paint and glaze. Because the work is wrought from a mix of the imagined and the everyday, it is my hope that those who view it will let themselves make their own interpretations, and see in it what they will.

"The precision of naming takes away from the uniqueness of seeing".
– Pierre Bonnard
test subject
Artist
Oscar Vandy-Connor
Main Image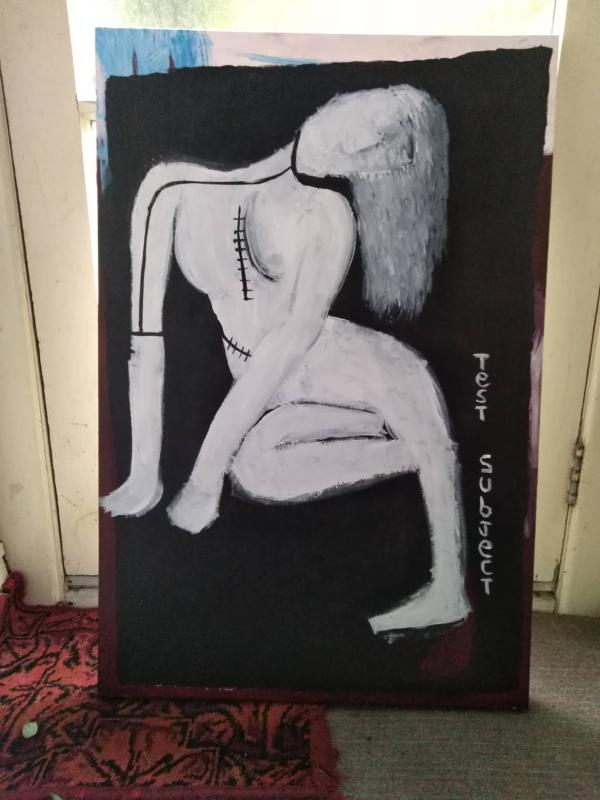 Gallery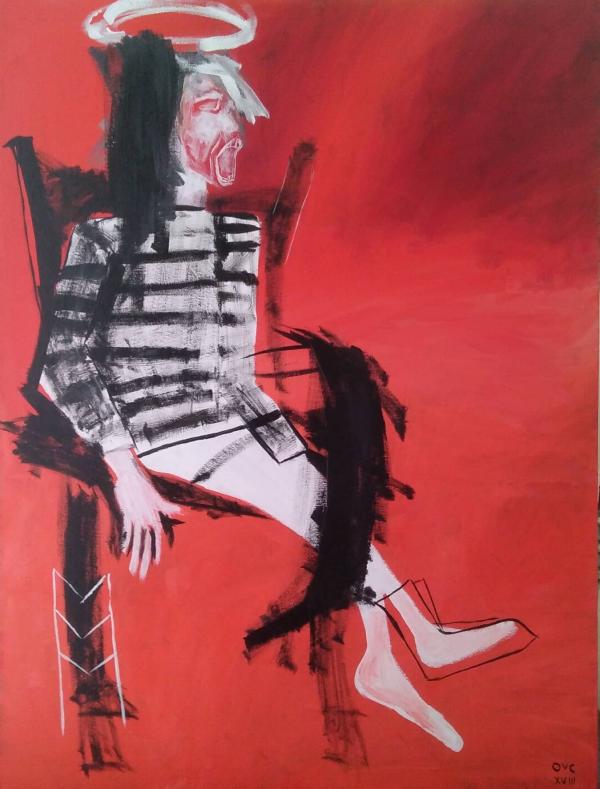 Opening Hours
Tuesday - Saturday, 11.00am - 5.30pm
Main Image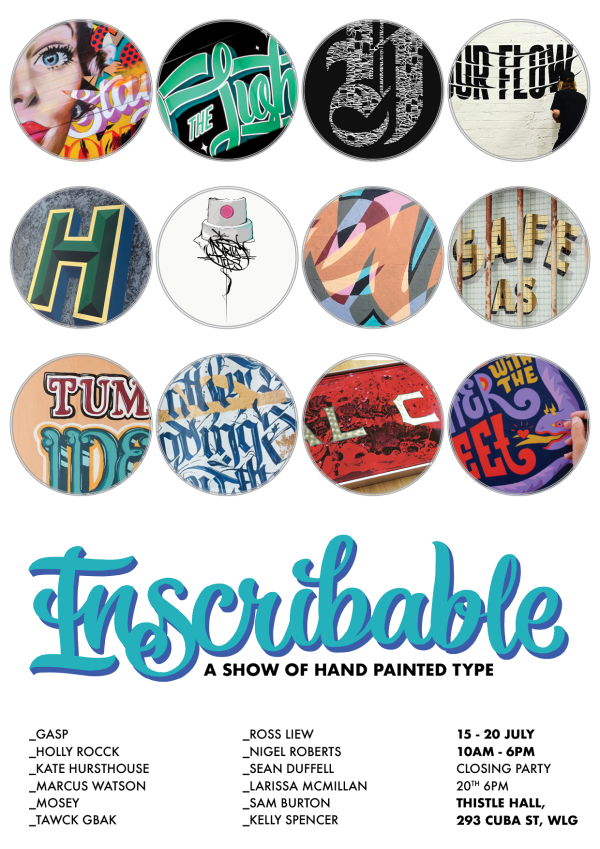 Opening Hours
Monday - Saturday, 10.00am - 6.00pm
Description
CLOSING PARTY: Saturday, 20 July: 6.00pm - 11.00pm
A showcase of leading NZ artists, celebrating the craft of hand painted typography.
In recent years the global visual arts community has witnessed a renaissance in the art of hand-lettering and signage. On home-shores, these artists work to pay homage to this near-forgotten art-form as they create quality original stylings of the alphabet, surpassing that which can be replicated with digital printing and vinyl. The Inscribable crew are back for another round after their popular show in 2015. Come and check it out!
Featuring:
HOLLY ROCCK | Words Are Weapons
MOSEY
MARCUS WATSON
TAWCK GBAK | Tawck
ROSS LIEW
NIGEL ROBERTS | DagarMedia
SEAN DUFFELL
SAM BURTON
KELLY SPENCER | Kelly Spencer
KATE HURSTHOUSE | Kate Hursthouse Calligrapher Illustrator Artist
Main Image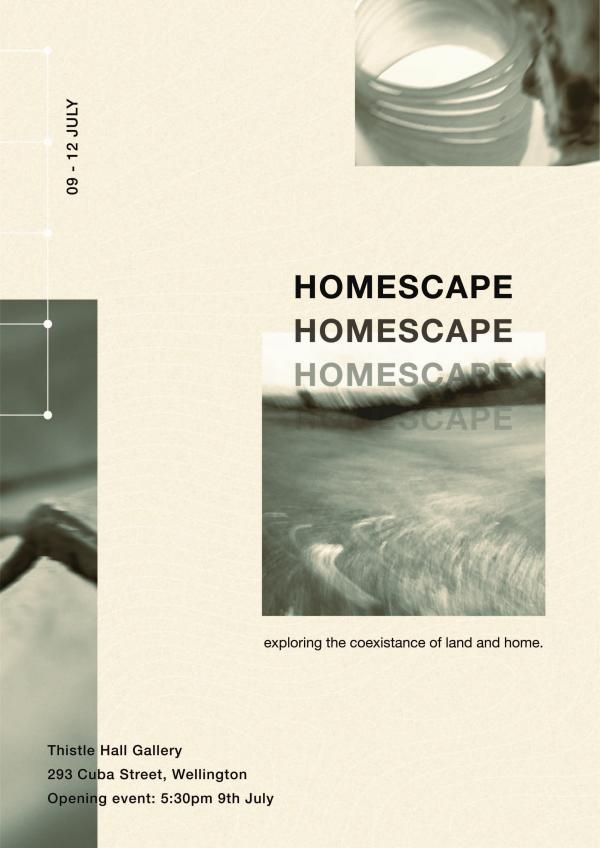 Description
HOMESCAPE   exploring the coexistence of land and home
This exhibition looks at the intricate entanglement of home and land. Students of architecture, landscape and interior architecture were asked to develop an interesting and provocative stance on home and its connection to the NZ Aotearoa landscape. They began with apparently simple events of home, such as throwing open curtains in the morning, or a late night journey from sleep-out to house, across a dark backyard. Students then chose a NZ landscape to situate their scenario and experimented with how the two might relate. The models in this exhibition are a record of design thinking about how home, as an intimate personal condition, crosses with the power of landscape. The work reorients and challenges the way we see landscape and home, and alludes to new ways in which they might coexist.
The work in this exhibition is by 4th year master's students from Victoria University School of Architecture
Simon Twose
Senior Lecturer, PhD (RMIT) ANZIA
Main Image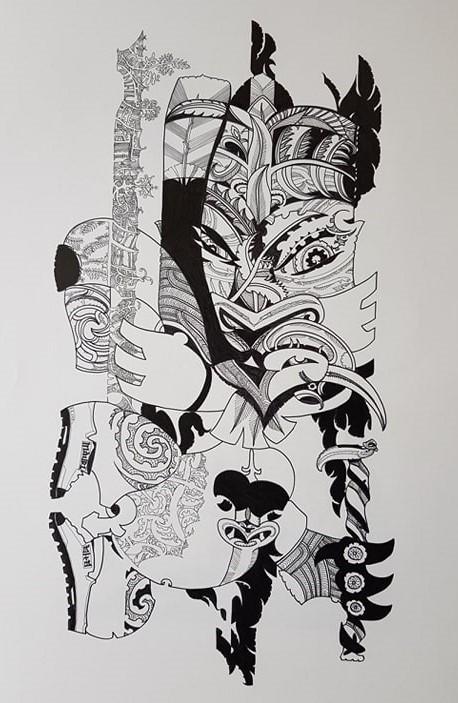 Gallery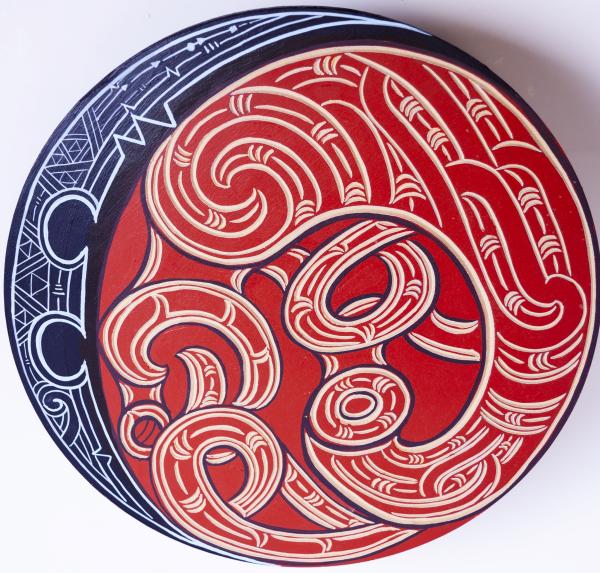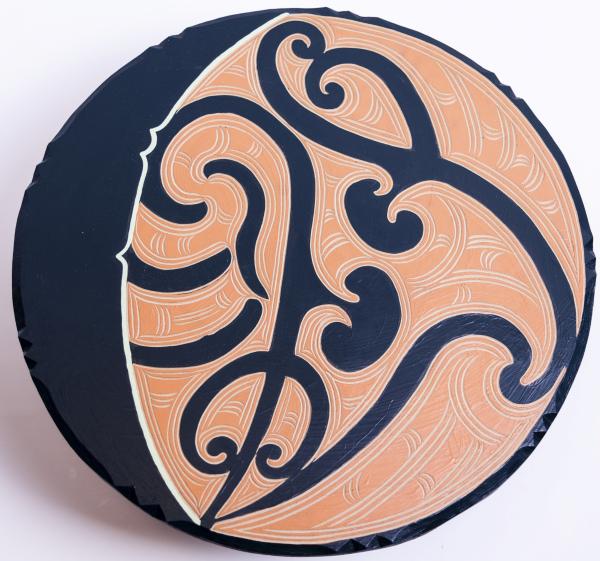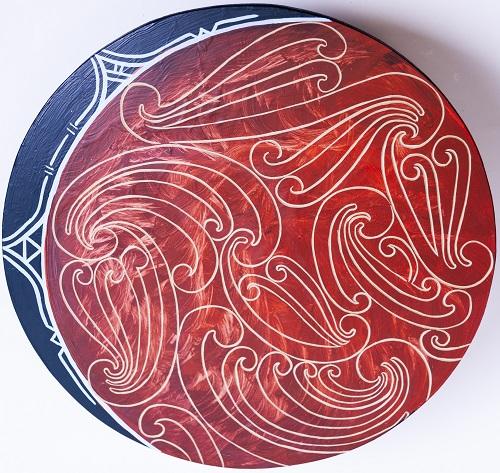 Opening Hours
Check out events schedule: www.tewhironui.com
Description
Te Whironui celebrates Matariki and Maramataka Maori (Maori Lunar )
This event brings special awareness about; how Matariki in conjunction with the Maori lunar calendar optimizes the beginning of the new harvest and ceremonial offering to improve our environment and daily lives.
Our artists alongside Maramataka and star experts will display Maori Arts, music and Knowledge in conjunction with hands-on educational workshops,  keynote speaking workshops, as part of the Te Whironui exhibition. 
Contact: 022-500-4212 (Hinga Smith)
email: hingasmith@gmail.com
Sponsored by Thistle Hall Community Trust and Raukawa Moana Voyaging Trust
pinched
Artist
Sophie Perkins & Shayn Wills
Main Image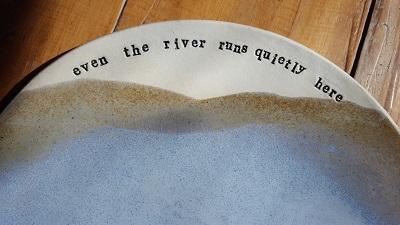 Gallery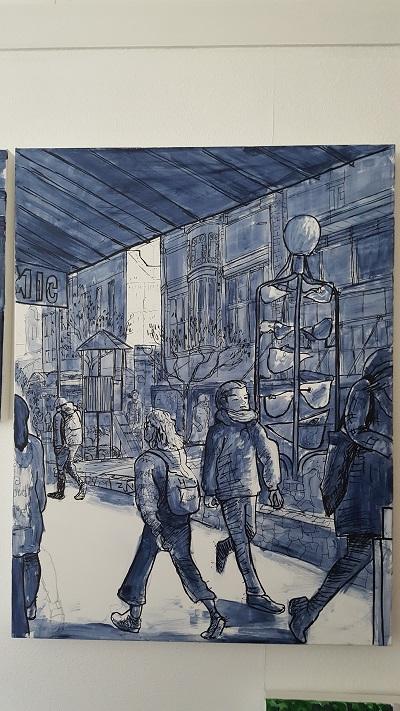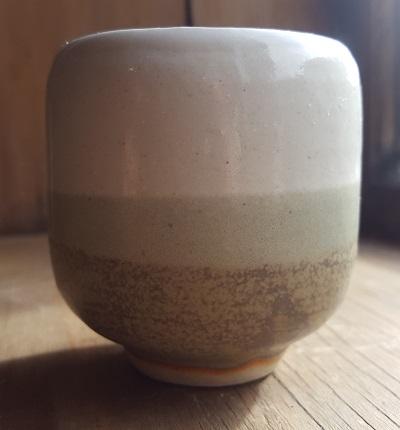 Opening Hours
Tuesday - Saturday, 10.00am - 6.00pm
Sunday, 10.00am - 4.00pm
Description
Following their successful exhibition last year at Thistle Hall, Sophie Perkins and Shayn Wills have rejoined forces to present 'Pinched', a second show of ceramics and paintings. 'Pinched' refers to both the pinching technique of creating pottery and the time pinched from daily life in order to create art.
Sophie's functional ceramics include wheel thrown, hand built and pinched pottery, often stamped and engraved with words from her own poetry. Shayn's acrylic wash paintings depict daily scenes from Cuba Street, and along with a series of botanical images, reflect his background in animation.
This promises to be a vibrant second show with original, affordable art. More information available at the facebook page, Sophie Perkins Ceramics.
Images:
'Even the River', cheeseboard, Sophie Perkins
'Joseph on Cuba Street', acrylic painting, Shayn Wills
A teacup from the series 'Sand dune', by Sophie Perkins
Tempered vibrations
Artist
Marie Sophie-Fabre & Renee Abbot
Main Image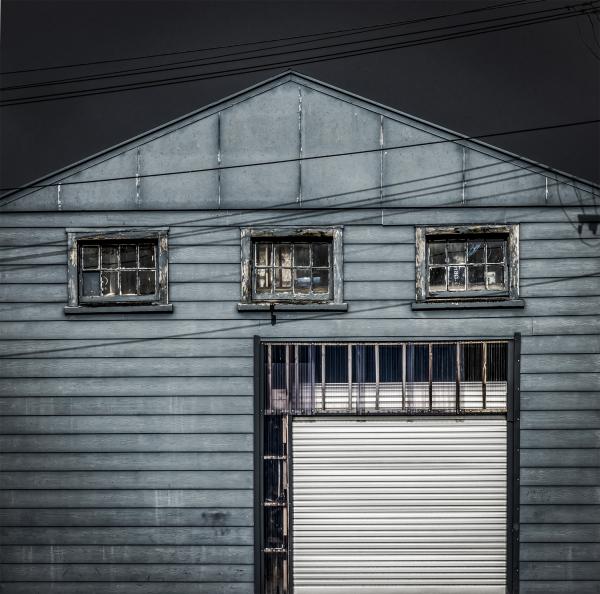 Gallery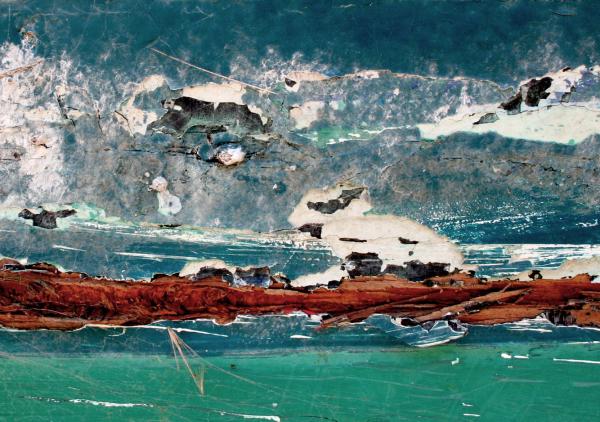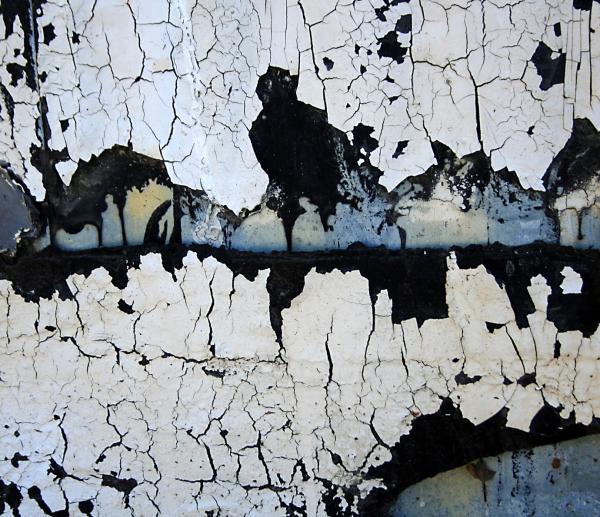 Opening Hours
Tuesday - Friday, 2.00pm - 6.00pm
Saturday - Sunday, 10.00am - 5.00pm
Description
When walking through our communities we often see the larger picture, but miss the beautiful details. Buildings become a generic wall. But if you look a little closer, those walls carry a story, a feature unseen and unnoticed, a work of art, beauty in decay revealing itself for a fleeting moment...
For years, we have evolved apart, training our eyes in different parts of the world, gathering photographs in the most unexpected places, fixing them in time, as a testimony of their graceful senescence.
We met here in Wellington. This is where our stories have merged and our photographies have found resonance. "Tempered vibrations " is a photographic exploration of  the passing of time, and how it creates substance and meaning in forgotten places before their complete disappearance.
Main Image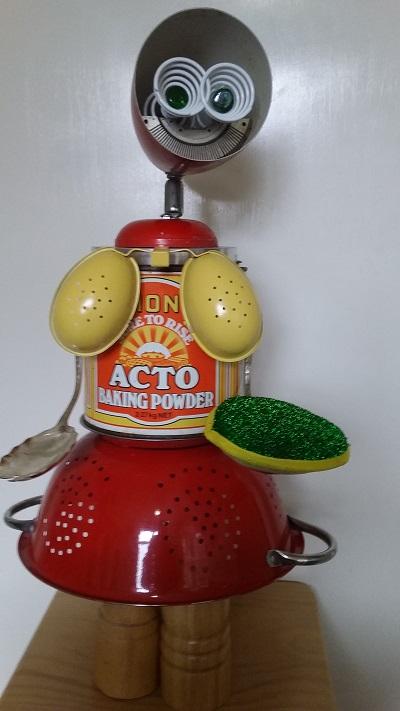 Gallery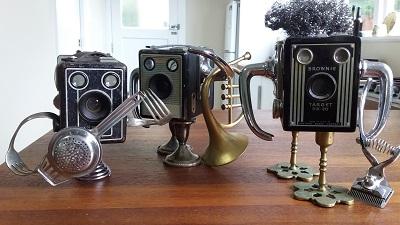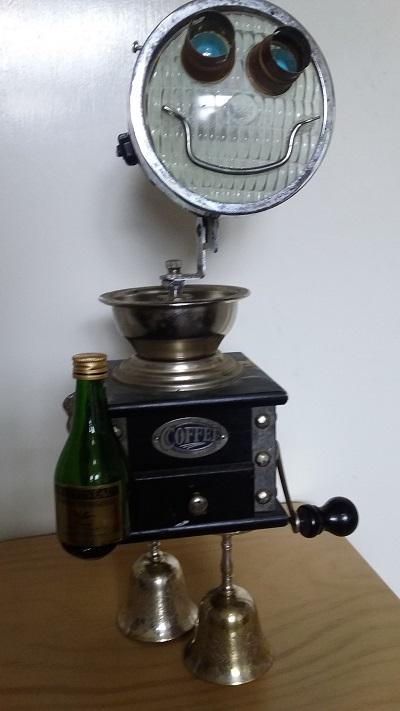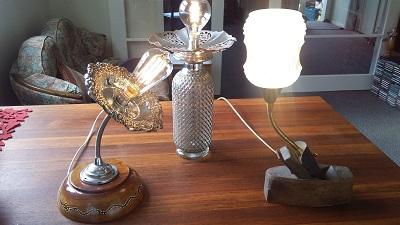 Opening Hours
Tuesday - Sunday, 10.30am - 7.00pm
Description
I am a self taught artist. I use materials collected from op-shops, recycling centres and items discarded by society.
Apart from robot type figures I also put my electrical trade background to use and make lamps out of unusual materials and also light up some of the robots.
Enjoy the exhibition and hopefully it will brighten (excuse the pun) up your day.
For more information:
Main Image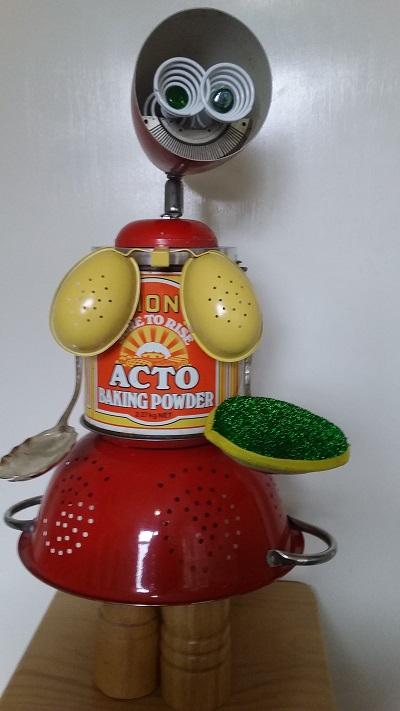 Gallery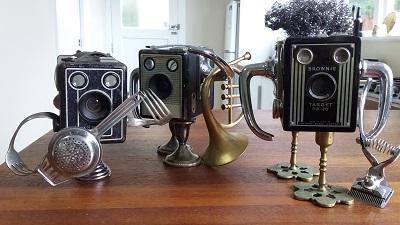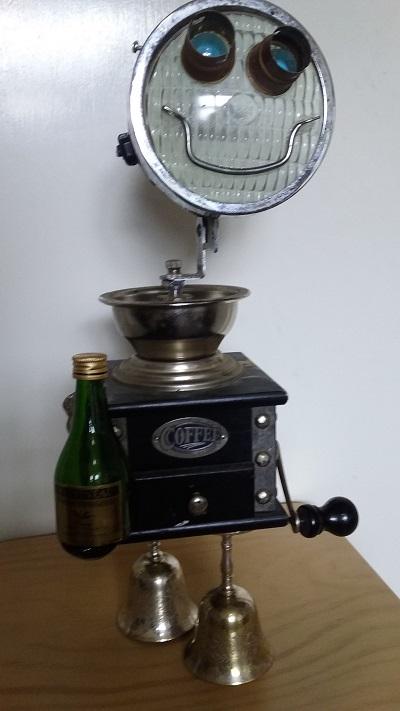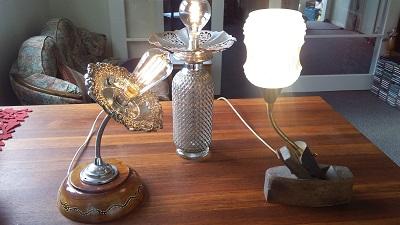 Description
I am a self taught artist. I use materials collected from op-shops, recycling centres and items discarded by society.
Apart from robot type figures I also put my electrical trade background to use and make lamps out of unusual materials and also light up some of the robots.
Enjoy the exhibition and hopefully it will brighten (excuse the pun) up your day.
Main Image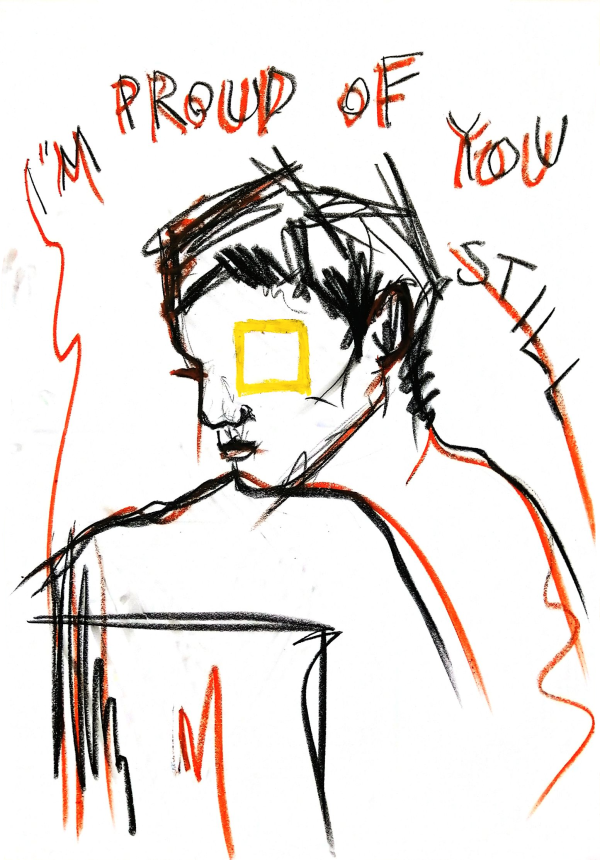 Gallery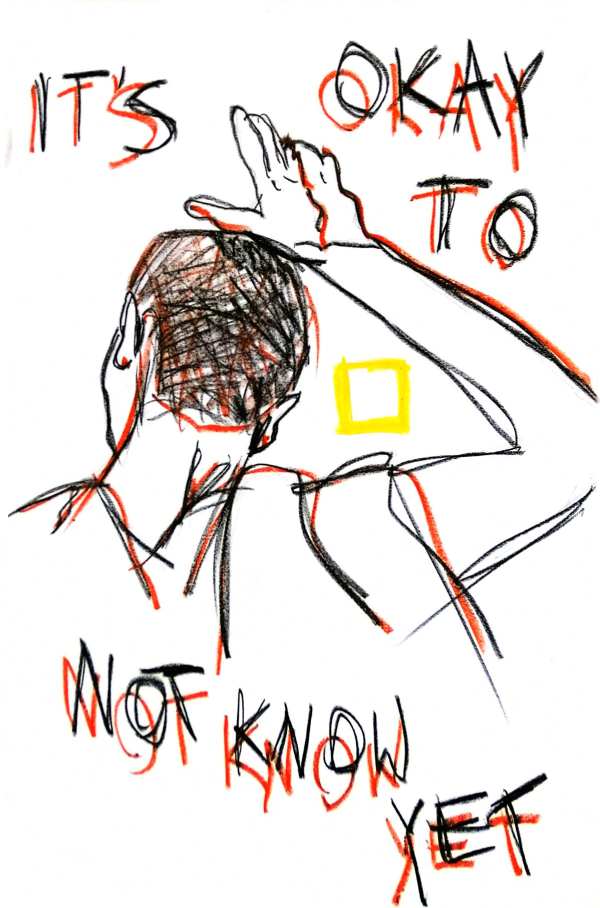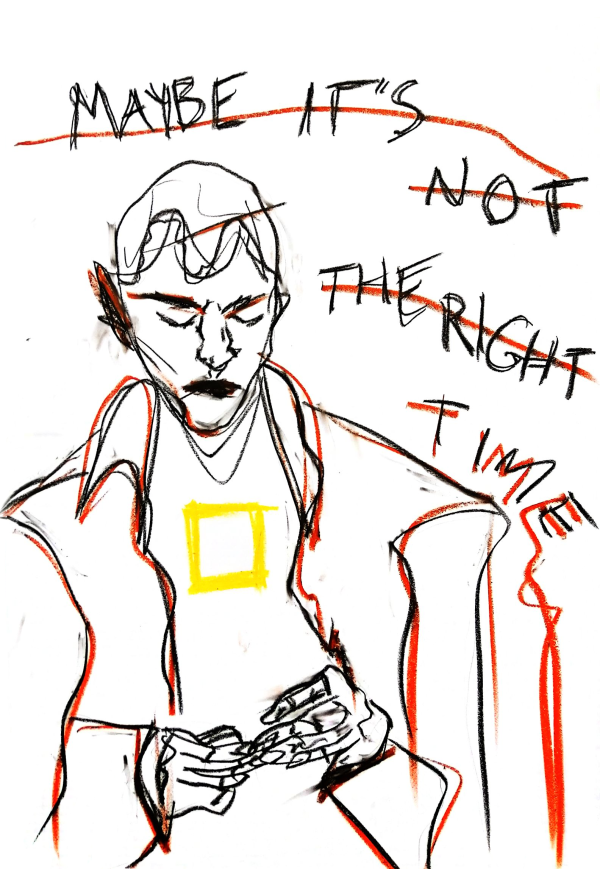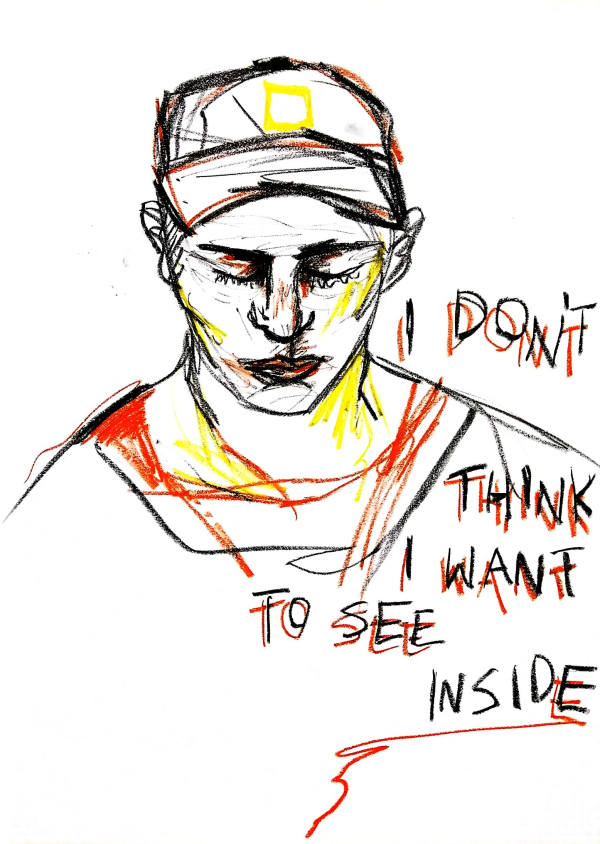 Opening Hours
Tuesday - Sunday, 11.00am - 5.00pm
Description
In əbˈzəːv (pronounced 'observe'), 16-year-old artist Rei Denee has created a series of autobiographical drawings and an interactive sculpture which decontextualise a familiar analogy to explore his struggle with childhood trauma and a hesitance to recover. əbˈzəːv is his first solo show and opens to the public June 3rd at Thistle Hall. 
Schrodinger's box is a thought experiment suggested in 1935 by Austrian physicist Erwin Schrodinger to explain an interpretation of quantum physics. In simple terms, Schrödinger stated that if you place a cat and something that could kill the cat in a box and sealed it you would not know if the cat was dead or alive until you opened the box, so until the box was opened the cat was in a sense both 'dead and alive'. Multiple states of being can exist all at once until observed. 
Denee says for a long time after experiencing a traumatic event you feel everything all at once, carrying all those feelings around with you 'in a box.' You know that when you observe its contents you'll be able to see your core feelings about the event, and only when you look inside can you take those things out of the box and heal, but not being ready to see yet doesn't mean you never will.
The young artist negotiates a line between fear and hope, certainty and oblivion, everything and nothing. Working with oil pastels in harsh strokes and stark colours contrasts with his subject matter of people like himself in very vulnerable situations. When viewed in a certain order this series seem to tell a story beginning in a place of fear and ending with the same uncertainty but also with newfound hope, support, and self acceptance.
əbˈzəːv is an opportunity to discover what it means to keep working towards a future where you can't see what you're reaching for, and invites the viewer to share Denee's trust in himself.
a collection of winter scarves
Main Image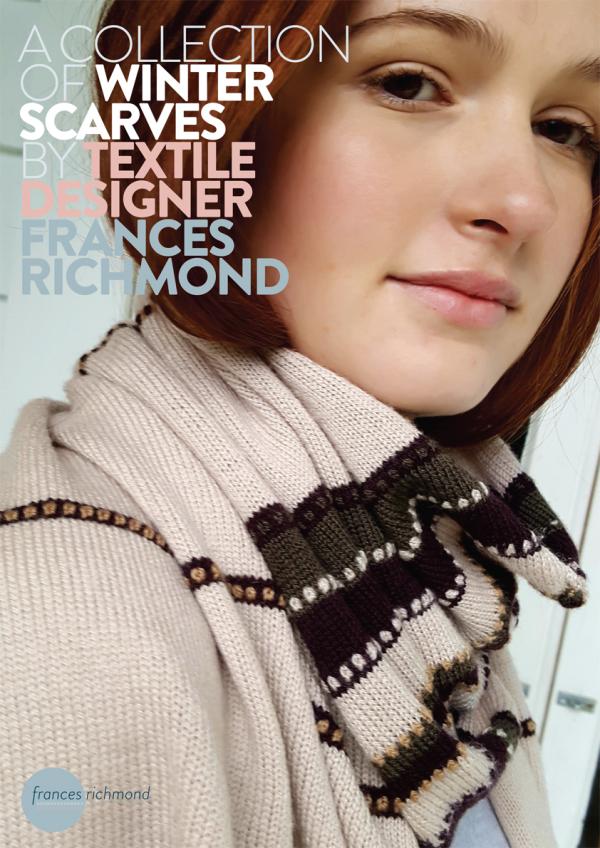 Opening Hours
Monday - Sunday, 9.00am - 7.00pm
Description
An exhibition of exquisite new works for sale. Each piece is created by hand using yarns of superfine lambswool, silk and cashmere mixes selected for their colour, texture and luxurious handle.
You are welcome to handle the fabrics and try on the items.
Also included in the exhibition are work in progress colour-way stories and an archive gallery offering you an insight into the designer's process.
Frances Richmond Knitted Textiles have appeared on catwalks in London and New York.
Her trend prediction work for fashion knitwear has sold to High Street retail fashion giants and Top End Labels including Donna Karen and Alexander McQueen.
Her own boutique accessories label sold throughout Britain as well as stores in Europe, Hong Kong and New York. Her artisanal wraps and shawls were sold in London's prestigious textile gallery, The Livingston Studio.
Frances Richmond now lives in New Zealand with her family and continues to work and create from her home studio. She will be at the gallery and looks forward to meeting you.