Start Date
18 September -
End Date
24 September 2016
ARPILLERAS - THREADING MEMORIES
Artist
THE WELLINGTON ARPILLERAS
Main Image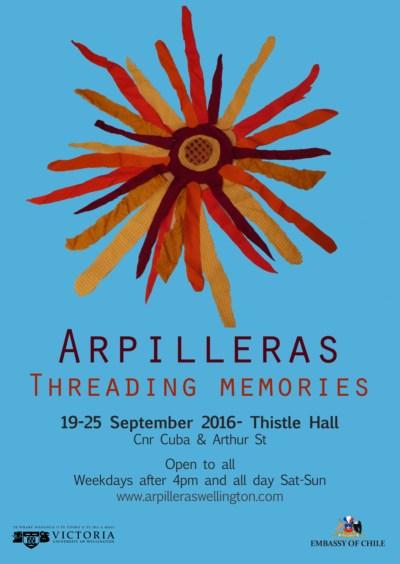 Opening Hours
Monday - Friday: from 4.00pm
Saturday - Sunday: all day
Description
Arpillera (pronounced ' ar-pee-air-ah') literally means 'hessian' or 'burlap'. This sacking fabric was used as the base of traditional Chilean tapestries created by women during the Pinochet dictatorship in the 1970s as a means of resistance, subsistence and expression. They have since been made in several countries by women speaking out for justice and peace.

The Wellington Arpilleras Collective (www.arpilleraswellington.com), a group of (mostly) Latin American women based in Wellington, has been sewing arpilleras together since 2014. In this exhibition, we share some of our individual and collective pieces, which explore aspects of our migration stories; work, identity, relationships, historic memories, and the re-creation of meaningful lives.

In the exhibition, we are also very humbled to share a number of arpilleras from Memorarte, a fellow group of arpilleristas based in Chile. Their work involves keeping memories alive and giving visibility to contemporary issues of social and environmental justice.

Come and join us to thread stories and places, and to celebrate a part of Wellington's diverse and rich community fabric.

Alongside the exhibition, we'll be showing a documentary on the history of arpilleras on Friday evening and hosting a workshop on Saturday.

More details can be found on our facebook event page here
End Date
7 September 2016
Tales
Artist
Leda Farrow & John Downie
Main Image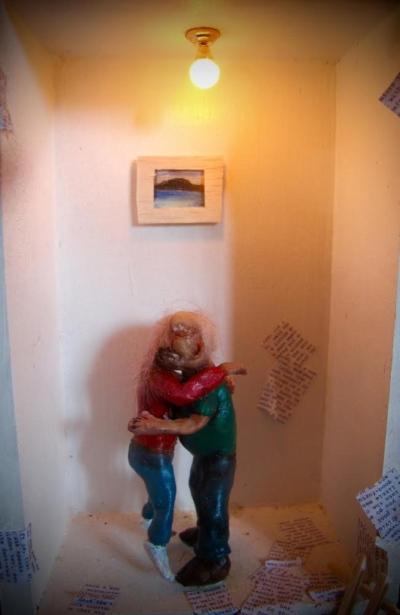 Gallery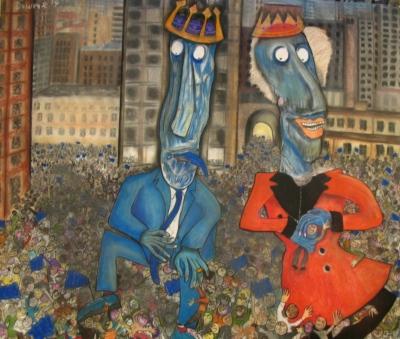 Description
Tales explores the relationship, stories and connections we share with, and pass down to, our children. Using a range of different media including collage, painting, miniature scenes and kinetic sculpture, Tales aims to evoke feelings of universal connection, independence and uncertainty.

Tales has been an on going collaboration between retired Theatre Maker and Artist John Downie, and Visual Artist Leda Farrow (both Wellington based). It combines stories and images used, shared and recontextualised between a father and daughter over a generation.

This exhibition aims to stimulate the viewer to consider an intimate relationship which is universal, that between a child and parent, but also, from within it, to consider how we relate to, understand, and interpret the politics of the wider world.

Leda is a First-Class Honours graduate in Fine Art from Massey University, and has spent time studying at University of California Berkeley School of Art, and at Bread and Puppet Theater, in Vermont. Her current practice is in drawing, puppetry, and animatronics. She currently works as an art tutor at The Learning Connection.

John has had a long professional career as an artist and teacher, in a number of artistic disciplines, but particularly as a playwright, director, and experimenter in performance and media arts in the UK. He retired four years ago as Senior Lecturer in Theatre and Film at Victoria University.
THE JELLY ARCHIVE - A RATHER CURIOUS COLLECTION OF COLOUR
Main Image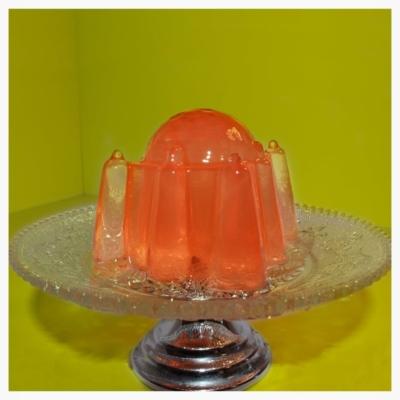 Gallery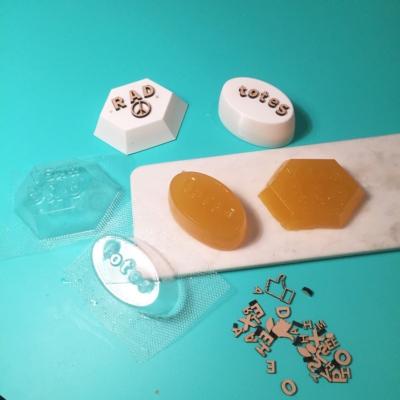 Opening Hours
Tuesday - Thursday 23 - 25 August, 11.00am – 5.00pm
Friday 26 August, 11.00am – 8.00pm
Saturday & Sunday 27 August, 10.00am – 4.00pm
Description
An exhibition Inspired by apothecary, alchemy and high street perfumeries the Jelly Archive tells the nostalgic story of one of New Zealand's favourite desserts through an interactive and theatrical exhibition. The exhibition is the creation of Jellyologist - Jessica Mentis. Jessica set up Mentis Studios at the beginning of 2015 in order to fuse her two passions, architecture and food. She aims to approach food and flavour-based experiences from an architectural standpoint, using technology and processes usually used to design objects and buildings. She doesn't set a table, she builds a set.

As part of the exhibition Jessica is offering "Mad Labs" – where apothecary meets high street perfumery. This is a ticketed event where participants make their own mould and concoct their own special jelly flavour to take home and create their own masterpiece!

For tickets click here.

Proudly supported by the Wellington Culinary Events Trust and Resene
Main Image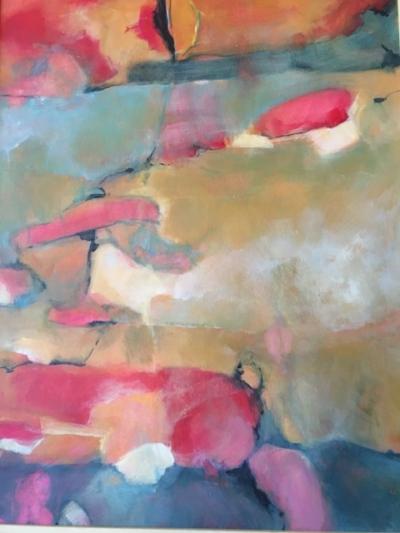 Gallery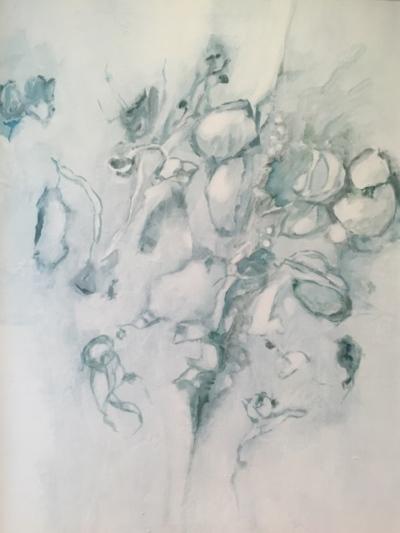 Description
Opening hours: 11.00am - 6.30pm

This is a retrospective of my work since arriving in Wellington in 2010.

The arts community in Wellington has been a huge source of inspiration for me, providing educational opportunity and giving me the courage to persist in my artistic endeavours.

My work is generally a response in abstraction to a wide range of subjects both physical and figurative. I find painting to be a contradictory process - both a struggle and a meditation, and always driven by a certain longing. It is an investigation into a personal space - the way I see things.

The imagery has its roots in my observation of everyday objects and includes structures in decline, organic shapes, particularly in relation to water, and the exploration of landscape forms. The intent of my work is to display an appreciation for the beauty I find within these images.

"Art enables us to find ourselves and lose ourselves at the same time" Thomas Merton
WELLINGTON: INK AND CLAY
Artist
Lorraine Tarrant and Peter Rumble
Main Image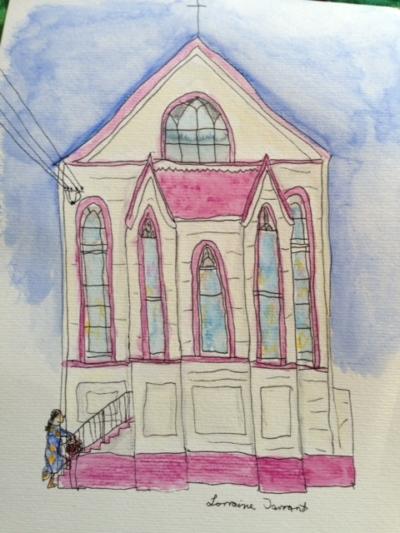 Gallery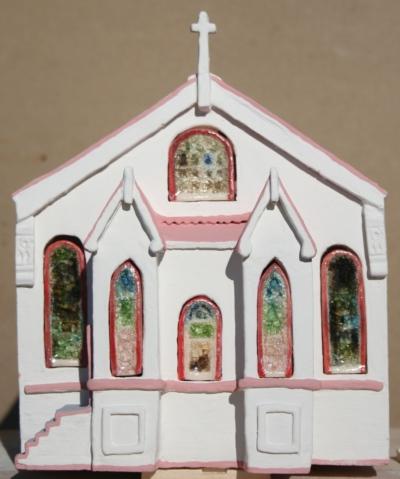 Description
The opening speaker will be historian Malcolm McKinnon. 

Opening hours: Tuesday - Sunday, 10.00am - 6.00pm 

A truly unique exhibition is due to open in early August at Thistle Hall in Upper Cuba Street. Wellington: ink and clay is a collaborative exhibition of watercolour and three-dimensional images depicting buildings around Wellington by artist Lorraine Tarrant and sculptor Peter Rumble.

Lorraine Tarrant's words
'My regular painting arm was put out of action by a frozen shoulder, so I picked up a pen with my left hand and discovered a new style. Using watercolour pencils to bring out the colour and a dash of water to create the desired effect, I've captured glimpses of some of our favourite buildings.

So far, I've painted buildings in Island Bay, Berhampore, Lyall Bay, Kilbirnie, Cuba Street, Aro Street and Newtown. And there are so many other interesting corners to discover. 

Particularly appealing are familiar shops and businesses clearly still operating today, and when you look up, historic Wellington is just sitting there on top. I am excited to be joined by Peter Rumble, who has created three-dimensional versions of some of the same buildings I have painted.'

Peter Rumble's words
'I am a late starter on the art front. Sculpture is my preference, with an emphasis over the past three years on works with clay. My art is driven by a need to 'make stuff'. Subjects are many and varied, but I am particularly attracted to architectural and geometric forms.

I have had two very successful solo exhibitions and I am now looking forward, in 2016, to two collaborative exhibitions.

As a member of the Wellington Potters' Association, I am on the Firing Team for the annual anagama (wood-fueled) firing and salt-kiln firings, processes I find, at once, exhilarating, confounding, demanding and rewarding.'

 
THE GHOST HUNTERS
Artist
Antoinette Ratcliffe
Main Image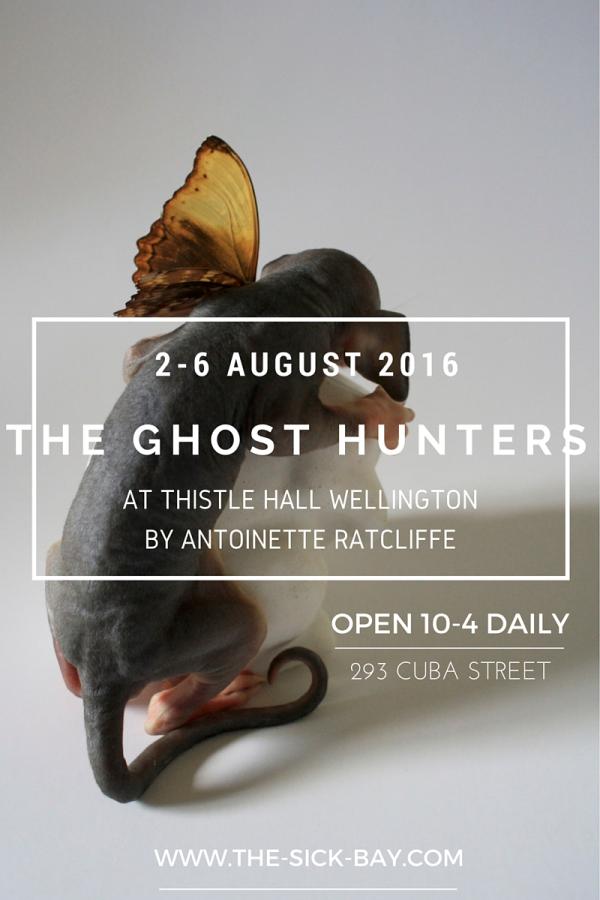 Gallery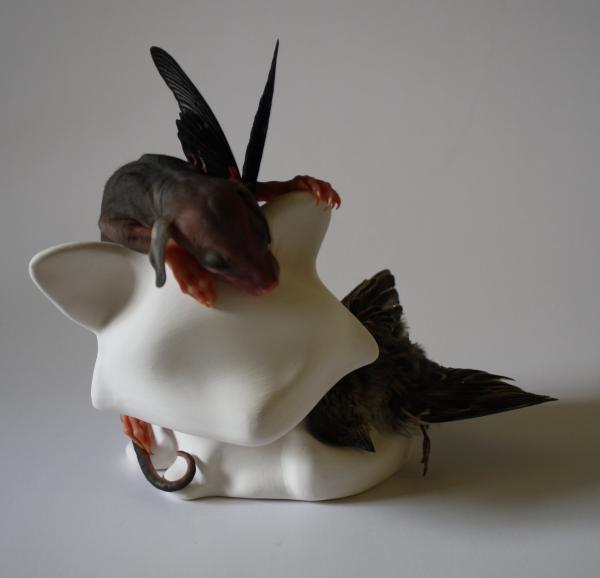 Description
Open: 10am - 4pm Daily 

The Ghost Hunters at Thistle Hall is an exhibition of Antoinette Ratcliffe's current sculpture, photography and prints, including a collaboration series with artists Mica Still, Sean Duffield, Ema Frost and jeweller Kate Esther. 

Antoinette's pieces are mixed media wall mounted and free standing sculptures made from combinations of cast plaster with taxidermy (birds, mice, rats, bunnies, ducks and a hedgehog), bone, semi-precious gem stones, butterflies, bumble bees, surgical instruments and found cat whiskers. These media are combined to bring the anthropomorphic association of motive, ambition, sadness and grief to the raw plaster casts. 

Antoinette completed her Master of Arts (visual arts) at the School of Media Arts in 2011 where she created an installation based project that has become 'The Sick Bay'. 

Her work explores thematic narrative derived from hybridity, horror conventions and anthropomorphic association. B-grade horror films continue to influence her current body of work, giving the installations and sculptures an awareness of a quiet sinister suspense as the visitors are watched by the taxidermy and plaster 'ghost hunter' creatures that scale walls or sit quietly on their own. 

Please note all pieces are cash and carry, so don't miss out on the perfect piece for your collection! 
(no eftpos available sorry) X 

 
By His Grace
Artist
Artist Talei Peckham, Toni Ann Alamani & Janice Lum
Main Image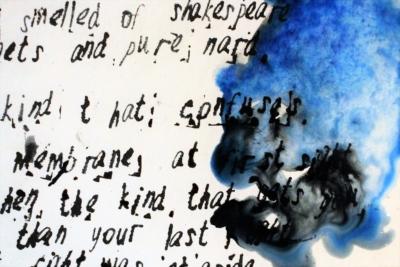 Gallery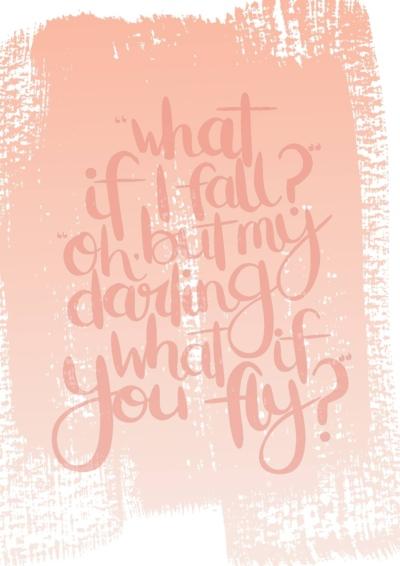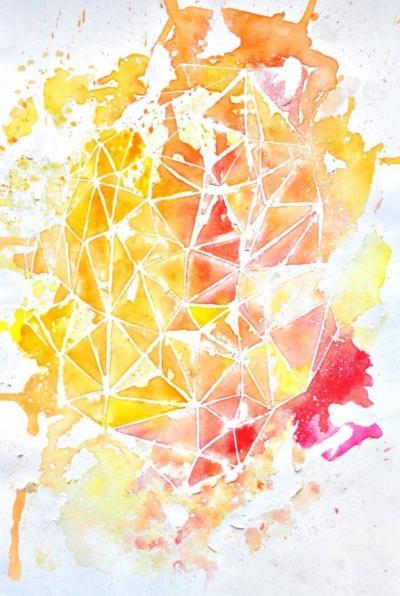 Description
Talei Peckham
Wellington based spokenword poet, set designer and photographer enthusiast

She believes that there are ballpoint pens that tell more truth then men. These are the poems that demand to be heard. Through each poem she aims to express the light and not hide from the sour tales through her mixed media 

Toni Ann Alamani
Wellington based Hand-Lettering artist

Lettering for Toni Ann has always been a way to encourage and inspire others with beautifully written words to serve as reminders of their potential and worth, to push them further and believe in more for their life.

Janice Lum 
Wellington based artist, illustrator and typography enthusiast

Passionate about exploring themes of God, nature and everyday truths through the medium of watercolour and ink. Her work encourages creative exploration and boldness through embracing the failures that push you forward.

 
LINE AND LIGHT - FIGURE WORK
Artist
Harriet Bright & Denise Durkin
Main Image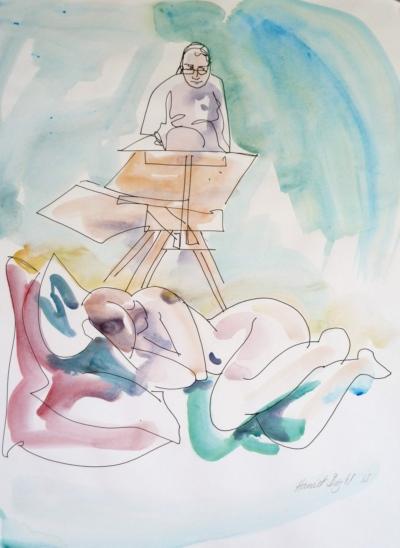 Gallery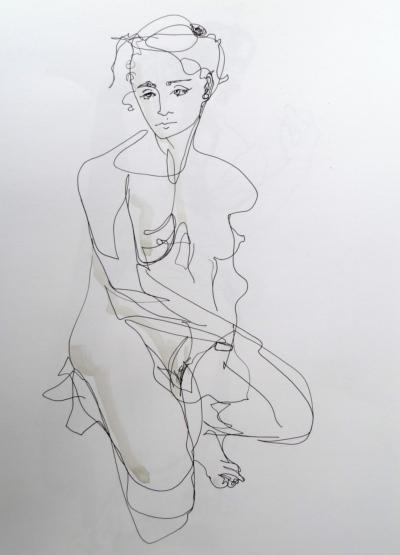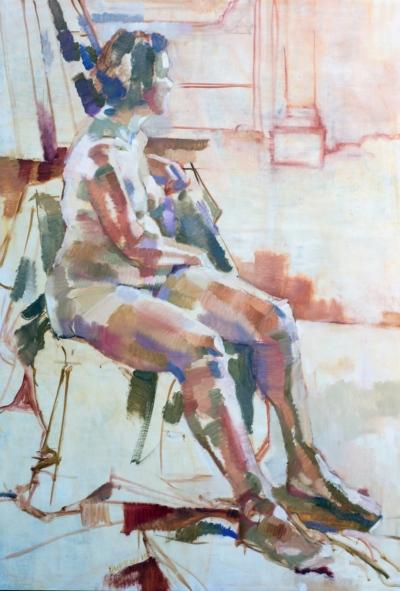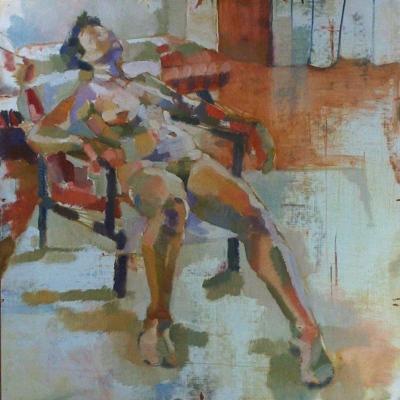 Description
Harriet Bright 
Harriet Bright's work breathes immediacy and fluidity. She captures the spirit of her models with lively line work and a free, loose style of painting.

Born in Norfolk in 1973, Harriet emigrated to New Zealand ten years ago. She won the Adam award for Portraiture in 2010, and was a finalist in the NZ Art Show signature Awards. She has held many solo and group exhibitions, most recently a collaboration with Elspeth Shannon at the New Zealand Portrait gallery.

Harriet works directly from life, and for many years has been engaged with the simple and expressive qualities of line.

Harriet's work can be found at www.harrietbright.co.nz

Denise Durkin
In 2001 I made a commitment to drawing and painting. I first began drawing the figure at Wellington Polytechnic, and when I wanted to increased the fine arts direction of my life I returned to the human as a subject. This started my association with Inverlochy Art School and their untutored life classes. There I was able to develop my drawing and painting skills and increased my confidence with the figure. 

I have been helped immensely by Inverlochy Art School and the personal micro community I have found there, particularly artist friend Patricia Fry who has pushed my oil painting and drawing along with encouragement and a painter's eye over my work.

Represented by Gilberd Marriott Gallery: 
www.gilberdmarriottgallery.com
www.denisedurkinartwork.com
Main Image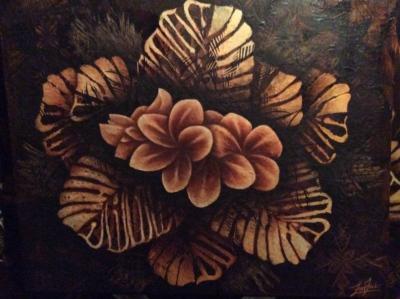 Gallery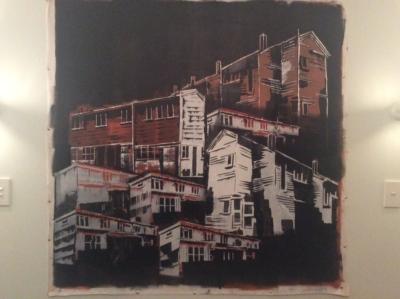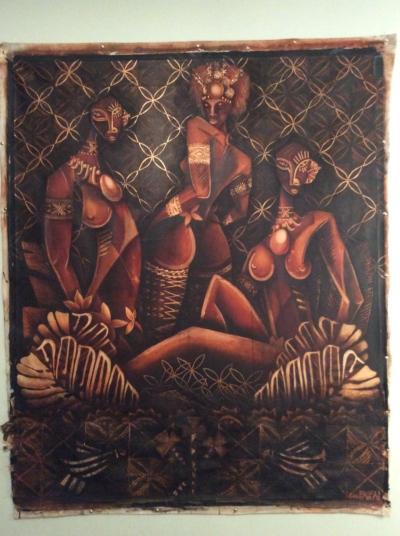 Description
Artist Noel Faifai born and bred in Lower hutt now residing in Wainuiomata having my first exhibition in 11 years.

I am a painter at heart but for this show I'm using more than one medium Oils, acrylic, spray paint, Natu -Tongan tapa cloth & photo transfer.

There will be 12 pieces exhibiting to show case a style in which I feel give a different perspective on pasifika art, some paintings are steeped in Samoan culture, some have social commentary & Religious elements & some are just pure expression.
Main Image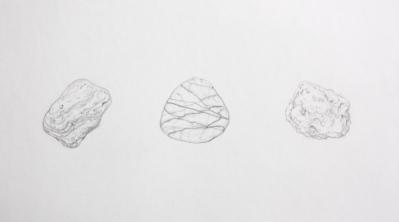 Gallery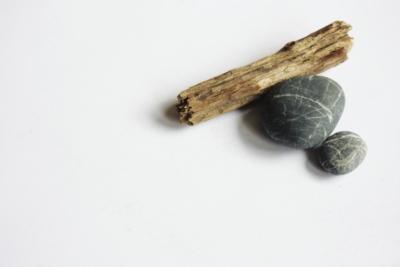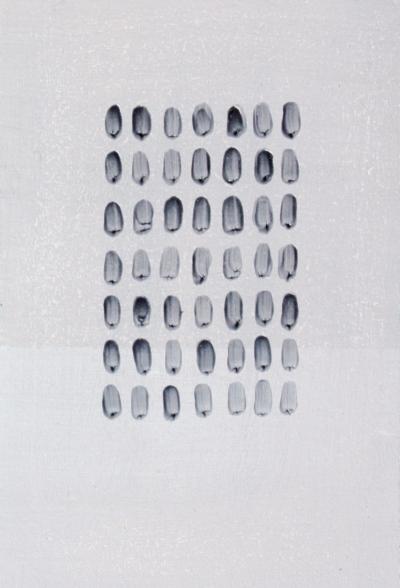 Description
Sarah Jamieson is a Scottish visual artist who recently moved to Wellington. This exhibition is a direct response from her journey to and around New Zealand. Her work focuses on the environment surrounding her, and how people explore and connect with it. She focuses on patterns in nature, geography, landforms and found objects that she collects along her travels. 

She looks at the idea of place through mapmaking and the language that maps deploy, like a cartographer she uses the process of selection. In her work she also looks at the idea of an ever-changing landscape using organic forms, subtle tone changes and mark making.

www.artistsarahjamieson.com
Main Image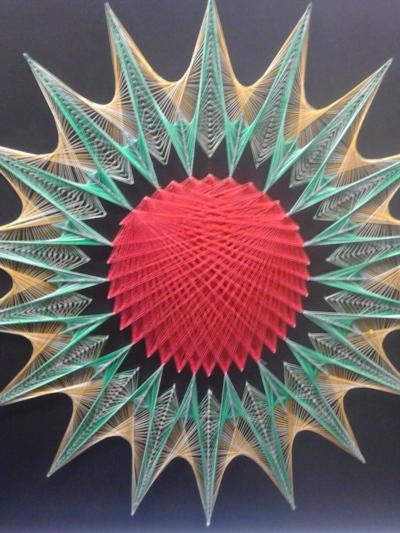 Gallery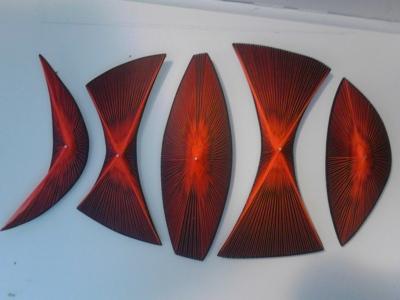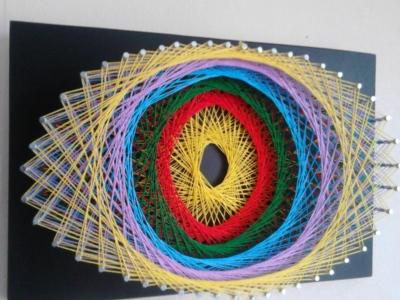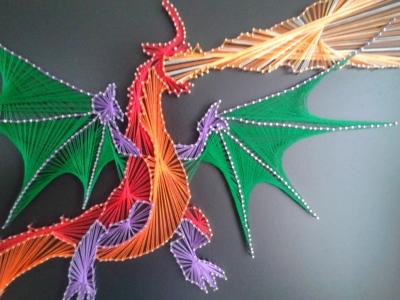 Opening Hours
10.00am - 4.00pm, Monday - Saturday
10.00am - 2.00pm, Sunday
Description
Welcome to the fascinating world of string art, the creative craft working with wood, nails and string. My exhibition shows a range of techniques used including abstract, representational designs, 2 and 3 dimensional, layered, paired and a few string sculptures.

A special section devoted to the "spider-man series" featuring 10 pieces showing various body positions strung in alternative styles.

Personal statement

For me thread design started back in the mid 70's with my brother bringing homework home of geometric patterns (symmography) from college. theses were later handed onto me to do, I soon revised that this was a great way to make a piece of art. Slowly over the years I continued to gather and collate resources leading into some original designs of my own. My passion for working with nails and string motivates me to create. I like the idea of the artwork being with all who appreciate beautiful pictures which can enhance the home, office or workplace.
Between
Artist
CHORA CARLETON & TYLER JACKSON
Main Image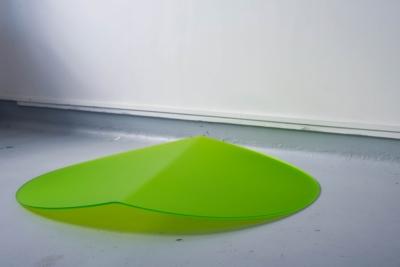 Gallery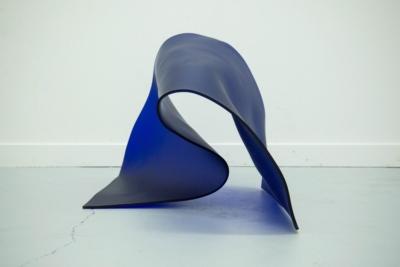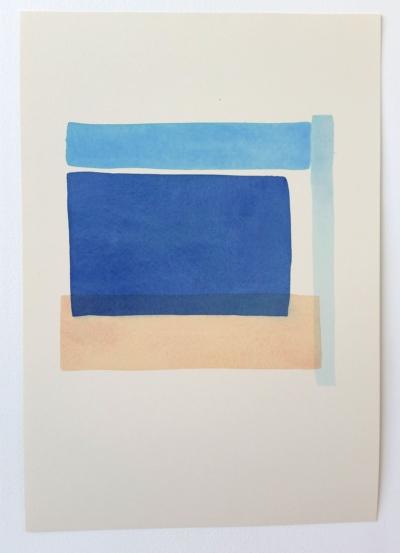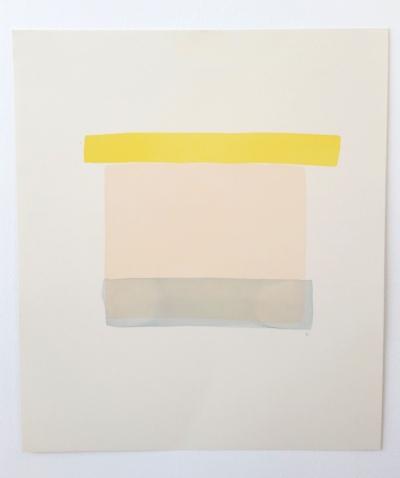 Description

How does it feel to be between states of change? Can you imagine the gradient of saturation as one sense takes over from the other? Chora Carleton and Tyler Jackson exhibition ?Between? presents an exploration and interaction of their art practices, offering two ways of approaching the effect of colour perception and space on the viewer. 

Chora Carleton?s practice indulges on the phantasy of colour, sensation and space through beautiful soft watercolour abstract paintings. On the other hand, Tyler Jackson?s practice entails an avid enquiry into the phenomenological role of light and colour, materiality and aesthetics through intense saturated colour objects that enrich in form and interaction.

The exhibition ?Between? will present these two different approaches to handling colour, the artist?s wish to spark conversations into how one perceives and experiences colour.