End Date
26 November 2017
Storyscapes
Main Image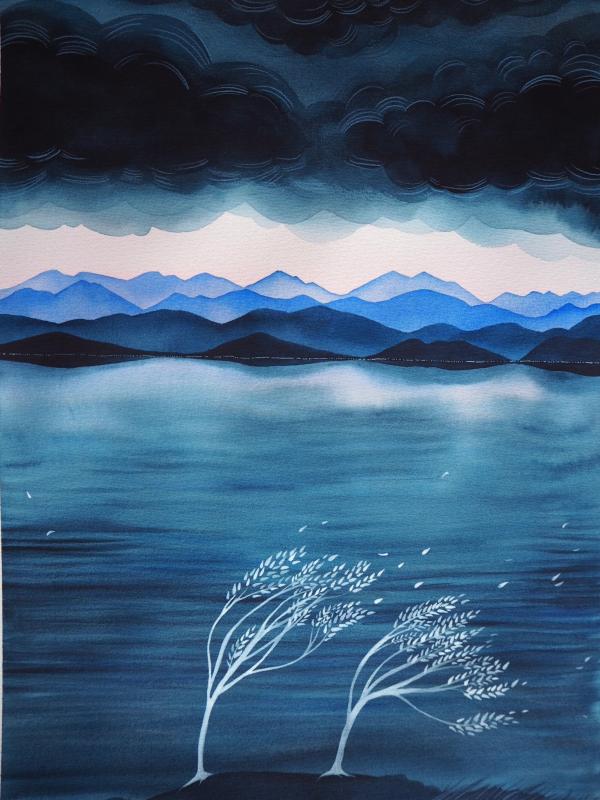 Gallery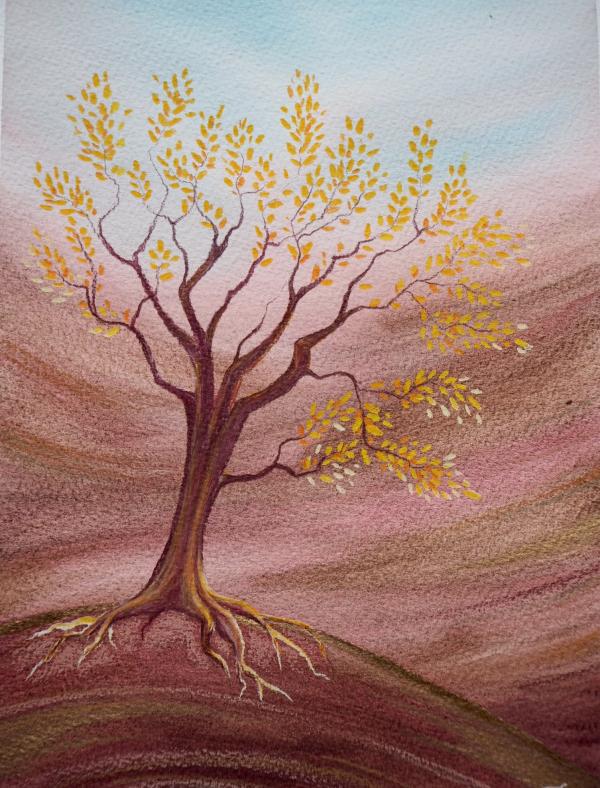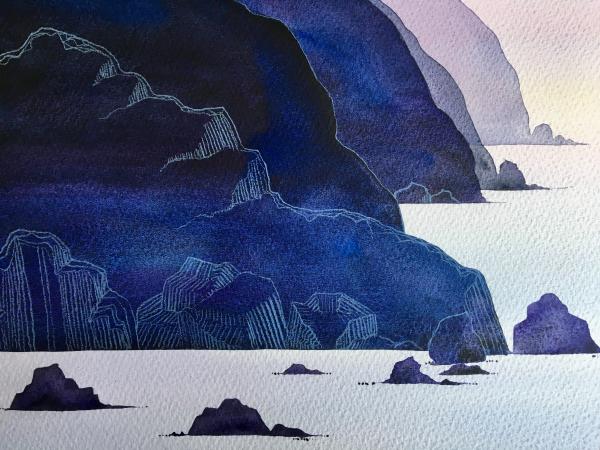 Opening Hours
Tuesday – Sunday 12:45pm – 6.00pm
Description
Natural landscapes, myth and storytelling are at the centre of this exhibition by Hillary Reid. Featuring a collection of watercolour paintings, StoryScapes presents scenes that hint at stories you may have heard before or perhaps those that have yet to be written.  Hillary takes inspiration from both traditional landscape and illustration, as well as from folklore and travel. It is always interesting to see the correlation between wild, natural environments and rich folkloric history.
Visitors will be welcome to purchase work and also contribute their own interpretations and stories of the paintings on display.   
More information about the artist and contact details:
End Date
19 November 2017
sensational strata
Artist
Whitireia Visual Arts Students
Main Image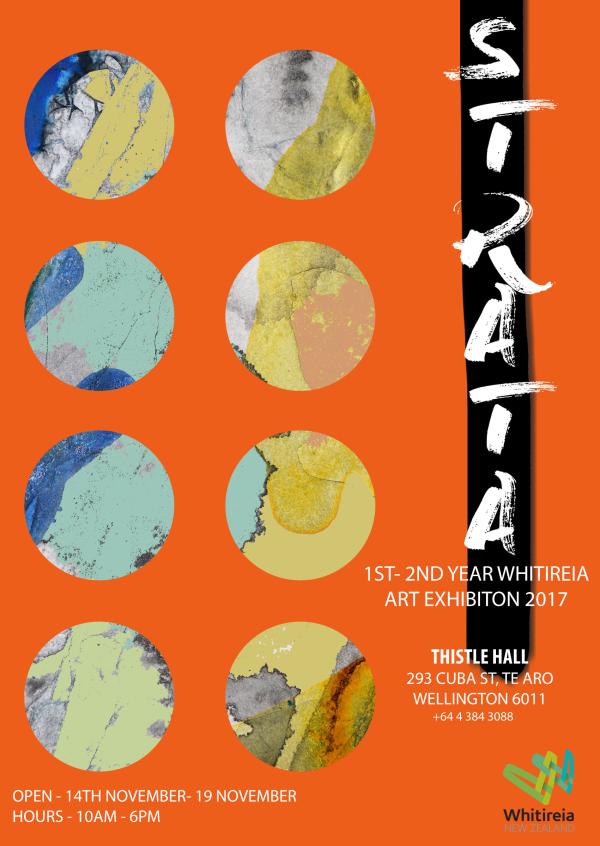 Opening Hours
Tuesday - Sunday, 10.00am - 5.30pm
Description
Year One and Two Whitireia Polytechnic visual arts students are holding an end of year exhibition at Cuba Street's Thistle Hall from November 14 – 19. The exhibition will feature the best in up and coming visual art studio based media including contemporary jewellery, painting, ceramics and printmaking.

"The course is a three year Bachelor of Applied Arts degree in Visual Arts and Design and is a unique opportunity for members of the public to view and buy art works of New Zealand's next generation of contemporary artists," said Deb Donnelly, Creative Enterprise tutor and senior lecturer.

The show is all about layers and how once you engage with art the different layers naturally unfold to provide a more personal meaning to the viewer or wearer.

From the use of greywacke in contemporary jewellery to henna in printmaking students have used an exciting variety of traditional, organic and more unconventional materials to create pieces that are fresh and unique.

In a world of artificial intelligence and machine generated objects these students are focused on celebrating the art of bespoke pieces and creating personalised artistic works.

Students will be hosting the show and on hand to talk about the works throughout the exhibition.

For more information contact:
End Date
12 November 2017
inner worlds
Main Image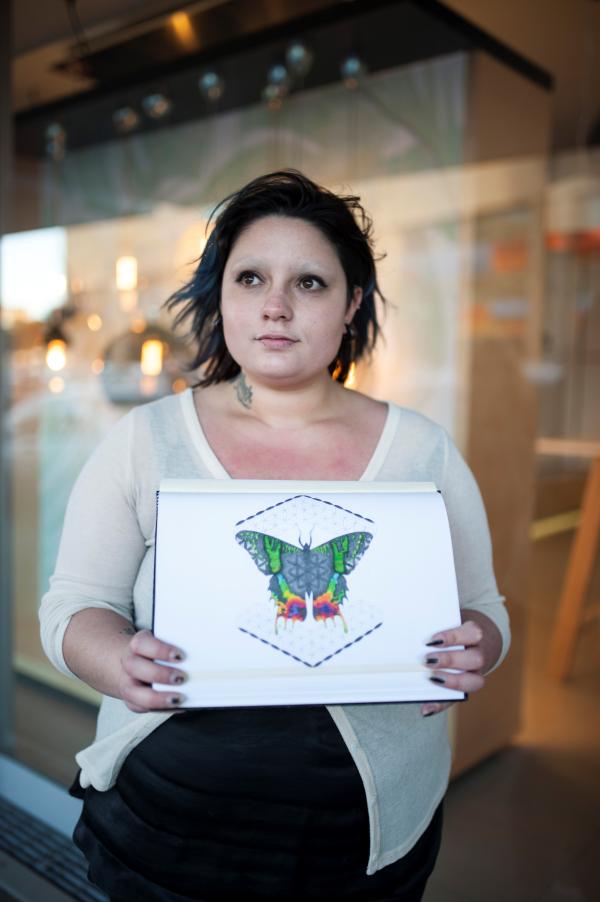 Gallery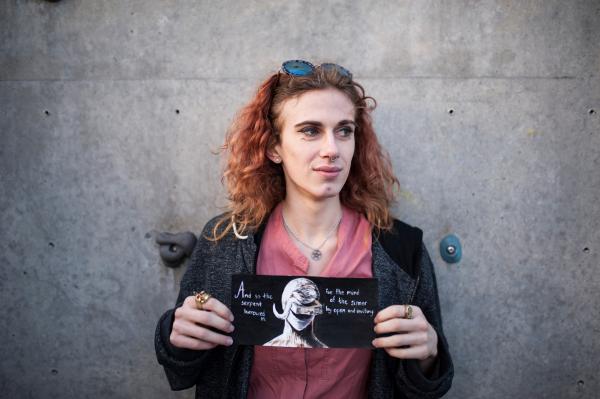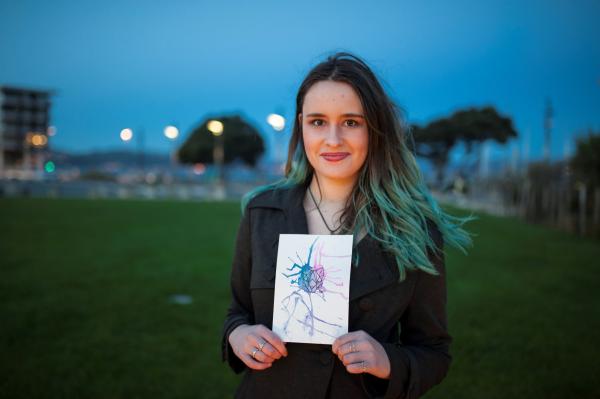 Opening Hours
10.00am - 4.00pm, Monday - Sunday
Description
"Inner Worlds" is about the experiences of university students in Wellington and their identity formation. The university period of life serves as a deconstructive and highly intense time for personal identity development. Alongside this journey comes big challenges - a major one being mental health. The artists in this exhibition are all a part of the art club at Victoria University - Misfits Club. Misfits is both a club and a peer support service to students. Peer support challenges conventions of mental health support, teaching those involved how to care for each other while struggling with the inevitable pains of life.
The exhibition talks about personal identity while asking the audience to consider their own experience of mental health and identity. The show will include collaborative art in the form of finger painting and letter writing. Part of the importance of the exhibition lies in the challenge to struggling students to continue to create - regardless of their struggle. However, sometimes mental health can be a barrier to creation, so the exhibition also discusses the non-displayed and "uncompleted" art. 
Contact Carissa at 022-108-8082 for more info. Or email misfitsclubvuw@gmail.com
Main Image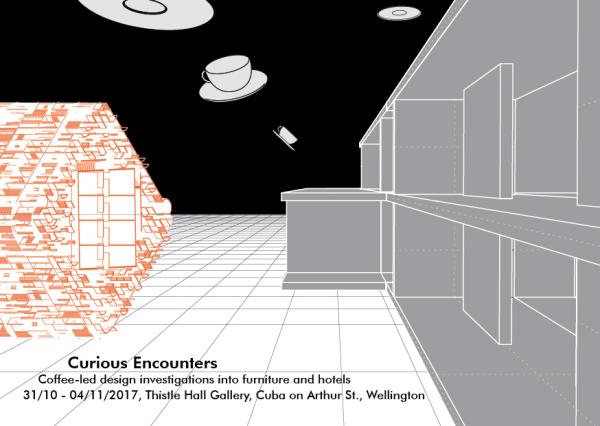 Gallery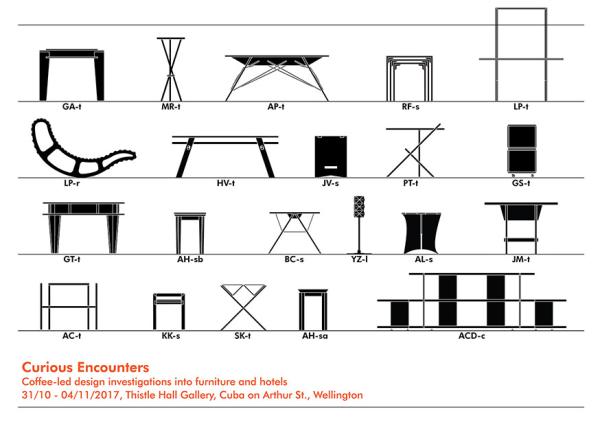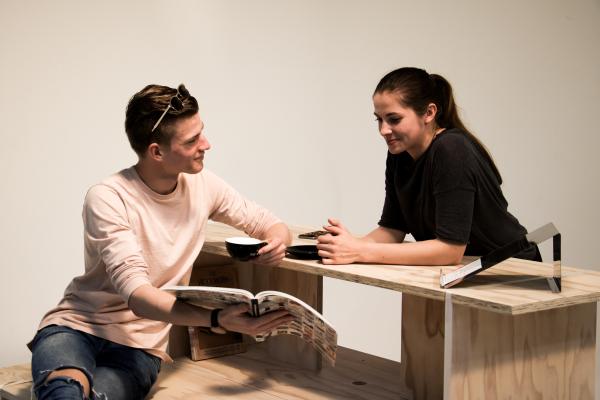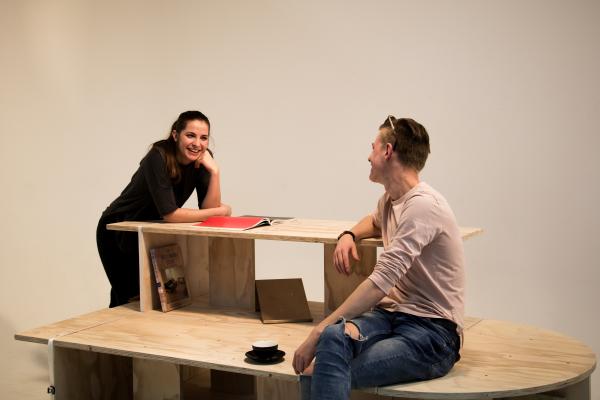 Opening Hours
Tuesday 31 October - Saturday 4 November, 10.00am - 6.00pm
Description
This exhibition presents a set of curious encounters: We welcome visitors to the gallery to encounter innovative furniture inspired by coffee. Secondly, a series of hotel designs experiments with the hotel as both an idea and a phenomenon. A further encounter occurs between furniture and hotel, which are closely related. Prototypes of tables and chairs mix with hotel designs. All exhibits are designed and fabricated by Victoria University of Wellington's vibrant young minds. Visitors are encouraged to engage with this landscape of furniture and hotel artefacts, to view them or sit amongst them and have coffee.
Concept:
Hans-Christian Wilhelm: Curator and Course Coordinator Furniture
Simon Towse: Curator and Course Coordinator Hotel
Exhibition Design, Centre En-Counter, Graphics:
Hans-Christian Wilhelm, Ann-Kathrin Eberhardt, Denise Duggan, Cameron Roussow, Steven Almond, Dion Andrews, Julia Vencatachellum, Hudson Volykhine
Furniture prototypes and designs:
Gareth Alexander, Dion Andrews, Benjamin Carpenter, Annabel Childs, Thomas Clark, Charles Devine, Denise Duggan, Ann-Kathrin Eberhard, Rose, Flynn, Travis Hinchliff, Alan Howard, Karly Kimura, Sophie Kolmer, Andy Lee, Natasha Linley, Javiera Magallon Nicolet, Luke Poulsen, Liam Prentice, Apirana Procuta, Mariana Restrepo Sierra, Cameron Rossouw, Giorgio Scott, Grace Tennent, Philip Tong, Julia Vencatachellum, Hudson Volykhine, Bronya Webb, Yujia Zhao
the illustrated chicano
Artist
William Franco With Lime & Miki Seifert
Main Image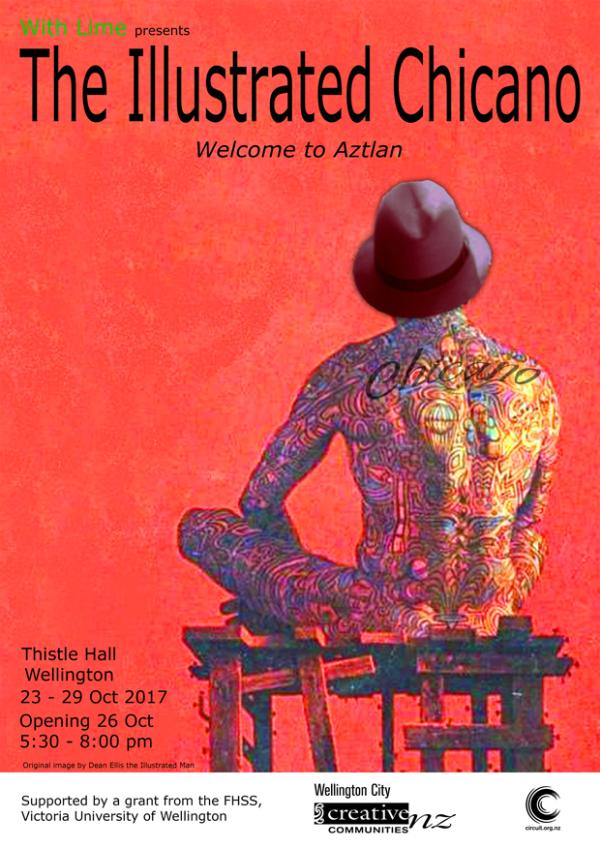 Description
Welcome to Aztlan!
This October, tattoo's come alive to tell the stories of Chicano's. The Illustrated Chicano is an interactive installation that tells a story of migration through moving tattoos. Artist William Franco, of Wellington arts company "With Lime", brings to life his Journey to Aotearoa using body casting and projection.
The installation, which re-purposes Ray Bradbury's story "The Illustrated Man," welcomes visitors to experience the culture and history of Chicano's. Visitors will be able to observe the construction of the piece from October 23-25 and experience the finished installation from October 26-29.
For more information check out our Facebook page and our website With Lime.
Main Image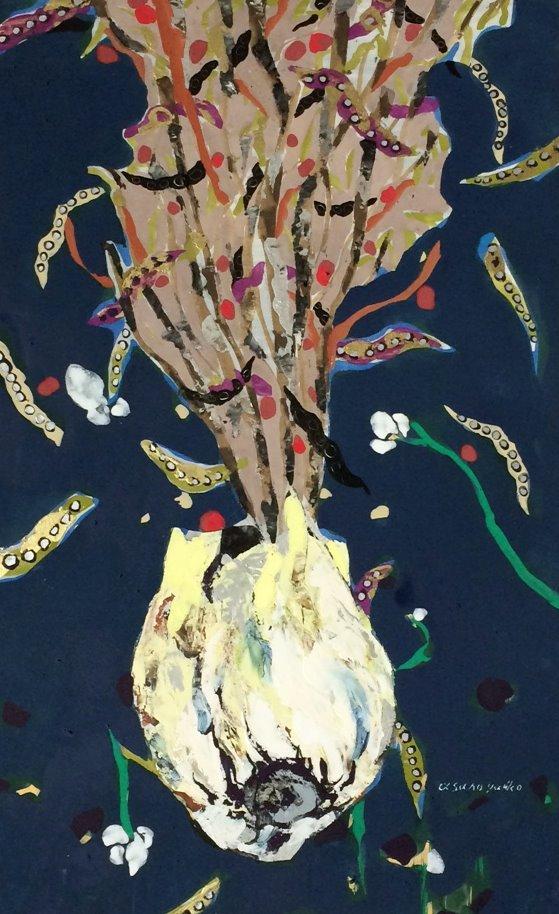 Gallery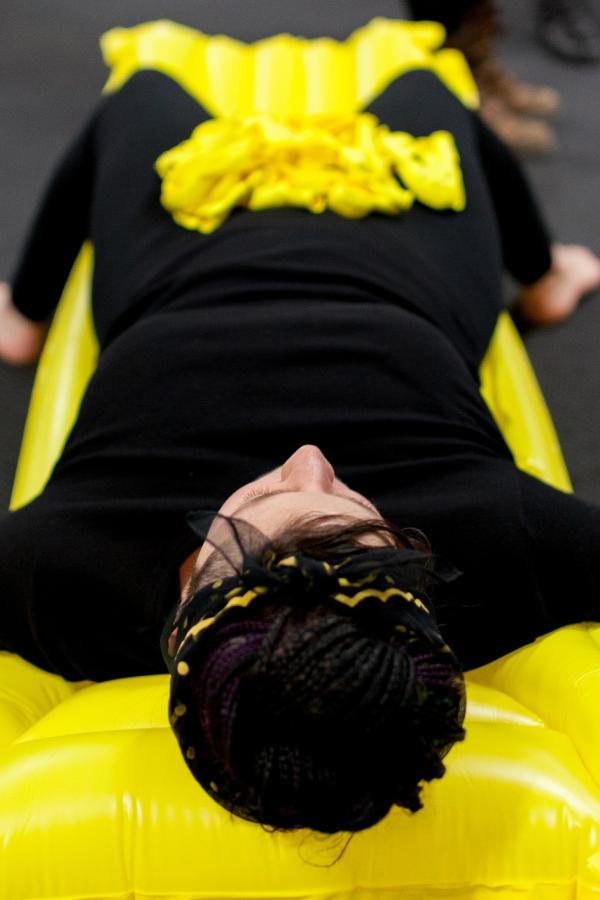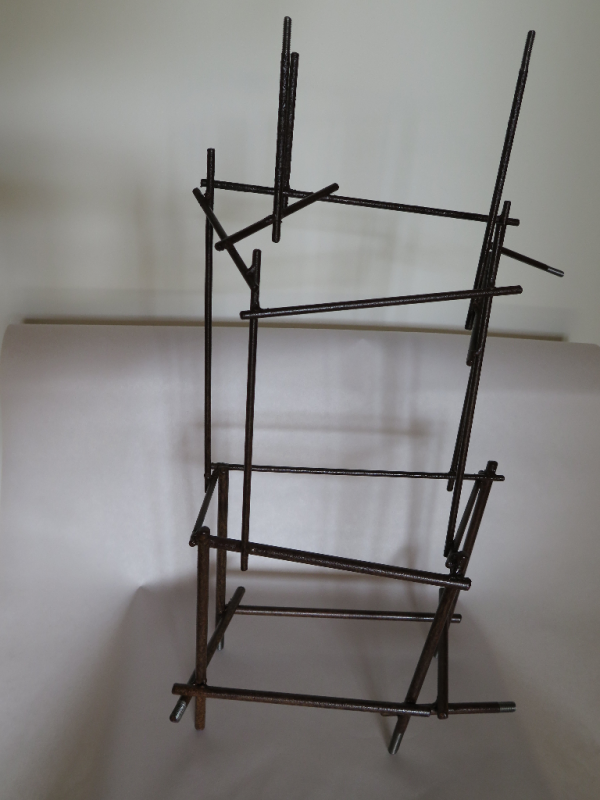 Opening Hours
Thursday 19 - Saturday 21 October, 11.00am - 5.00pm
Artist Talks and Discussion Evening - Developing Resilient Practice: 5.30pm, Thurs 19
Performance Evening: 5:30pm Friday 20 October
Description
As earthquake prone cities, Christchurch, Wellington, and Sendai, Japan share common ground through recent experience. These cities are now looking to build earthquake resilience and create 'resilient cities'. But how do we create stronger communities, and what is the role of art and urban design in building these cities?
Shared Lines: Wellington brings artists already effected by earthquake to the capital to encourage new discussion. It is a week-long series of art displays, talks, performances, and workshops, with artists from Japan, Christchurch and Kaikoura sharing their experience, knowledge and work in building resilience alongside the business and city planning sectors. The programme seeks to 'earthquake strengthen' the Wellington arts community.
Three Japanese artists have been invited to exhibit alongside Christchurch and Kaikoura based artists including Audrey Baldwin, Kim Lowe, Matthew Moriarty, Miranda Parkes, Tonya Sweet and Jason Ware to name a few. The exhibition features sculpture, performace, painting, photography, digital works and installation.
With the increasing number and severity of natural disaster and humanitarian crises faced by towns and cities around the Pacific Rim, we need to discuss and respond in ways that sees the community work alongside the decision-makers in emergency preparedness, disaster relief and rebuilding efforts. Engineers, property developers, architects, city planners and bureaucrats are invited to participate in panel discussions with artists.
Shared Lines emerged out of the earthquake events that devastated Canterbury, New Zealand, and Fukushima, Japan in 2011. Shared Lines is now an established collective of artists and art producers that aim to promote artistic exchange between cities and use art to build resilient cities.
Thank you to our funders and sponsors; Creative New Zealand, Wellington City Council, Urban Dream Brokerage, Willis Bond & Co., Studio Pacific Architecture, Canyon Creative and Kinetic Digital.
Shared Lines: Wellington is being umbrellaed by the Wellington Independent Arts Trust.
Website: sharedlines.wordpress.com
Follow: Shared Lines: Wellington on Facebook, Instagram and Twitter.
Other Events
Symposium: Adam Auditorium (City Gallery Wellington): 6pm Tuesday, 17 October
Yasuaki Igarashi's public artwork Sora-Ami: Knitting the Sky will be installed on Wellington Waterfront Lagoon
Contacts
Linda Lee
E: sharedlineswellington@gmail.com
P: 021 0222 6386
Mosaic and Mask
Artist
Rachel Silver & James Harcourt
Main Image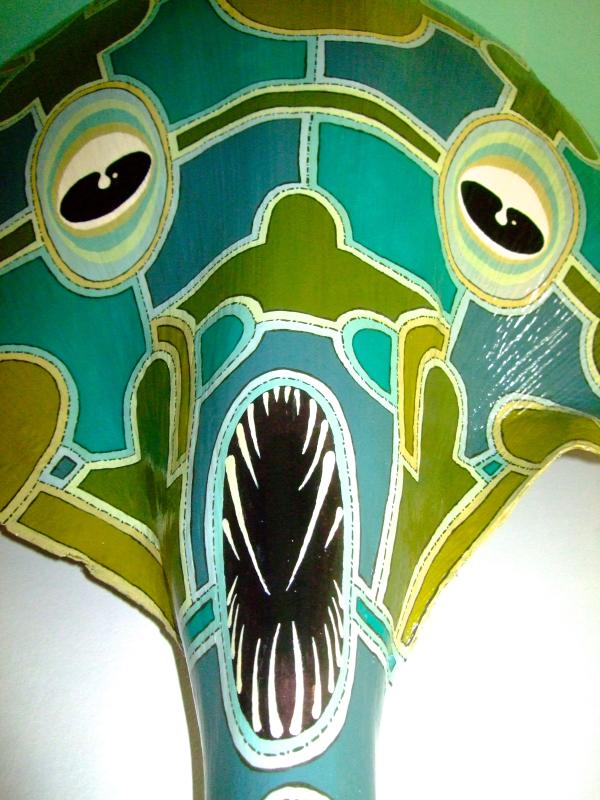 Gallery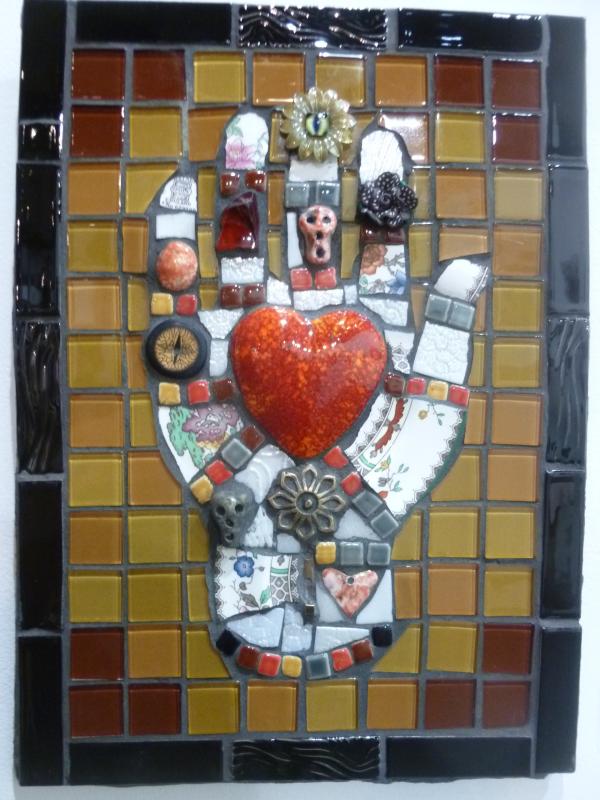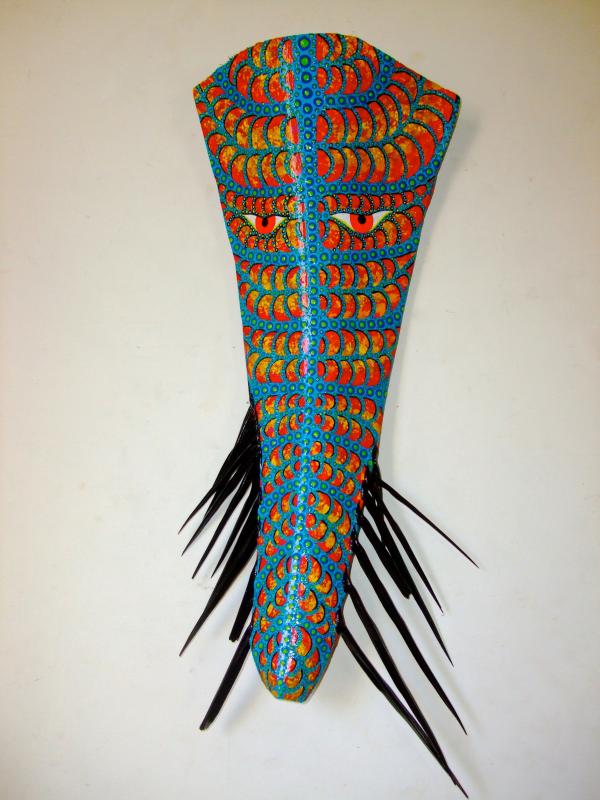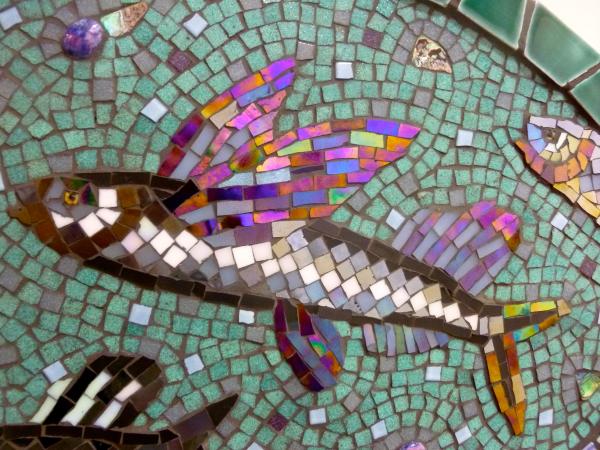 Opening Hours
Tuesday - Sunday, 10.00am - 6.00pm
Description
Mosaics and masks both have very long and rich histories. For thousands of years we have been wearing the guise of the unknown, a face of the imagined to relate messages and tell stories. Mosaic has throughout history been used to convey narrative, to teach us of past events and to enhance our environment with thoughtful detail.

Together we bring you our stories, our messages and a large dose of colour with our ' Mosaic & Mask ' exhibition. A week of insight into the artist's worlds and an opportunity to see and purchase original and unique creations.
Main Image
Gallery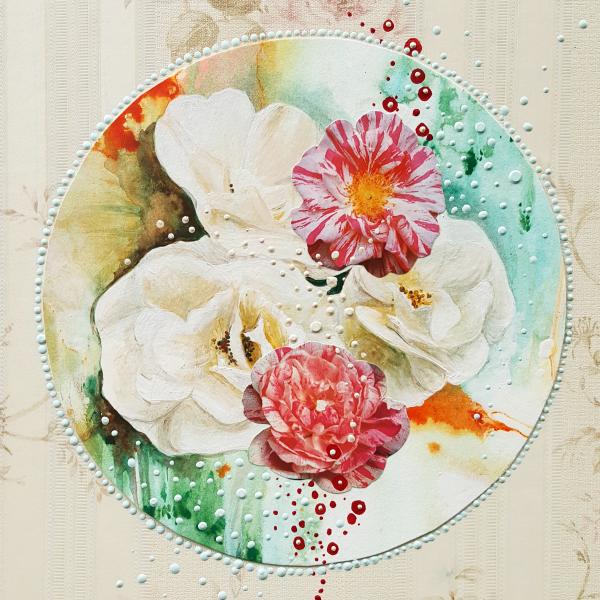 Opening Hours
Wednesday and Thursday - 10.00am - 5.00pm
Friday and Saturday - Late night 10.00am - 7.00pm
Sunday - 10am - 4pm
Description
Inspired by an obsession with florals, Natalie Parker, has spent the last year musing in her studio. Her introverted nature has drawn strength from her creativity to bring to life a body of work that is simply beautiful, uplifting and peaceful.
Through the use of painting, collage, mixed media and decorative furniture, Parker has created an environment where her floral musings flourish. This floral fiesta allows the audience to feel a sense of joy and beauty.
With over 90 works on display priced from $60, this show is bound to delight the senses of the most passionate floral enthusiasts. Throughout the exhibit Natalie will be doing daily live painting demonstrations at 11am which can also be viewed through her instagram @natalieparkerartist
The opening night on Tuesday 3rd October at 6pm is for invited guests only, however should you desire to attend please email Natalie at natalie@natalieparkerartist.com
For more information:
Instagram @natalieparkerartist
Start Date
25 September -
Too Much truth
Main Image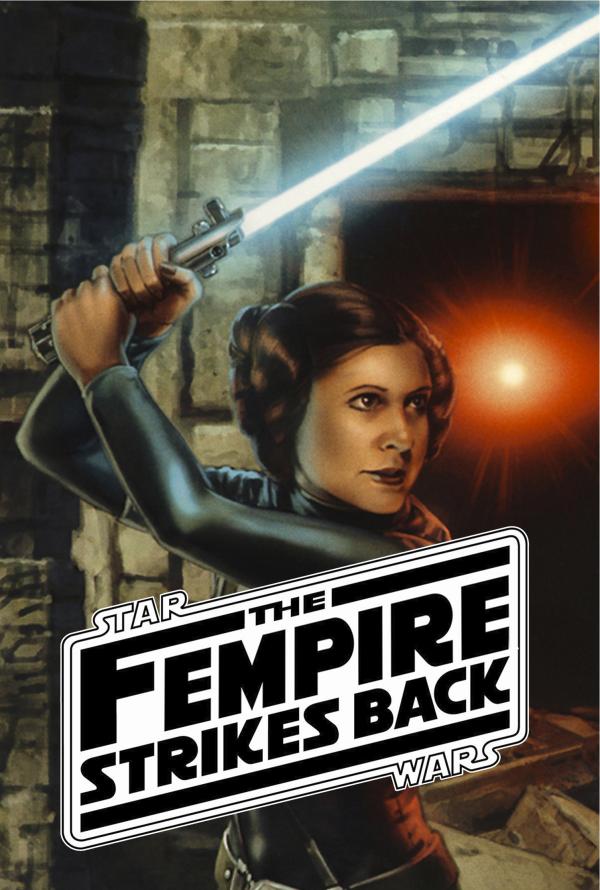 Gallery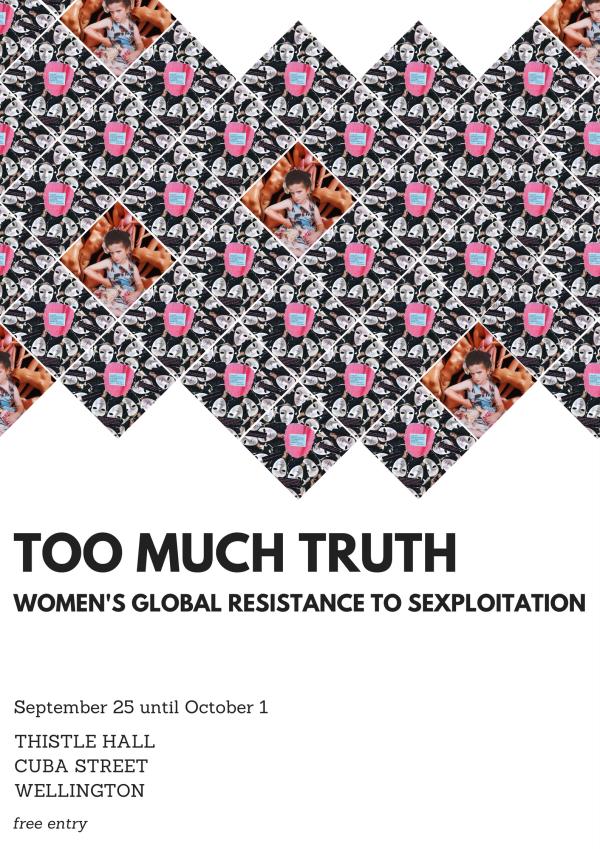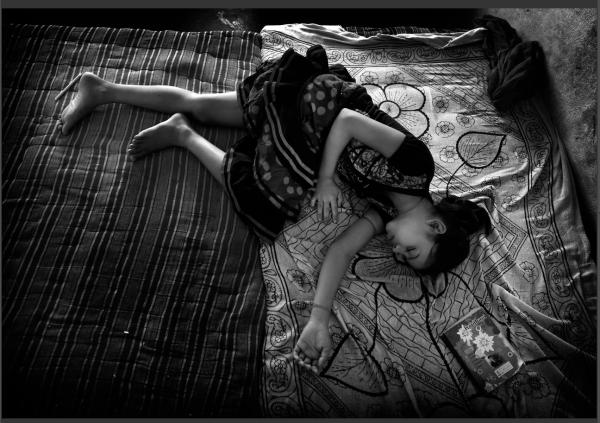 Opening Hours
Monday, 12noon - 4.00pm
Tuesday - Sunday, 10.00am - 12 noon, 1.00pm - 4.00pm
Description
Too Much Truth will present posters, paintings, magazines, photographs and street art by over 35 sex trade abolitionist organisations, activists and artists worldwide – many of whom are survivors of sexual exploitation.

The display will include posters from Stígamót in Iceland, Asian Women Coalition Ending Prostitution, and photographs from Apne Aap in India, an organisation that helps save girls from a system of "hereditary" prostitution. Copies of feminist magazine off our backs will be available, as well as Spinifex press publications Prostitution Narratives and Radically Speaking.

All groups, artists and activists with work in Too Much Truth ask that prostitution and sex trade lobbying are considered critically, in light of testimonies offered by survivors, the disproportionate representation of poor and indigenous women, and the way the trade encourages men to use economic advantage to circumvent sexual consent. In short, abolitionists ask that we recognise the violently sexist, racist, capitalist and colonising nature of prostitution.

"Too Much Truth anticipates a review of New Zealand's Prostitution Reform Act (PRA), due next year. The PRA saw the pimping and purchase of women fully decriminalised in New Zealand in 2003, and a 2008 milestone report recommended a review be carried out in 2018."

Because the 'New Zealand Model' of prostitution reform is the legislative model favoured by pimps worldwide, women worldwide need a critical, legislative review to take place in New Zealand. This is what Too Much Truth asks for, by demonstrating that the sex trade is an industry that women in India to South Africa, Germany to Iceland and Canada to New Zealand are in fact imprisoned in, and fighting against for their lives – and for the freedom of all women.

Too Much Truth is dedicated to the legacy of Grace Molisa, ni-Vanuatu freedom fighter, feminist, poet, publisher, educator and abolitionist.
Start Date
18 September -
End Date
24 September 2017
Ted's artrageous adventure
Main Image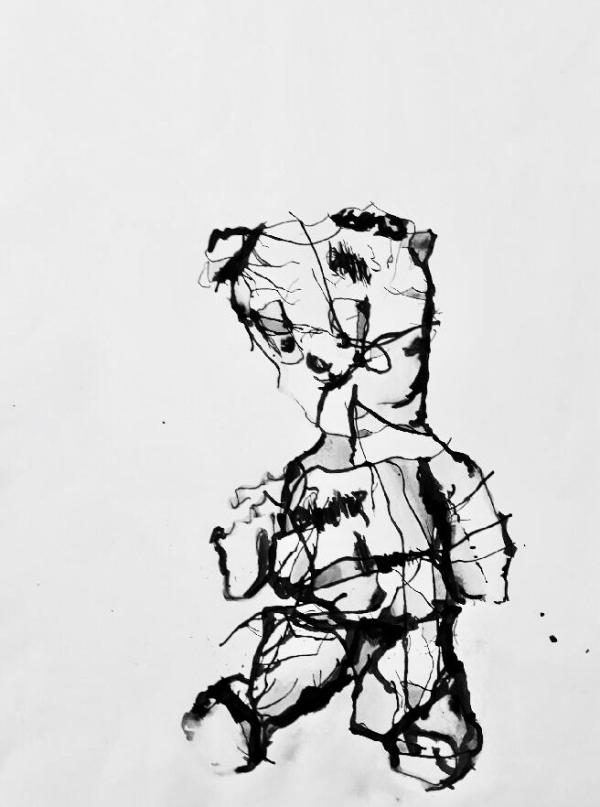 Gallery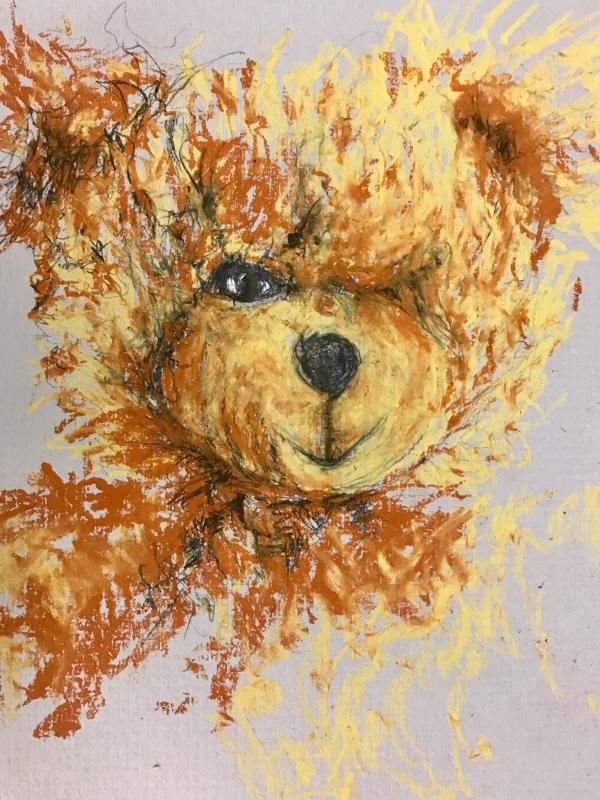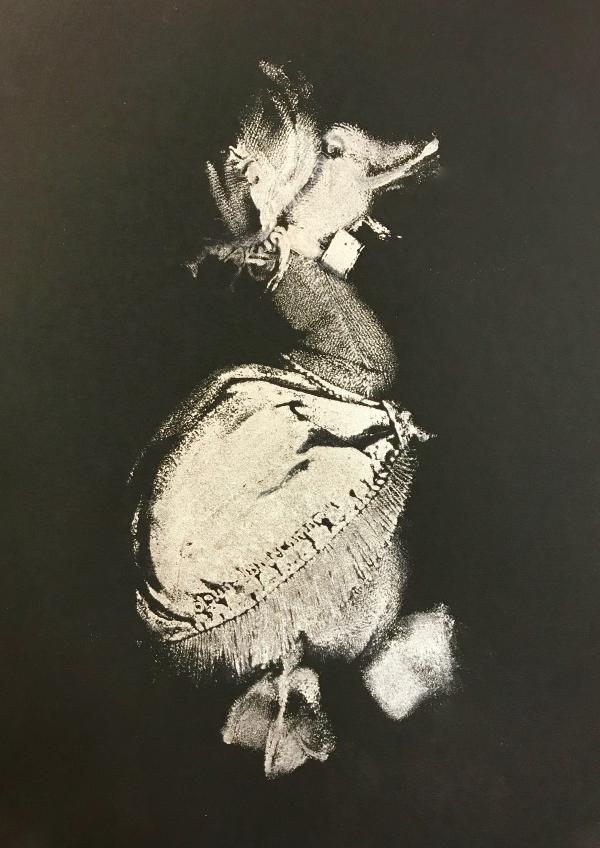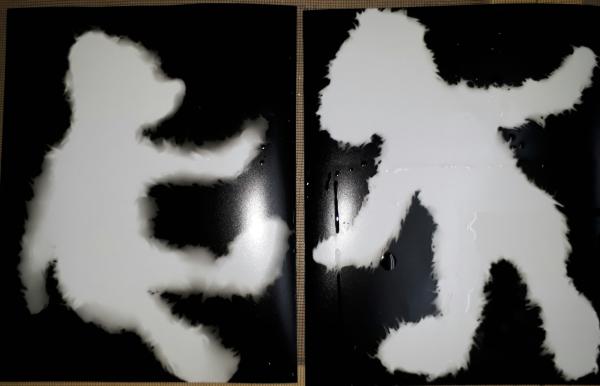 Opening Hours
Monday – Thursday 10.30 am – 6.00pm
Late night Friday 10.30am- 8.00pm
Saturday and Sunday 10.00am - 4.00pm
Description
Creativity is a tricky beast, or it might just be a teddy bear!
We are the adult crew of Artrageous kids and we work with children to provide spaces for them to genuinely discover and explore their creative selves.  We encourage all our intrepid adventurers to find and express their unique chaos or concern, gingerly or with gusto, by way of everything from tiptoeing to tromping.
This exhibition represents the adult exploration of these same spaces and paces.  We urge children to forget the outcome of their artistic endeavours and, instead, to play until they create something that fills them with pure delight. 
The humble teddy, the ever-present teddy, the universal teddy is, for us, symbolic of play with deep and lasting connections to our own childhoods, and childhood in general. 
For this exhibition, each of us has worked with 'teddies' that we have either found, adopted, or that have been treasured since the beginning of all teddy time.  We have used them to explore a variety of media and processes and have granted ourselves the same level of freedom that we afford to those who attend our programme.  In doing this we are practicing what we believe and teach.
The subject matter we have chosen is recognisable, engaging, and emotive for us, and we hope for all.  It has the power to connect people to their own childhoods, evoking memories of endless hours of uninhibited play, captivated by their teddy confidantes, teddy friends and teddy fiends.
We have thoroughly enjoyed the process of creating in this astonishing space between childhood and the rabbit hole of adulthood, and it is our hope and intention that this exhibition will inspire creativity, connection and conversation.
This adventure is brought to you by Anahera Gildea, Aleksandra Glumac-Alagh, Caroline McGlinchy, Joanne Grove and Sarah Bennett.
For more information about artrageous kids please visit our website www.artrageouskids.co.nz
Start Date
12 September -
End Date
16 September 2017
Skin
Artist
Massey Wellington Life Drawing Club
Main Image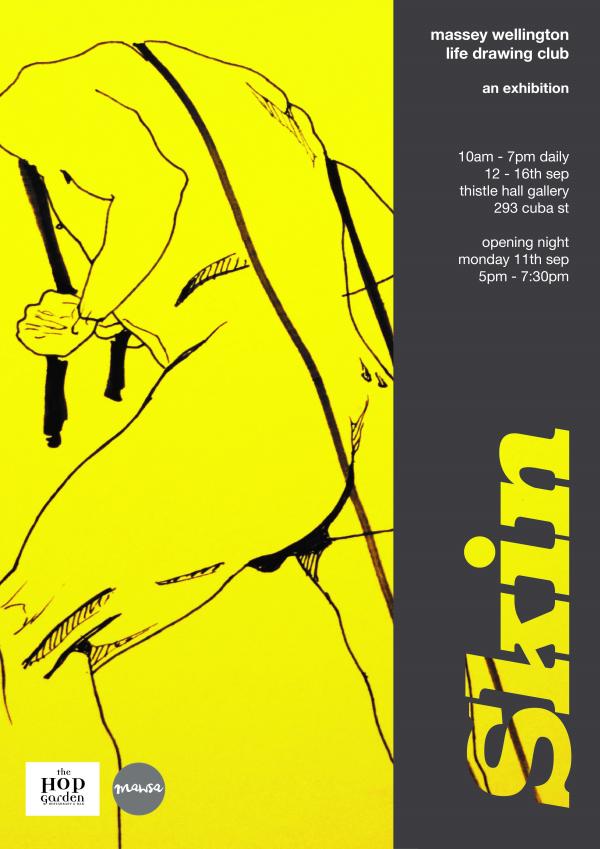 Gallery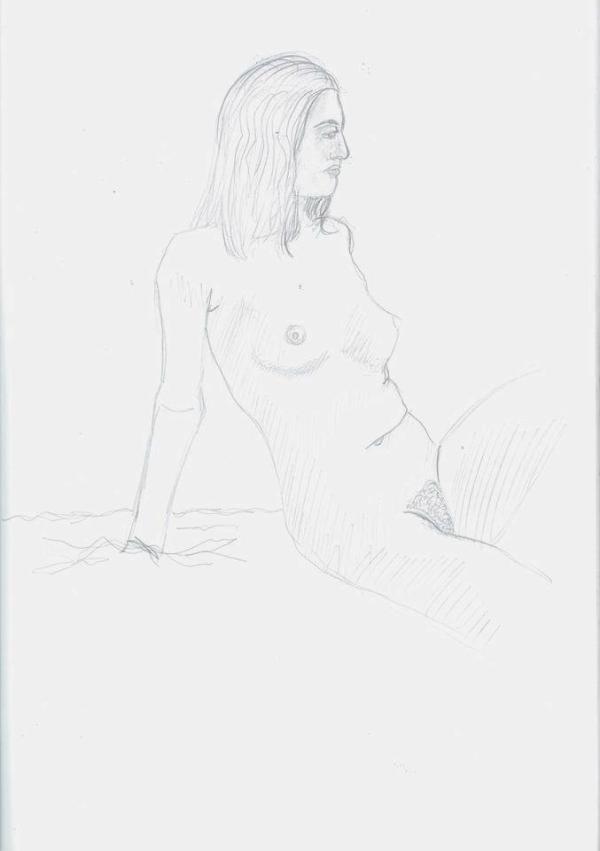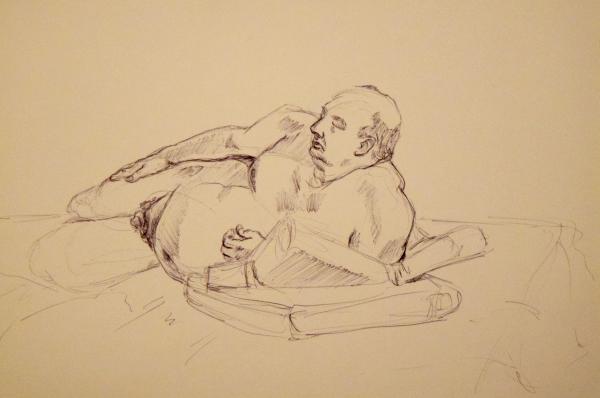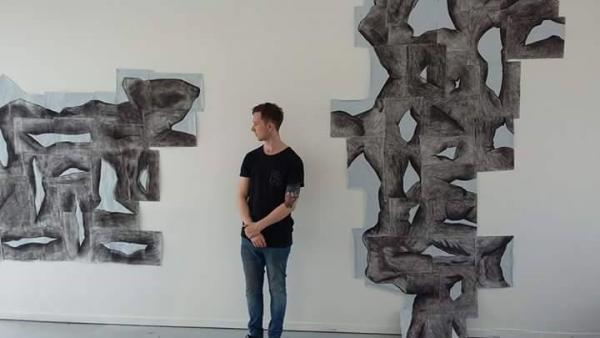 Opening Hours
Tuesday - Saturday, 10.00am - 7.00pm
Description
Skin is the second running annual exhibition of the Massey Wellington Life Drawing Club, a club dedicated to providing a space for both beginners and avid life drawers to study the nude human form. This exhibition is a chance for our participants to showcase what they've been working on over the year and for everyone else to see the beauty of the human form from various artistic perspectives.
End Date
10 September 2017
Beauty and the two beasts - Mulyani with Boyle and gray
Artist
Nini Mulyani, David Boyle & Stuart Gray
Main Image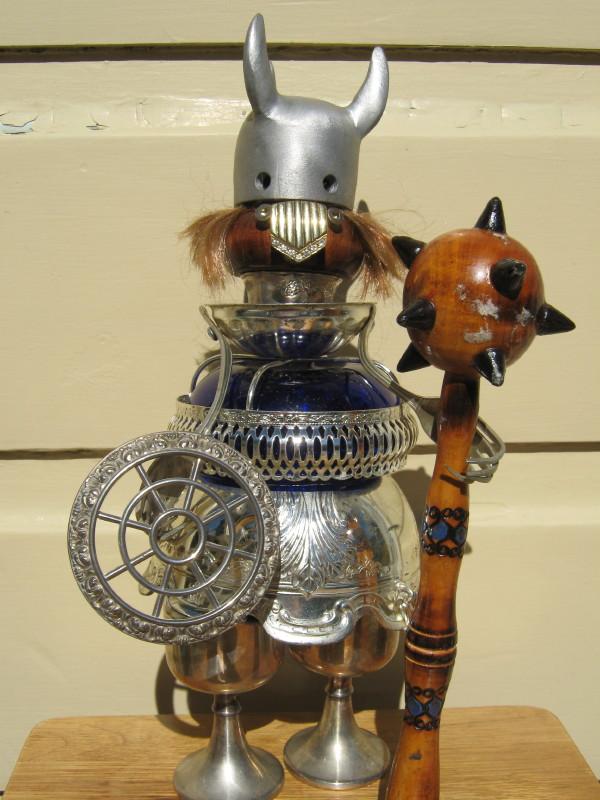 Gallery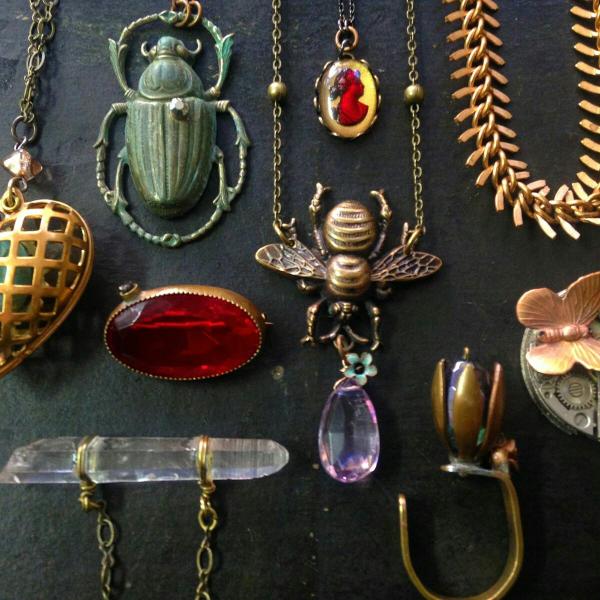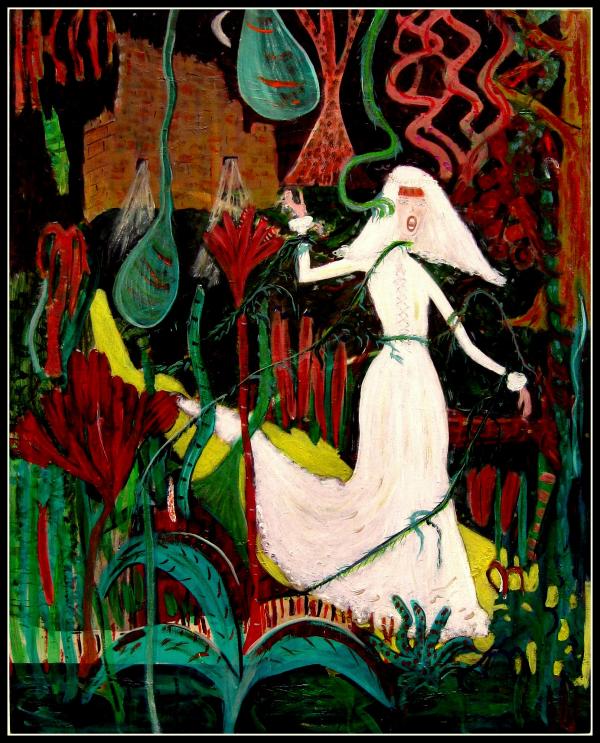 Opening Hours
Tues - Sun, 10.00am - 5.30pm
Description
Stuart Gray
I am a self taught artist who started out playing around with collage then drifted into using found objects and materials of all sorts sourced from op-shops, recycling centres and wherever I can find cheap or free objects to re-purpose into whatever comes into my imagination.
I like the idea of creating something out of other peoples cast-offs plus helping out the charity shops by buying castoffs from them.
Being a registered electrician I sometimes incorporate the skills of my trade into my art.
My artwork can be viewed on www.stuartgrayblog.wordpress
Nini Mulyani
Handcrafted jewellery that combines both neglected and new elements. The jewellery is often whimsical, steampunk, and vintage inspired.
The play between rare material and imagining of how jewellery should look, reflects on how the maker own take on the world. The jewellery can be enjoyed so much more when appreciated not just for it's superficial beauty, but because the depth of the story behind it.
David Boyle
I have been exhibiting art in Palmerston North and Wellington for many years. The paintings are oil on canvas and have a folksy, illustrative feel. My themes are very escapist /surreal- much action, boys and girls adventure pics -women on large motorbikes and sidecars, jungle action, animals and famous characters. The bolted books are just that-books bolted shut for censorship reasons. The "Pourings" are sculptures on a plinth of books with paint poured over them.
Ph: 0211 585 248
Email: elephantqueen@email.com
End Date
3 September 2017
Abstract Wellington
Main Image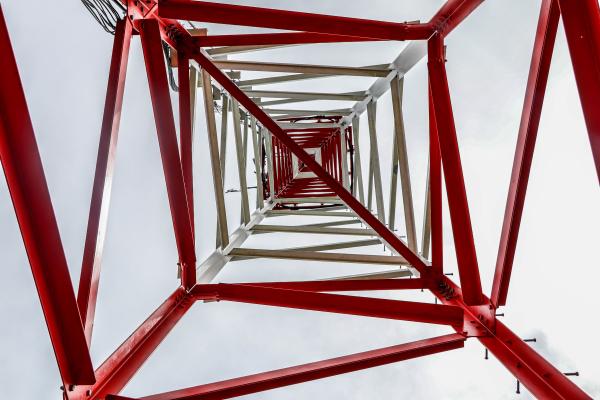 Gallery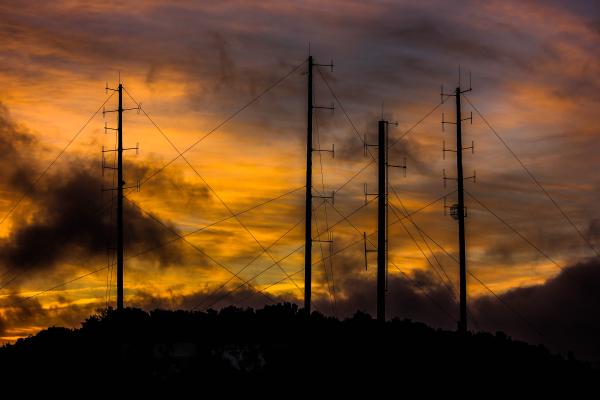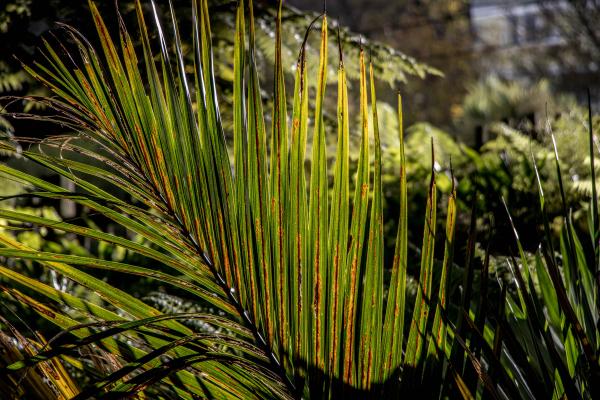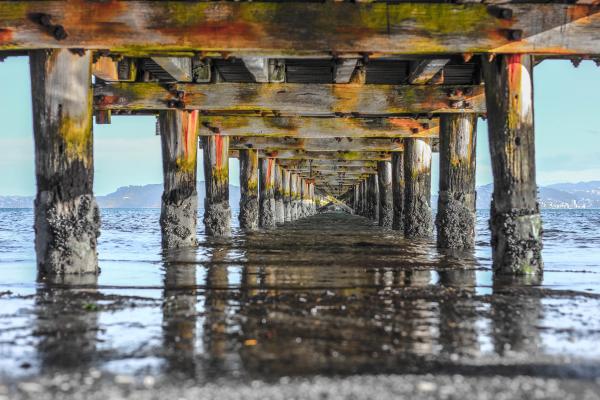 Opening Hours
Tuesday - Friday, August 29 - September 1, 10.30am - 4.00pm
Saturday / Sunday, 2 - 3 September, 11.00am - 4.00pm
Description
This exhibition is a collection of landscape photos taken around Wellington. I live in Karori, and have developed a passion for photography. Wellington's surroundings are wild and chaotic but this collection will show the natural lines and patterns in the landscape. The lines and patterns in the photos creates an abstract perspective. The collection will aim to inspire other people to look at the Wellington landscape in an new light.
An Exhibition of Tiny Portions
Main Image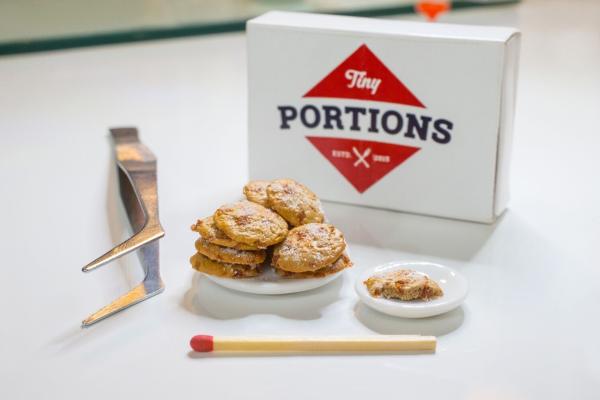 Opening Hours
Tues - Fri, 11.00am - 5.00pm
Saturday & Sunday, 10.00am - 4.00pm
Tues 22 August, 12.30 noon, Ruth Pretty presentation
Description
A collaboration between Rose Young of Tiny Portions and Visa Wellington On a Plate
The art is small but the flavours are big. Grab your magnifying glass for this small-scale exhibition, featuring iconic Wellington dishes created in miniature by Rose. The miniscule servings have been chosen by the region's food personalities and hospitality legends, telling stories of Wellington's dining scene both historic and current.
Rose primarily sculpts food because it is something we all have in common, we all have to eat, and being a Wellingtonian, food is such an important part of our culture and storytelling.
See some of Rose's work on her Instagram https://www.instagram.com/tinyportions/?hl=en
The History of the Wellington Hospitality Scene... The Making of 25 Iconic Dishes
Tuesday 22 August at 12.30pm
Join Ruth Pretty, one of Wellington's most recognised food personalities, as she recounts the colourful and exciting history of Wellington's vibrant hospitality community, in a 45-minute entertaining and informative presentation. Free to attend, but please be aware that space is limited.
Main Image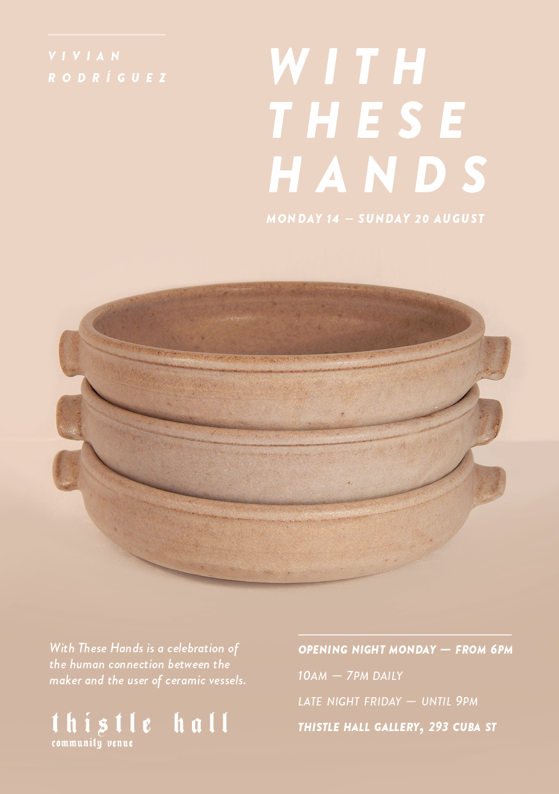 Opening Hours
Tues - Sun, 10.00am - 7.00pm
Late night Friday - until 9.00pm
Description
With These Hands celebrate the human connection between the maker and the user of ceramic vessels.   In our busy, noisy height technological world, we have lost the ability to make a direct link between items of everyday use and the people who make them.  All things have at their core a human hand.   As a domestic potter I like the idea that when people used my vessels they are giving them life in their own terms.  To used a hand-made pot, to know the maker, is to preserve our social connectivity.  Because pottery is timeless and fragile at the same time, using ceramic pieces for eating and drinking every day enhance not only their value but also the value of those who today still work with their hands.  To value the produce of human hands is to celebrate and acknowledge human creativity.
Colour and texture are central to my ceramic work.  The graphic intensity of my sgrafitto patterns in contrast with the naked clay allows me the freedom of creating a piece of work that is not only unique but also spontaneous.  My designs are inspired by my personal interpretations of bush and forest both here in New Zealand and my birth place, Costa Rica.  As a functional potter I enjoy the challenge of throwing large pieces using heavily grog clay which adds an organic element to my work.
Recently I travel to New Mexico in the United States where I had the opportunity of learning decorating techniques used by the Native American Pueblo Indians for centuries.  Part of my work in this present exhibition has been inspired by that journey resulting on the explorations of new brush work designs that allowed me to transfer parts of my Costa Rican heritage into my ceramic work.  
Main Image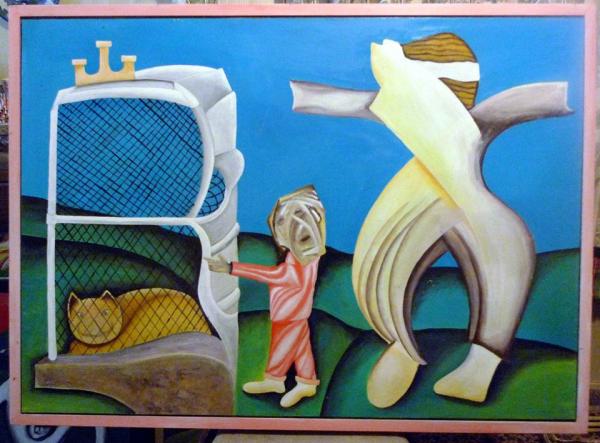 Gallery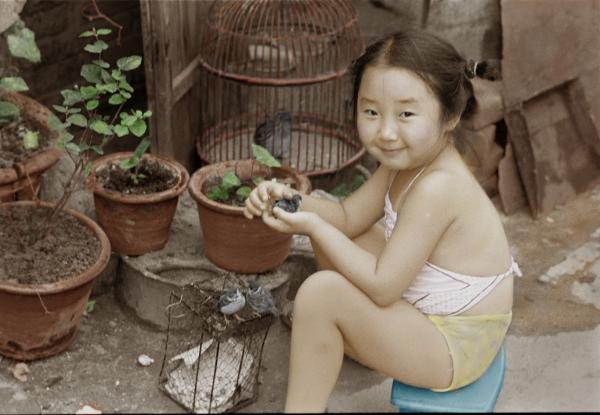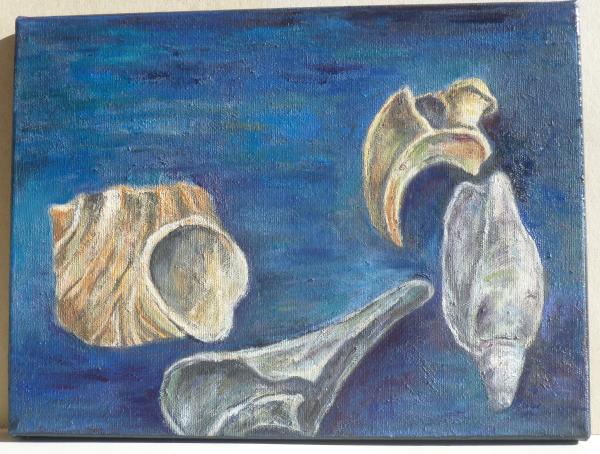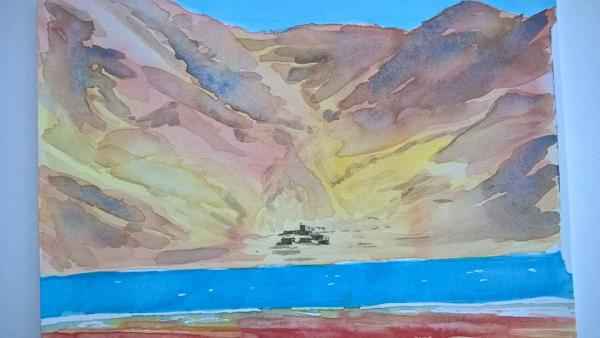 Opening Hours
Tues - Sun, 10.00am - 5.00pm
Description
We are a group of friends and artists who met through the Wellington Buddhist Centre. Our Buddhist group encourages art as an aid to spiritual growth, as in cultivating positive emotion, mindfulness and higher states of awareness. We're interested in how our Buddhist practice of personal growth has influenced and been reflected in our art, and how our art individually and collectively may connect through that enquiry and practice.
The Wellington Buddhist Centre also emphasizes the value of friendship. This exhibition will show a group of diverse people, with different techniques and approaches to art, united by our common commitment to spiritual practice and the support of one another.
The artists included in the exhibition are:
Kathleen Beeler:
Medium: Handcoloured photographss
Subject: China in the 80s
Amalaratna  
Medium: Watercolour
Subject: Landscapes, particularly done from photos she took in Tibet

David Litchfield:
Medium: Acrylics and Pencil
Genre: Naïve realism

Anne Munz
Medium: Oil Paintings
Subject: Trees and human bodies
Achalamuni  (Donald Woolford)
Medium: Oil paintings
Genre: Still life and abstract
59
Artist
Linda Evangaline Smith & Johannes Mueller-Welschof
Main Image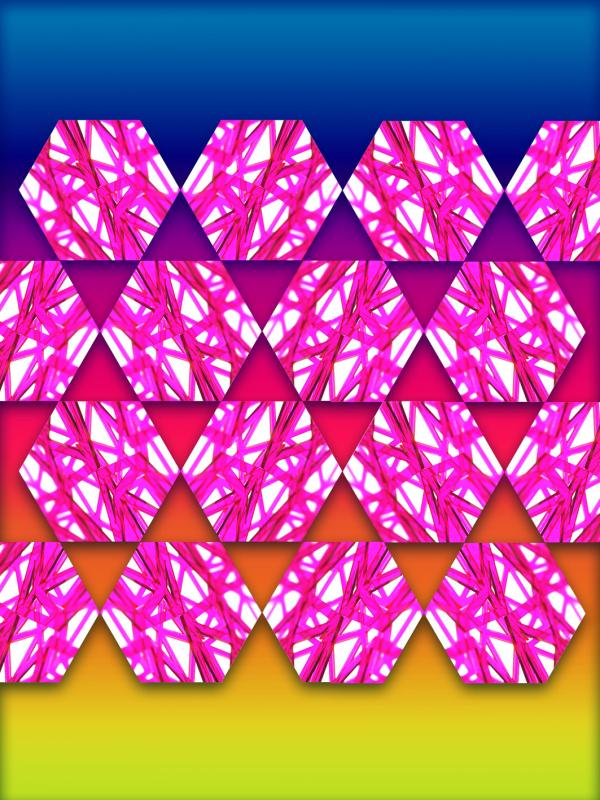 Gallery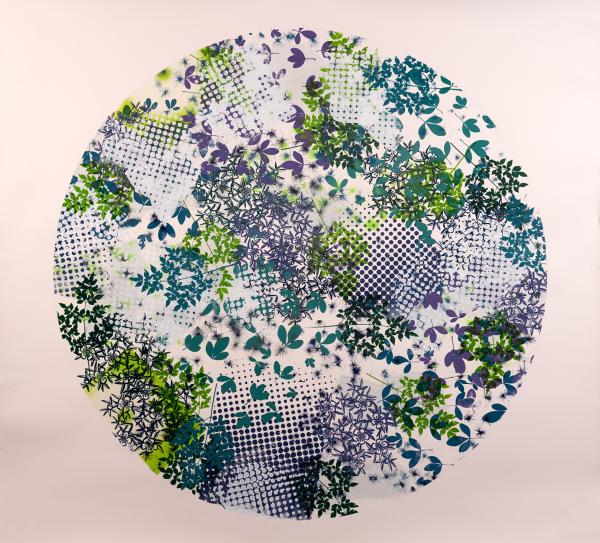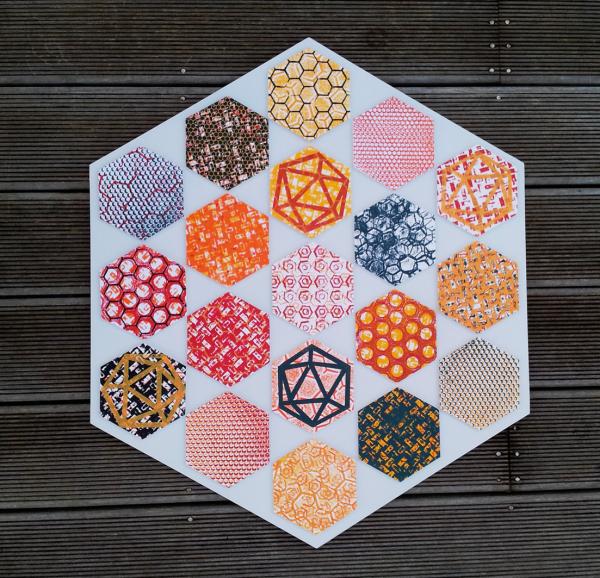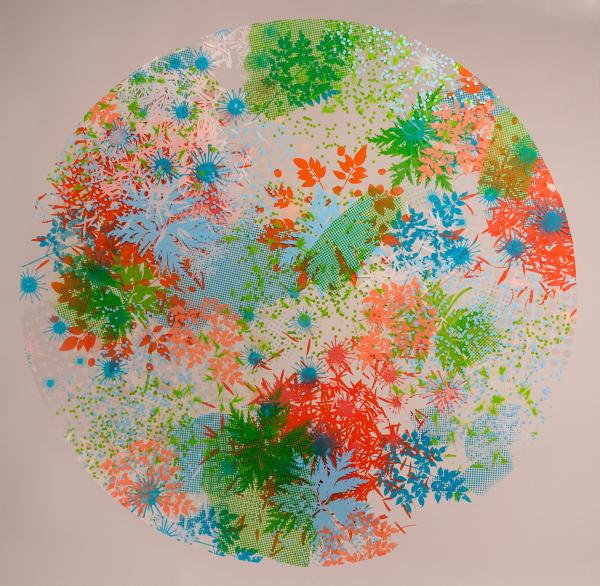 Opening Hours
Tues - Fri: 10.00am - 6.00pm
Sat - Sun: 11.00am - 6.00pm
Description
Johannes Mueller-Welschof
This exhibition called "59" presents me with a great opportunity to collaborate with Linda Evangaline Smith, whom I got to know as a fellow student at the Learning Connection in Taita.
We wanted to experience, how our different artistic approaches can connect and complement each other in a shared space and find similarities besides our shared year of birth, which inspired the title.
When it comes to my artist practice I experience myself increasingly as a mixed-media person. I enjoy to venture into painting, photography, digital design, printmaking, sculpture, collage/assemblage and also combined techniques.
For this exhibition I chose the Hexagon shape as one overarching theme, exploring it in 2D and 3D and also that space of optical illusions in between. Intrigued by the strong symmetry and balance of the Hexagon I experimented with different ways to contradict and distort that effect. In re-purposing mass-produced, hexagon-shaped acrylic ornaments as both motives and material I found connections to my professional background in textile design and my fascination with architecture and industrial structures.
The occurring elements of repetition and transition also serve as topics, represented in works on display like the painted cityscape, the digital hommage to Rene' Magritte and my 2016 participation in the NZ-based 100 Days-Project.
Linda Evangaline Smith
There is always the challenge of making what I can see in my imagination happen in real life. The challenge is trying to form my thoughts and mind pictures into art that other people can see. Deciding on media, application, form and size are some of the first things I think about as well as how to actually construct or paint it. The pieces in this exhibition are all screen printed using the same screens in many different ways.
I decided that the circle would become my starting point. I have been using circles to contain my work a lot lately and wanted to see it through to some conclusion. Using print and a set bank of images but an unlimited colour pallet made it possible for me to concentrate on layering, opacity and forming compositions.
When I start I have only a hint of an idea of how it will look when completed. The first few marks are never good and I struggle to continue rather keep on starting again and again. The layers work to obscure and reveal different pictures within the bigger picture. I'm learning when to stop.
Every image has a meaning for me in my everyday life. Some are straight from nature, a leaf from my mother's garden put over a screen, drawings of plants and shapes as well as digital images that are layered to form a composition.
love & possibility, paintings & printmaking
Main Image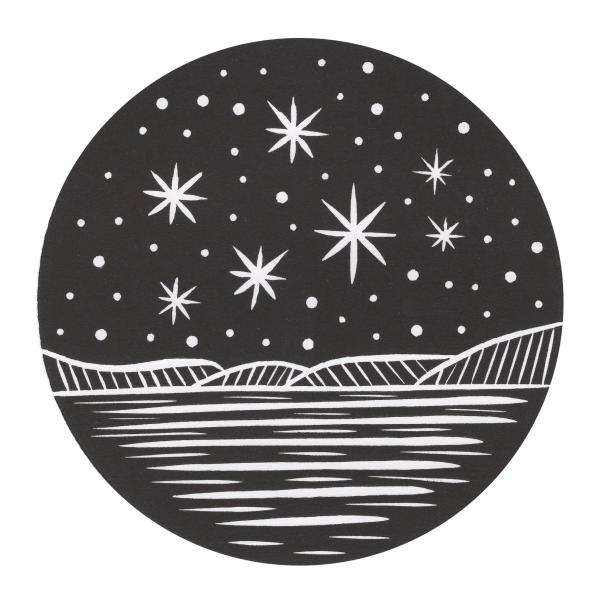 Gallery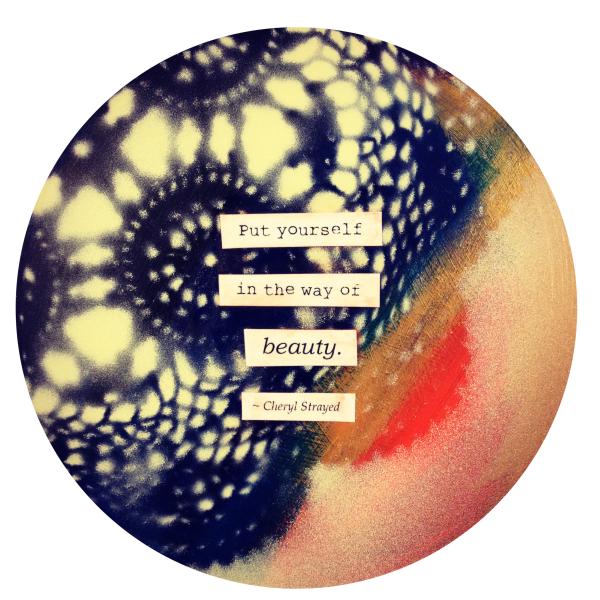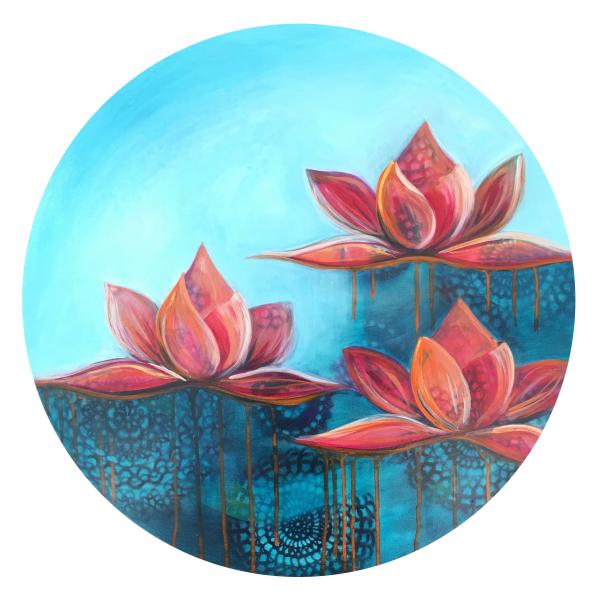 Opening Hours
Tues - Sun, 10.00am - 4.00pm
Description
An exhibition of new work by Erin Carver, Love & possibility celebrates the belief that when we commit to doing what we love, we open the door to discovering the fullness of our own possibility. 
Showcasing a delightful contrast between painting and woodcut relief printmaking, Erin's work reflects the joy she has discovered in working across these two disciplines that have very different creative processes. 
Having a deep interest in the creative process and the relationship that exists between creativity and maintaining positive mental health, the exhibition will also feature a series of 100 small works with quotes about creativity – A collection of beautiful words to inspire us to engage with our own creativity and potential.
Come and fall in love with your own possibility!
Informal woodcut demonstrations will take place throughout the week and a percentage of all sales will be donated to the Mental Health Foundation of NZ.
For more info:
Main Image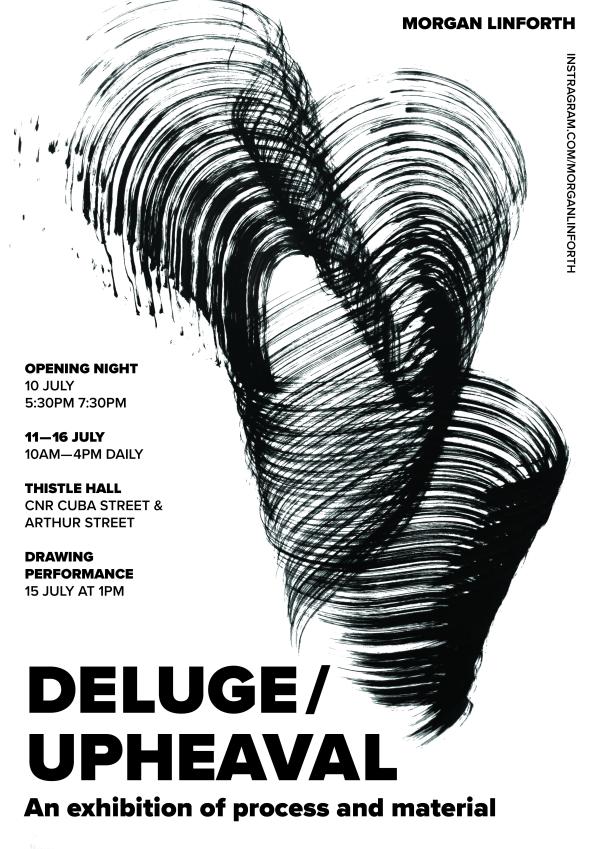 Gallery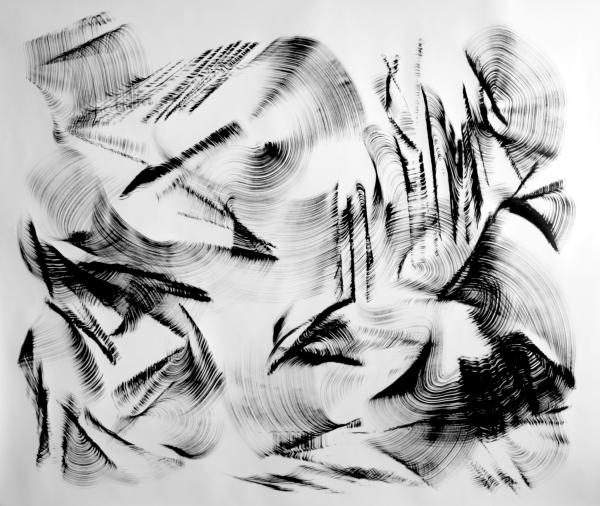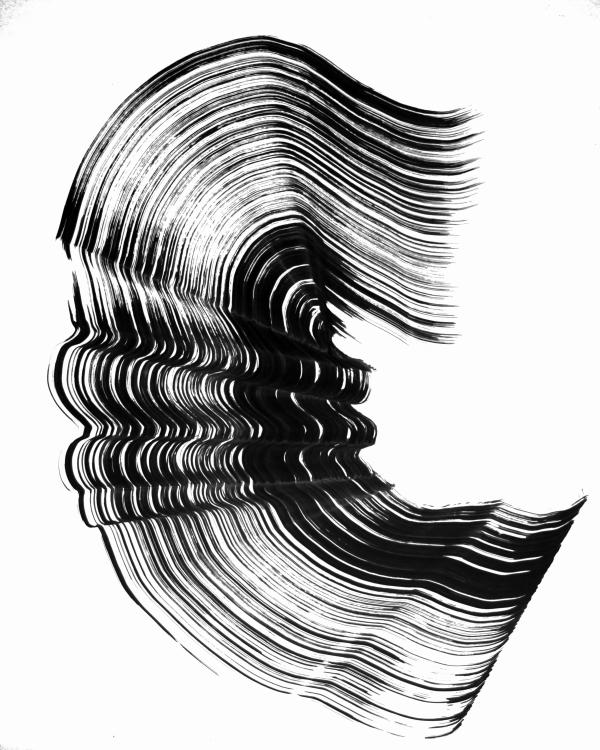 Opening Hours
Tues - Sun, 10.00am - 4.00pm
Saturday 15th July, 1.00pm onwards, Drawing Performance
Description
Deluge / Upheaval explores process, materiality and mark making. My recent practice has focused on allowing the process or material to dictate the final outcome. Letting go of preconceived ideas about what a work 'should be' has encouraged me to slow down and form a relationship with my materials (primarily ink on paper and ceramics) as well as find a sense of freedom within my practice. This exhibition is the result of many hours of intuitive play and an infatuation with line and form.
Main Image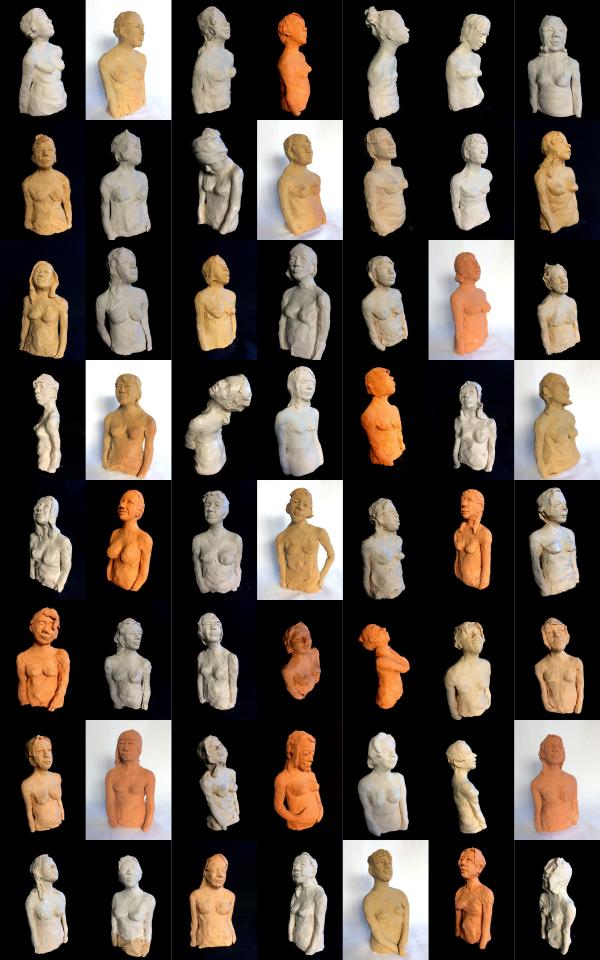 Opening Hours
Tues - Sat, 10.00am - 4.00pm
Sunday, 10.00am - 1.00pm
Description
Mama, mother, queen is a series of over 100 woman that explores the female form as a powerful and imperfect vessel. Sculpted from clay each sculpture explores the emotions of motherhood, the changes of the body or a personal journey that a mother has taken to be shared with those around her.
This project is not about presenting the perfect woman, it is about making society see what is real, the curves, the breasts, the post-baby body that most people feel uncomfortable with but is so normal and still beautiful in its own right as a vessel that has provided life for our children.